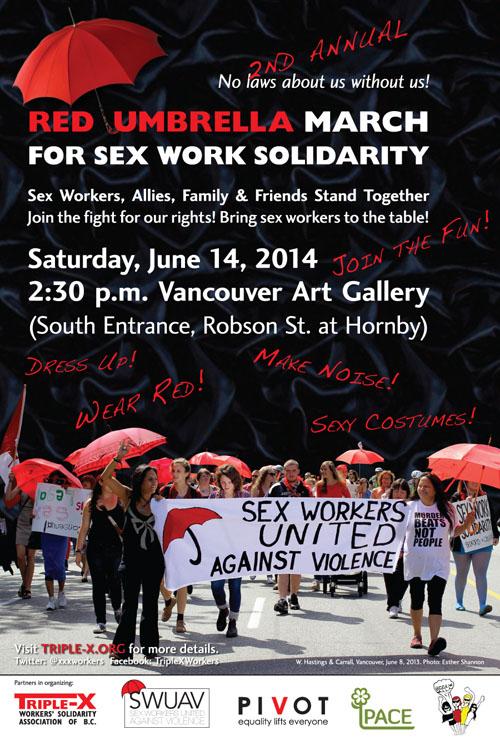 (c) Tripple X
The following article is a press release from NSWP member, Triple X
Tuesday, June 10, 2014
On June 14, sex workers together with their allies, families and friends are coming out to build the fight against Bill C-36.
This event will show public support for sex workers in their courageous fight against the Harper government's new unjust prostitution laws. In December, 2013, The Supreme Court of Canada struck down Canada's prostitution laws (bawdy house, living on the avails and communicating in public).
On June 5, the Conservative government tabled Bill C-36 replacing the struck down laws with broader laws which make "Obtaining Sexual Services for Consideration," "Material Benefit from Sexual Services" and "Advertisement of Sexual Services" crimes.
f passed, it would become a crime to even discuss obtaining sexual services with anyone in any place -- including on the telephone or Internet -- leaving clients vulnerable to police entrapment stings.
Anyone (aside from legitimate living arrangements) who receives any material benefit -- derived directly or indirectly -- is guilty of a crime. As well, any material -- visual representation or written -- that advertises sexual services is outlawed.
These new laws violate our Charter of Rights and Freedoms, and will force sex workers into an environment of crime where their rights are not protected.
Beginning at 2:30, the rally will feature speakers at the Vancouver Art Gallery and will be followed by a march starting at 3 p.m. Speakers will be available before the rally to answer questions from the media. The march will travel through the Downtown Eastside to CRAB Park.
Participants are encouraged bring a red umbrella: the symbol of the global sex workers' rights movement. All are invited to dress up, wear a sexy costume, or wear red. The Red Umbrella March is part of a national day of action, with similar events taking place in cities across Canada, including in Toronto, Montreal, Winnipeg, Hamilton and Halifax.
Partners in organizing: Triple-X Workers' Solidarity Association of B.C., Downtown Eastside Sex Workers United Against Violence, Pivot Legal Society, Providing Alternatives, Counselling and Education Society, B.C. Coalition of Experiential Communities, FIRST: Feminists Advocating for the Decriminalization of Sex Work.
Visit our website or our Facebook event page for more details.