The Red Umbrella Sexual Health and Human Rights Association "Kırmızı Şemsiye" is a sex worker led organisation founded in April 2013 in Turkey and a member of the regional networks ICRSE, the International Commitee on the Rights of Sex Workers in Europe and SWAN, the Sex Worker's Rights Advocacy Network in Central and Eastern Europe and Central Asia.
Kırmızı Şemsiye is a sex workers' non-governmental organisation (NGO) with a board composed uniquely of sex workers. The majority of the members are sex workers, but the membership also include allies, including lawyers, students and activists. As the membership stretches across a number of cities in Turkey and due to a limited budget, regular meetings with all members are not possible. Despite this, the organisation finds creative ways to consult with sex workers, either through phone communications, social networks, emails, house meetings and visits to workplaces. This allow the organisation to be in touch with the issues, needs and demands that sex workers are facing.



Photo: Some of the Kirmizi Şemsiye members volunteers and founders.

Though relatively new, Kırmızı Şemsiye has already achieved a lot for sex workers in Turkey and, from the start, has made a priority of advocating for the rights of sex workers of all genders which was in itself a breakthrough in Turkey. The organisation has registered with the the Ministry of Interior in order to be more visible and is now recognised by other civil society groups, public officials and the public.

As the issues faced by sex workers differ, depending largely on their gender or gender identity, the article will look at the work of Kırmızı Şemsiye separately with female, male and trans* women sex workers.

Female sex workers: the changing face of intolerance in Turkey
In order to comprehend the issues faced by women working in brothels in Turkey, it is necessary to look at the complex and evolving relationship between the state and sex work.

Turkey has always maintained a level of tolerance for prostitution. Since the very last decades of the Ottoman Empire, the political consensus has been that "prostitution" should be controlled by the state in order to control and to prevent the spreading of contagious infections. Even in the last few decades of the Ottoman Empire, while publicly denouncing prostitution, sex work took place in registered and sometimes unregistered brothels or houses. Over the last 15 years, however, there has been a change in attitudes towards sex work. This is due in part to the current ruling party – AKP, Adalet ve Kalkınma Partisi – Justice and Development Party, which considers itself to be a conservative democratic party, claims to promote Turkish 'moral values', a brand of religious and moral conservatism. Though not an official party's position, AKP's MPs or other civil servants have been supporting the closure of brothels and local authorities began to refuse to issue new licences for brothels. AKP considers involvement in the sex industry as contrary to its values and as such, is drawing the previous tolerance for it. For example, two years ago, the Turkish Government issued an order that the police would no longer protect brothels, leaving this job instead to private security companies.

The legal framework is based on two laws from 1930 and 1961. Those antiquated laws do not correspond to the contemporary realities of sex workers. In addition to these laws, some other laws are used in line with the moralistic and anti-sex work perspective of AKP: the Law on Misdemeanors (which has nothing to do with sex work) or the Turkish Penal Code which criminalises "procuring", "provision of space for prostitution", "benefiting from the earnings of prostitution", "encouraging people to prostitution" etc. These laws are complemented with a special law on the "duties and the authorities" of the police, which has a specific article on prostitution:  this article enables and incites the police to take every action to "prevent prostitution". This results in house raids, arbitrary fines, closures of brothels and criminal proceedings against sex workers. The spirit and wording of these laws are both misogynistic and moralistic. The overall aim is to control sexually transmitted infections (STIs) (even though the laws themselves result in further expansion of STIs) and to control women's bodies and activities. Selling sex is perceived as anti-social behaviour and as a perversion. Such laws and by-laws are part of an arsenal which attempts to control the bodies of sex workers. But this arsenal also includes arbitrary fines, ill-treatment, torture, discriminatory treatments, prevention of access to justice, etc.



Photo: Members of Kirmizi Semsiye at 8th of March International Women's Rights Day's protests.

Although brothels are designed to control STIs and to hide "prostitution" from the eyes of the people, they also offer some security to women working there. Women have access to social security, a right to retirement and pension and safe working conditions. Violence against sex workers in brothels is very rare and successful court cases have been won by sex workers against violent clients. The current policy of closing down brothels only pushes women to work in more underground environment society and results in further discrimination and violence with a lack of safety in working conditions. With an estimated number of more than 40,000 women on waiting lists for a licence to work in brothels, sex workers have also condemned the state for refusing to improve their working conditions, closing their work places and stop issuing licencing.

As in many other big cities, gentrification also plays its part in the closing of brothels. Ankara, the Turkish capital has been going through a historical transformation of the old city centre with the development of expensive buildings and an end to licences for brothels. Similarly, in the neighbourhood of Karakoy, Istanbul, an urban development project known as 'Galataport' has led to an extraordinary doubling of rental prices and has pushed away "undesirable" people including sex workers.

Fighting for trans* sex workers' rights
Historically, trans* sex workers have been the most visible and vocal elements of the sex workers' rights movement in Turkey. Confronted with multiple forms of discrimination, criminalised and harrassed by the police, trans* sex workers in Turkey have led the fight for their rights both as trans people and sex workers. This is visible in the LGBT movement, not least due to a a trans* pride parade, including many sex workers, which leads the LGBT Pride week every year in Istanbul.

Turkey is a dangerous place for trans people, who face extremely high rates of violence. According to Transgender Europe, 31 trans people were murdered in Turkey between January 2008 and December 2012. Most of them were sex workers. In 2013, as yet another trans woman sex worker, Dora Özer lost life to hateful violence, Kırmızı Şemsiye participated in the global protests against violence against sex workers coordinated by ICRSE.



Photo: Protest against the murders of Dora and Jasmine, organised by Kirmizi Semsiye.

Discrimination against trans* women in education and employment is widespread. With very limited working options, many do sex work, often in dangerous conditions exacerbated by their criminalisation. The regulation of sex work in Turkey paves the way to the criminalisation of unregistered sex workers. The police, like in many countries worldwide, are one of the foremost perpetrators of violence. Kırmızı Şemsiye has been recording cases of police violence and ill-treatment, which sometimes constitutes torture.

Demanding reparation for those human rights' violations by the police is impossible due to the corruption of the system and a lack of monitoring and accountability of the police. Many sex workers' complaints are not considered at all by police stations and many of the cases are ignored by prosecutors or judges.

Police threatens many sex workers with raiding their houses or fining them if they do not give them sexual favours or bribes. Many sex workers complain about the police regarding sexual violence – many of which are not reported to the police or to other justice mechanisms.

Kırmızı Şemsiye is currently carrying out a project that aims at mapping the violence experienced by trans sex workers in their everyday lives. Within the scope of this project, free legal counselling and direct legal assistance is offered for victims of violence. In collaboration with Transgender Europe, Kırmızı Şemsiye is monitoring the violence faced by trans people in Turkey in order to visibilise transphobic hate crimes and offering social support for victims of violence.

Invisibilised male sex workers
Recently, Kırmızı Şemsiye carried out the first project of its kind in Turkey on gay and bisexual male sex workers and published a report which visibilised the general human rights situation of this group. Who are frequently invisible, even within the local sex workers' rights movement.

Many male sex workers work from home, hotels or, in more precarious working conditions, on the street. Similarly to trans* sex workers, they suffer from police harrassment and violence and many are arbitrarily fined by the police.

Apart from violence, hate crimes and discrimination, many male sex workers have limited knowledge in relation to sexual health. Many engage in sexual intercourse without using condoms, do not know how to access sexual health information and do not visit health clinics for testing. No data on HIV/Aids in the LGBT community is available due to the reluctance of the Ministry of Health to invest in this issue. They similarly do not provide condoms, lubes or other prevention tools for this community. The current policy of the Ministry of Health is that providing condoms to sex workers legitimises sex work.

For sex workers' rights and economic justice
Kırmızı Şemsiye has also made a priority to advocate for the rights of female sex workers in brothels. Building up on the work carried out during two years by Kemal Ordek including visits in brothels, meeting with brothel managers, owners and sex workers, Kırmızı Şemsiye is planning to publish a booklet on this issue this year. This booklet will highlight the issues, needs and demands of registered female sex workers and will be an important advocacy tool for the movement.

Recently, Kırmızı Şemsiye received information from local brothel owners that the southern city of Adana was facing a high rate of brothel closures. After hearing the complaints and issues of local sex workers and brothel owners, Kırmızı Şemsiye met with the two vice-governors, the head of the commission responsible for prostitution matters and the chief police officer who was carrying out the arbitrary closures. As a result of this lobbying work, the responsible chief officer was removed from his post.

On 1st and 2nd March 2014, for World Sex Workers' Day, Kırmızı Şemsiye organised a 2-day-event in Ankara, the capital of Turkey. The event was a breakthrough for sex workers' visibility, as it was the very first time male sex workers spoke about their rights. Brothel owners spoke publically for the first time, expressing their issues with local administrations. This event attracted good attention by the local media and national newspapers covered the issues discussed both before and after the event.

Kırmızı Şemsiye has also started the process of exploring this area and is encouraging male sex workers to speak up about their rights and needs. On the 1st of March 2014, Kırmızı Şemsiye organised the very first panel on male sex work, a debate led by male sex workers from Turkey.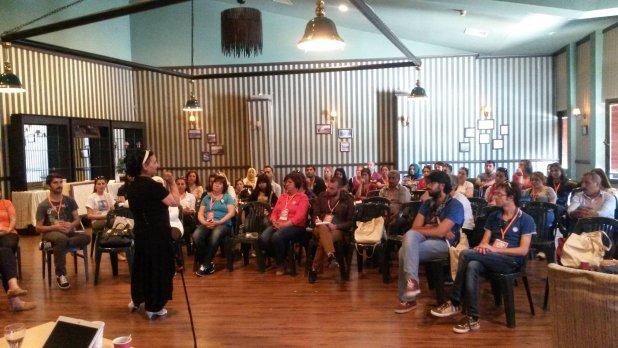 Photo: Kirmizi Semsiye offers public education workshops.

In the Turkish context, much sex work activism is linked to the struggle of transpeople against violence and for the recognition of their gender identity. Although this issue is central to Kırmızı Şemsiye's work, their analysis also include an economic justice perspective for all sex workers. This means advocating for safe working conditions and labour rights for sex workers, similar to other workers. The organisation also include an anti-poverty framework, asking for inclusion of sex workers within economic protection mechanisms, recognising that poverty and limited economic choices can be an entry point for many sex workers. Collaboration with trade unions has been a bumpy road. Sex workers in Turkey were at first clearly rejected from the labour movement but after much lobbying, the mentalities of progressive trade unionists have started to shift. Whorephobia and the difficulty to accept sex work as decent work is a strong obstacle to the inclusion of sex workers in the labour movement in Turkey but Kırmızı Şemsiye keep fighting and using every platform available for the recognition of sex work as work by trade unionists and other workers.

When asked for a final word for this article to the global sex workers' rights movement, Kemal Ordek, co-founder of Kırmızı Şemsiye's said: "History is on our side. It cannot go back. Sex workers are the real revolutionaries in the midst of extreme stigmatisation, discrimination and violence all around the world. We should keep on being united as repressive laws and policies will continue to target us."
Profile by Regional Correspondent Europe. Photo at top: Kırmızı Şemsiye at May Day protest.