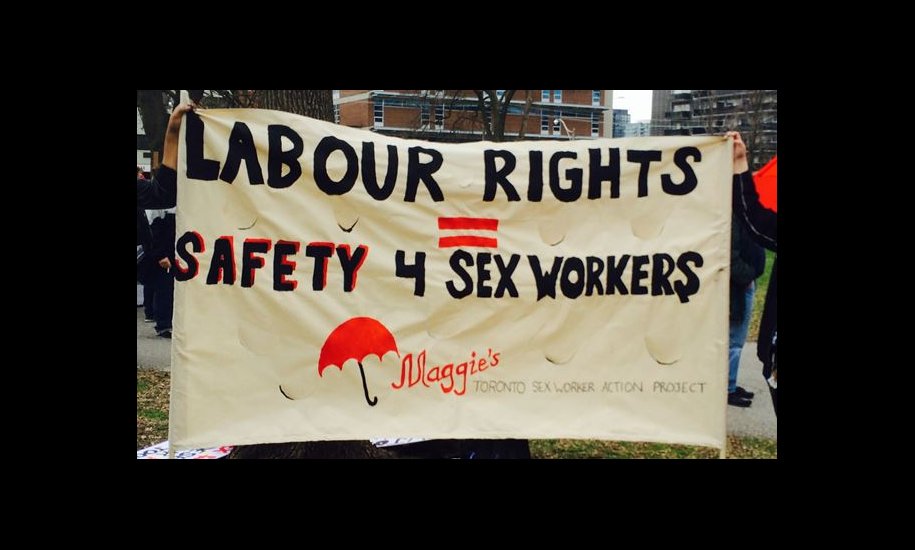 Maggie's: The Toronto Sex Workers Action Project, Canada's oldest sex worker-led organisation, was founded in 1986, when one of its primary goals was to address the then-emerging HIV/AIDS crisis. Today, Maggie's is primarily funded as a harm reduction organisation through the Ontario Ministry of Health's AIDS Bureau, and provides safer sex and safer drug use supplies; education, and support.
For close to 30 years, Maggie's has carried on its mandate of being an organisation that is run by and for sex workers, and one that works to support sex workers in living and working with safety and dignity."We are founded on the belief", reads the organisation's principles statement, "that to improve our lives, sex workers must take the power to control our own destinies. That is why Maggie's exists first and foremost as an organization for sex workers, that is controlled by sex workers."
Although primarily focused on providing services and support to sex workers in the Toronto area, Maggie's also advocate provincially, nationally and globally to support sex workers' rights and the decriminalisation of sex work.
Maggie's welcomes workers of all genders from all areas of the sex trade -- street-based sex workers, exotic dancers, escorts, pornography actors, phone sex operators, professional dominants and submissives, erotic massage workers, web cam workers, and others -- and offers a wide variety of sex-worker led programmes. Those programmes include a weeklydrop-in loungefor former and current sex workers; a monthly Real Work group for current and former sex workers; assistance and advocacy to sex workers who have experienced legal, physical, or social harassment or discrimination as a result of their sex work; court and social service accompaniment and legal support (where possible), and community service hours (Maggie's is a registered charity which means that individuals going through the criminal justice system can do community service there).
Maggie's also offers a safe place for sex workers to discuss their clients; their concerns; safety tips; updates on bad dates (the "No List," which is accessible by sex workers only, allows workers to share information and research clients prior to taking a booking); police sweeps, and harmful substances/tainted drugs. Other services include informal counselling and referrals to structured and appropriate long term counseling; a resource and research centre; distribution of safer sex materials and safer drug using materials and education; legal and health information with referrals to other helpful resources, and a centre for sex worker organising.
The organisational element of the group has become especially important this year as Canada remains in limbo regarding the legal status of sex work. Onthe 20th of December, 2013, when the Supreme Court of Canada struck down three of the country's most harmful prostitution laws (the communication, bawdy house, and living on the avails laws) in the Canada v. Bedford Case, the government was given up to one year to come up with a response. On the 4th of  June 2014, Justice Minister Peter MacKay tabled a proposal titled Protection of Communities and Exploited Persons Act, which draws upon the so-called Nordic Model (the sex purchase law introduced in Sweden in 1998) by criminalising the purchase of sexual services and the material benefit from sexual services. The proposal also criminalises the advertising of sexual services and communication for the purpose of selling sexual services in public places, or in any other places where people under 18 can reasonably be expected to be present.
Maggie's has been at the forefront of sex worker-led efforts to denounce the proposal and the group's executive director, Jean McDonald, has been quoted in Toronto's biggest daily newspaper The Star and in the national Globe and Mail.
Maggie's actively lobbies the Canadian government to decriminalise sex work, and also engages in media work to challenge the stigmatisation and criminalisation of sex work. "One of the best outcomes of our organisation", Jean says, "is the development of community and mutual support within sex-working communities in Toronto and across Canada".
We spoke to Jean via email to get a bit more background on Maggie's:
How did Maggie's start up?
Maggie's was founded in 1986 by a small group of sex workers with support from allies. A group called the Canadian Organization for the Rights of Prostitutes (CORP) -- now Sex Professionals of Canada (SPOC) -- had been organizing for the decriminalisation of sex work since 1982, and Maggie's was formed to support sex workers and build sex working communities during the long hard struggle for legal reform. Maggie's has maintained its mandate of being an organization run by and for sex workers, and works to support sex workers in our efforts to live and work with safety and dignity. One of Maggie's primary goals was to address the HIV/AIDS epidemic emerging in the 1980s, and to combat the stigmatization of sex workers as vectors of disease. Instead, Maggie's positioned sex workers as safer sex professionals who were able to educate clients and the general public about safer sex practices. It also formed just one year after the detrimental communication law came into practice.
The name "Maggie's" was chosen because it was thought that giving the organisation a woman's first name would provide some discretion and safety to workers who referenced it (e.g. "I'm going to Maggie's" as opposed to "I'm going to the Toronto Prostitutes' Community Service Centre."). The name Maggie's was picked because it combined the names of two of Toronto's first sex worker activists, Margaret Spore (BEAVER and CASH in the late '70s) and Peggy Miller (CORP in the early '80s'). Plus it has a cheeky, if vague, "Magdelene" reference.
What were the biggest events or challenges Maggie's has worked on in the past?
Maggie's has been working towards the decriminalisation of sex work by being part of the movement challenging the constitutionality of three key provisions in Canadian prostitution law. With the Bedford decision, the Supreme Court of Canada ruled that these three provisions – keeping a common bawdy house, leaving on the avails, and communication – were unconstitutional because they violated the safety and security of sex workers. These three laws were struck down; however the federal government has since tabled new legislation that in many ways simply reproduces the old laws while also criminalizing prostitution in news ways, including the purchase of sexual services, the advertisement of sexual services, and criminalizing youth sex workers that work together. We are now in the midst of a large lobbying and advocacy campaign mobilising for the decriminalisation of sex work in Canada.
What do you think will be the biggest challenges for your organisation/sex workers in your country in the future?
The new legislation – if it passes, and it likely will – will result in a continuation of the epidemic of violence against sex workers in Canada. This legislation is a huge set back to sex workers' rights, and will make working safely, securely and with dignity very difficult. At Maggie's we plan to educate and support sex workers in dealing with and understanding this new legislation. We will likely see another Charter challenge in the future. While the expected new challenge winds its way through to the Supreme Court, we will likely see more exploitation, violence and abuse against sex workers.
Do you have one message for the sex worker rights movement? Or one message for people outside of the movement?
Decriminalisation Saves Lives!