Imagen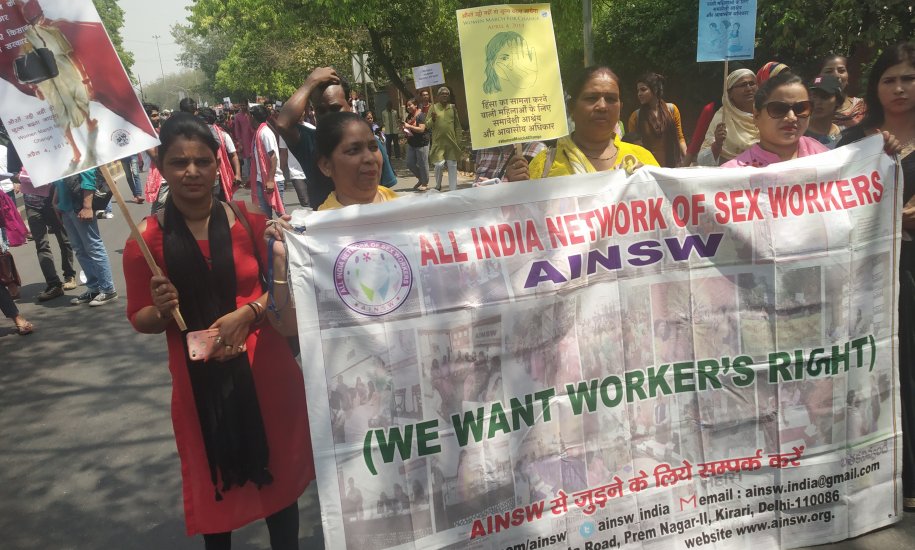 All India Network of Sex Workers (AINSW) is a collective of 5 million sex workers in India.
Tell us about your organisation
AINSW is a membership-based network of sex workers. Each member organisation has equal rights and voting power. At present there are 19 office bearers (representing 16 states) of the organisation and the secretariat is based in Delhi. It is a federation of community-based organisations (CBOs) of sex workers who are engaged in promoting and protecting the rights of sex workers in addition to their engagement in HIV intervention programmes. AINSW is keen to establish the rights of sex workers and individuals' rights to self-determination. We consider sex work like any other work which must be decriminalised.
We are committed to address stigma and discrimination linked to sex and sex work. AINSW helps to access to social security and health services for sex workers. AINSW follows standard democratic norms and practices for communication, participation and representation.
The network coordinates activities at a central level, leaving member organisations free to develop and implement all kinds of programmes based on their reach and ability within a broad framework of guiding principles. AINSW provides all necessary support, primarily for national and state-level advocacy programmes, and network-building with other like-minded organisations, institutions and movements.
Vision
AINSW envisages a world where sex work is recognised as work, a world where there is no law that criminalises sex work and sex workers. There should be no barrier for adult women, men and transgender people to engage in sex work and have the right to earn and live through exchange of sexual services of their choice.
Mission
To challenge the hegemony of societal attitudes and discriminatory practices towards sex workers. Our mission is to address all laws and policies which criminalise sex work and are detrimental to sex work, and those which go against the interests of sex workers.
Approaches
We focus on two major areas of intervention, namely:
Rights to self-determination – Adult individuals' rights to choose any occupation as a livelihood option i.e. Right to Sex Work.
Human Rights-related issues – sex workers being citizens of the country is protected by the constitution and by other legal instruments. It is expected that all these structure should promote and protect Human Rights of Sex Workers.
What is the history of the organisation? How and why was it formed?
A group of sex workers' organisations and sex work support organisations committed to the cause of sex workers came together to forge a network of sex workers named as National Network of Sex workers (NNSW) in 1998. The primary objective of the network was to articulate the voices of sex workers and let it be heard across the country. Over the years, NNSW and its member organisations went through several campaigns / movements to raise their issues both at state and regional levels. Almost all member organisations decided to register as a legal entity of sex workers' collectives, andthe organisation was formally registered as legal entity as All India Network of Sex Workers (AINSW) in 2011.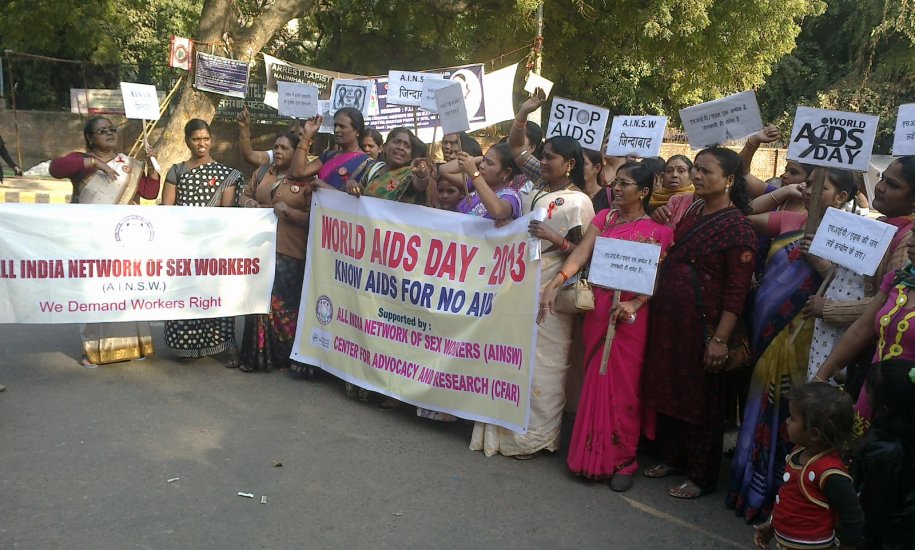 Which countries and/or regions do you work in?
AINSW works at the national level in India. Being a conglomerate of sex workers' organisations, AINSW strategises programmes and activities to decriminalise sex work so that sex workers and their family members can live, work with rights and dignity. AINSW is also a member of the regional networks, that is, Asia Pacific Network of Sex Workers as well as the Global Network of Sex Work Projects (NSWP) to influence global policies and programmes. We have unique interpersonal discussion and knowledge sharing session/programmes with other country activists as well at various platforms.
How are sex workers meaningfully included in the organisation?
AINSW is a platform of CBOs of sex workers. All Board members of AINSW are presently or were formerly in sex work. Each member has equal rights and voting power. The nineteen-member executive committee has representatives from sixteen states, who are elected at state level by all other sex workers' organisations operating in those states. There is no space for non-sex workers in the decision making bodies either at the State or at the National level. AINSW Executive Board members are female and transgender sex workers.
What is the sex work context in your country/region?
Sex workers in are classified as 'brothel based', 'flying' (mobile) or street-based sex workers, house-based and lodge-based sex workers. Presently some of the sex workers are using the digital media to solicit clients.
Laws which regulate sex work: The Immoral Traffic (Prevention) Act, 1956 ["ITPA"] lays down the legal framework for sex work in India. The Act prohibits brothel keeping, living on earnings of sex work, procuring, prostitution in public places and soliciting, without criminalising sex work per se. Still, sex workers live and work under the fear of law enforcing authorities and are often harassed and even physically and sexually exploited by the police and members of the public. Brothel-based sex workers are relatively collectivised and can address violence to a certain degree whereas street and home-based sex workers are more vulnerable to violence and abuse. There are few other state level laws and policies which also indirectly criminalise sex work-related activities, primarily soliciting.
What are the priority areas that your organisation works in?
Our priority areas:
Support collectivisation of sex workers in different parts of the country with an objective to build their solidarity and confidence and to raise voices against violence, discrimination, harassment, etc.
AINSW has capacity-building programmes for community leaders to strengthen quality of leadership as well as to develop second line of leadershipamong the sex workers community.
AINSW advocates at a national level to ensure availability and accessibility of HIV treatment support services for the sex worker community.
Help strategising sex workers' representation in HIV and health development policy-making bodies and in programme implementation.
To promote a rights-based approach in HIV and health intervention programmes.
Our member organisations in different part of the country are engaged as partners or as advocates to promote maternal and reproductive health delivery programmes among the sex worker community.
Establish self-regulatory mechanisms with the participation of community based organisations to ensure that people are not forced or trafficked into sex work.
AINSW advocates and negotiates with number of ministries and parliamentarians to decriminalise sex work in the country.
AINSW supports and monitors Hepatitis B and C treatment and support services for community members.
AINSW took steps to address stigma and discrimination attached to sex work and sex workers.
AINSW and its member organisations are active in ensuring sex workers are able to exercise their citizenship rights.
One of our member organisations provides services on HIV and AIDS (both prevention and treatment) to community members who implement programmes as part of the National AIDS Control Program. All these activities are framed by the state and national government. However, AINSW do not engage in any service delivery programs directly.
Do you do political work, or campaigns? What kind?
AINSW is not directly involved in any political party in the country but do interact with members of political parties and parliamentarians, in addition to higher authorities in administration and police. We also proactively engage with the members of Legal Services Authorities in the country with a view to mobilise their support to decriminalise sex work and the wider sex work environment including decriminalisation of clients of sex workers.
We negotiate with civil society organisations, trade unions, professional bodies to promote and protect human rights of sex workers including labour rights of sex workers.
We conduct sensitisation programmes for students and young people in academic institutions to mobilise support from the students, teachers and academics.
Finally, we organise campaigns in partnership with trade unions, civil society organisations and other stakeholders to ensure minimum wages, old age security services and others. We are alsopart of national level campaigns on 'Rights to Food' and 'Rights to Education'.
Tell us about a big event or challenge you have worked on recently.
AINSW demands inclusion of sex workers' issues in the Election Manifesto
AINSW prepared a charter of demands and contacted all political parties to ask that they include sex workers' demand in their election manifestos before the Parliamentary elections held in May 2019. The charter was shared with the spokespeople of all political parties in the country. In addition to this, AINSW representatives met with the candidates (more than hundred candidates belonging to various parties), sat with them and discussed the charter of demands at length. The charter includes seven demands which include access to basic services, pension at the age of 45 years, participation in policy making bodies and in programme implementation. In addition to this, the priority demand was the removal of legal clauses articulated in Immoral Trafficking Prevention Act (ITPA) which criminalises sex work. The charter included full recognition of Self-Regulatory Board (SRB), and to accept sex work like any other work. The AINSW Secretariat received good responses and support from the media, as well as from across the political spectrum. As a part of this campaign activity we secured signatures in support of our programme from around 63% of aspiring Parliamentary candidates with whom we met. This programme has helped the sex workers' community to get their voices heard by the policy makers in the country.
Stopping Anti-Trafficking Bill to get enacted in the Parliament
After a long process of advocacy, counselling, and series of meetings with political representatives, police, women's rights groups, and legal officers, we succeeded in stopping the passing of the Trafficking (Prevention, Protection and Rehabilitation) Bill in the Upper House of the Parliament, which was drafted to target sex workers under the guise of anti-trafficking, to institute compulsory or forced 'rehabilitation' of sex workers. The proposed bill would have criminalised the sex work environment as well as the clients of sex workers. We demanded redrafting of the bill from the relevant Ministry, including sharing our issues and concerns before it is placed in the Lower House of the Parliament. However, they didn't listen to our demands and the majority of the parliamentarians in the Lower House (belonging to the ruling party) supported the Bill. However, we managed to reach out to members of the Rajya Sabha (Upper House), and meet with the influential leaders of the political parties, social activists and religious leaders, urging them to support our stand so that the Bill could be sent back to the Screening Committee of the Parliamentarians for further scrutiny. The Government received lots of input from other members of the civil society organisations and from trade unions. Although it was passed in the Lower House, the combined effort of AINSW and other support organisations put the government on the backfoot, which meant the Ministry didn't put the Bill to the Upper House, and the legislation lapsed as the Parliament dissolved in the early part of 2019.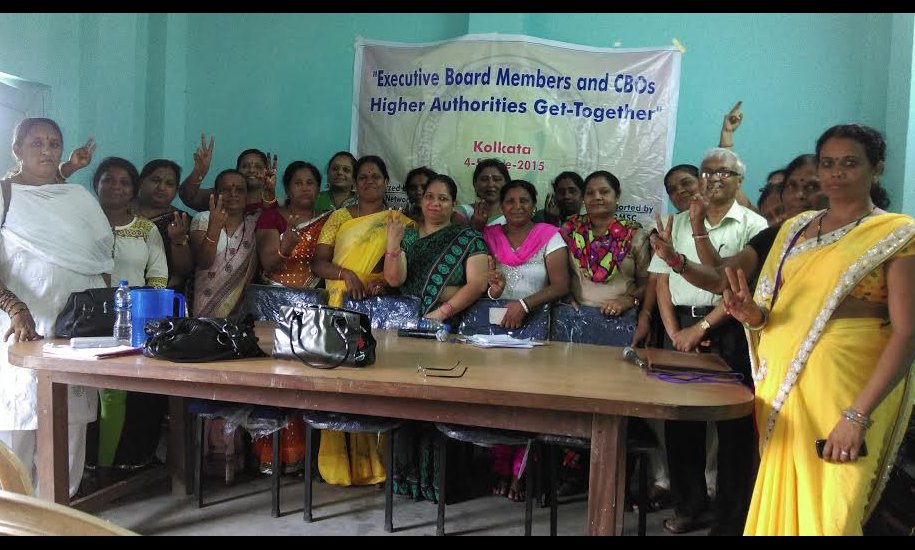 What challenges does your organisation face in the future?
The changing global and national socio-political environment has reduced space for activism and rights-based movements for sex workers' rights in the country, which we fear could increase evictions in brothels, 'cleansing' of streets and harassment.
Secondly we are apprehensive about the policies of the ruling party, as this party was in power in 2018 and tried to introduce the Anti-Trafficking Bill (which was foiled by our combined effort). They may also try once again to push new but similar legislation to the Anti-Trafficking bill of 2018 in Parliament, with the aim of criminalising sex workers and their clients.
To address these challenges, we decided to work on the following areas:
We have decided to develop a stronger advocacy programme at state and provincial levels, linking it with our national level advocacy work.
Resource mobilisation to sustain our ongoing activities and campaigns.
To broaden the network's activity to bring in more organisations and unions in our support.
Sensitisation work aimed at wider society about sex work, especially among the younger generation.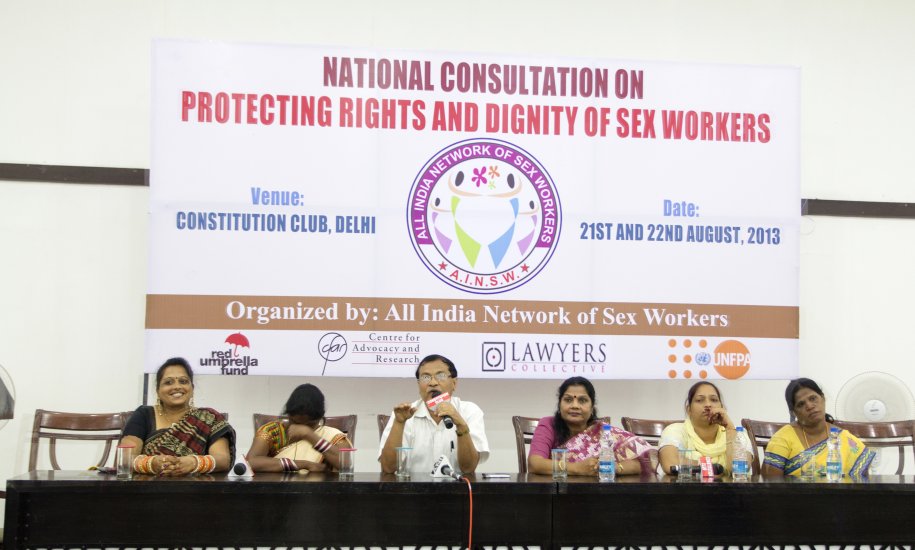 Does the organisation have a message for the sex worker rights movement? What about for people outside of the movement?
Our understanding is that we must move forward to forge a bigger alliance with other social action groups, trade unions and social movements to position our rights movement as part of the mainstream agenda to achieve our goal to sustain our effort to make changes.