Imagen
AMMAR Córdoba​ is a sex worker-led organisation in Córdoba​, Argentina, fighting for human rights and access to labour protections.
[Scroll down for English]
Cuéntanos sobre tu organización.
Ammar Córdoba fue creada a comienzos del 2000 por un grupo de trabajadoras sexuales autoconvocadas, con el objetivo inicial de enfrentar la violencia policial y persecución sistemática por parte de diversas instituciones estatales. Obtuvimos el reconocimiento legal en mayo del año 2014, después de una larga disputa con las autoridades locales, dado que se desconocía nuestro derecho a organizarnos tanto como asociación civil y como sindicato.
AMMAR Córdoba es una organización de y para lxs trabajadoras sexuales que lucha por defender sus derechos humanos, por la obtención de derechos laborales, el derecho a la salud y a la educación y aportar a mejorar la calidad de vida en general de quienes ejercen el trabajo sexual. Nuestro trabajo se enfoca fundamentalmente en trabajadorxs sexuales (TS) mujeres, pero se decidió incorporar activamente a las personas travestis y transgénero a la organización. De igual manera, las actividades y servicios que la organización brinda, se extienden además a las familias del sector de TS, niños/as, adolescentes y jóvenes, y adultxs en situaciones de vulnerabilidad social.
La misión de AMMAR Córdoba es la defensa de los derechos humanos de las trabajadoras sexuales, con énfasis en sus derechos laborales, sanitarios y educativos, persiguiendo el mejoramiento general de la calidad de vida de este sector. Las principales estrategias que se plantea AMMAR Córdoba para el logro de su misión, tienen como eje:
La consolidación de la organización como actor social fundamental en la defensa de los derechos de las trabajadoras sexuales, propiciando la expansión y ampliación de la misma, hacia otras regiones del país.
El empoderamiento sostenido del sector de trabajadoras sexuales, como sujetas protagonistas de sus propias luchas y reivindicaciones.
¿Qué tipo de servicios ofrece tu organización? ¿La organización hace trabajo político o campañas?
El trabajo de AMMAR Córdoba, desde hace muchos años, se organiza en diferentes áreas con sus respectivos contenidos y actividades, prevaleciendo en cada una de ellas, el trabajo entre pares.
Área de Salud: Originalmente en el área de salud se comenzó trabajando fuertemente en la prevención del VIH-Sida e ITS mediante la distribución de preservativos y acompañamiento pre y post test, pero con el paso del tiempo el área fue diversificando y ampliando sus objetivos y acciones. Si bien se mantiene la distribución de preservativos, el área de salud de AMMAR ahora cuenta con servicios orientados a la salud integral para dar respuesta a las nuevas demandas. De esta manera, se realizan esencialmente tareas de prevención del VIH/Sida e ITS, salud sexual y reproductiva, y acompañamiento específico de trabajadoras sexuales, mujeres y personas trans viviendo con VIH. También, se realiza asistencia y acompañamiento a trabajadorxs sexuales que atraviesan situaciones de violencia de género.  Desde el 2013, se instaló en sede de AMMAR Córdoba el "Centro Amigable para la Salud Integral" en articulación con instituciones estatales y reconocida oficialmente por el Ministerio de Salud de Nación, que cuenta con servicios de testeo para el VIH/SIDA y las ITS, y también ginecología. También se ha inaugurado un Consultorio de Primera Escucha en Adicciones
Área Educativa:. El Centro Educativo de AMMAR es un espacio abierto tanto a las afiliadas como a toda la comunidad. Así, se conforma la Escuela Primaria y Secundaria para adultos/as y un Centro de Cuidado Infantiles (que recibe a niñxs de 45 días a 5 años). Talleres de Oficios tales como costura, cocina, maquillaje, repostería y otras capacidades sociolaborales. Desde estos espacios educativos, se propicia continuamente la participación activa de las TS y en general de personas en situación de vulnerabilidad.
Área Político-institucional-Sindical: Desde esta área reforzamos la organización política de las TS, tanto en la capital como en el interior provincial, incrementando la efectividad de las acciones de lucha y respuestas a la aplicación arbitraria del Código de Faltas de la Provincia y toda otra ley que afecte o criminalice el trabajo sexual. Buscamos asesorar, formar y fortalecer la participación de las afiliadas mediante la conformación de asambleas por zonas de trabajo sexual, que a través de delegadas, mantienen un diálogo permanente con nuestra organización.
Área de Comunicación: Desde aquí se participa activamente en espacios de debate y construcción de la palabra saberes (instituciones educativas de todo nivel hasta medios masivos de comunicación), para poder desterrar prejuicios, frenar la discriminación, y poder sensibilizar a todos los sectores de la comunidad acerca de una problemática tan compleja como es la del trabajo sexual. Contamos con una página web, y perfiles en redes sociales, Facebook e Instagram.
¿Cómo incluyen significativamente a las trabajadoras sexuales en la organización?
AMMAR Córdoba está dirigida y liderada por trabajadoras sexuales, y cumple con los siguientes criterios explicitados en las directrices:
El 100% de quienes toman las decisiones de AMMAR Córdoba son trabajadoras sexuales (Nadie que no sea trabajadora sexual asume esta función en la organización).
El proceso de toma de decisiones se desarrolla con una dinámica horizontal y democrática. Por ser una organización de base, son las propias mujeres trabajadoras sexuales integrantes de la organización las que toman las decisiones continuamente. AMMAR Córdoba se organiza con una estructura y dinámica de trabajo especialmente diseñada para posibilitar una toma de decisiones lo suficientemente representativa e inclusiva de las trabajadoras sexuales integrantes de la organización: 6 trabajadoras sexuales constituyen la comisión directiva, quienes se reúnen semanalmente y están comunicadas diariamente. AMMAR Córdoba cuenta además con 10 trabajadoras sexuales que se constituyen en "delegadas de zonas de trabajo" y asumen la responsabilidad de estar en continua vinculación entre la organización y el territorio específico donde las trabajadoras sexuales ejercen su trabajo diariamente a través de las "recorridas" por las diferentes zonas de trabajo. Una vez al mes se realiza la reunión de "Comisión Ampliada", la cual está constituida por las integrantes de la Comisión Directiva, junto con las delegadas de zonas.
La dinámica de trabajo y de toma de decisiones incluye el desarrollo de "asambleas" cada dos o tres meses, en las cuales participan las trabajadoras sexuales de los distintos territorios, y allí se van discutiendo e intercambiando puntos de vista y propuestas. Estas instancias colectivas se constituyen en el espacio prioritario con el fin de tomar decisiones que atraviesan al sector.
¿Cuáles han sido los principales logros de su organización en los últimos años?
AMMAR forma parte, desde su nacimiento, de la CTA (Central de Trabajadores Argentinos), central obrero-sindical independiente que nuclea a diversos sindicatos del país, espacio que nos brinda nuestra identidad de clase, y un modelo de lucha en el cual lxs trabajadoras y los sindicatos de base somos el motor del cambio social. AMMAR ha ocupado, en diferentes momentos, diferentes secretarias sindicales de la CTA; como, por ejemplo, la Secretaria de Derechos Humanos y la Secretaria de Genero e Igualdad de Oportunidades.
En el año 2010 nuestra organización ganó el premio de la cinta roja otorgado por ONUSIDA en la conferencia Mundial de Sida de Viena, por el impacto y la tarea innovadora del grupo en el trabajo entre pares.
Otro logro fundamental conseguido por AMMAR Córdoba fue la derogación del artículo del Código de Faltas Local que permitía la detención por parte de las fuerzas policiales de toda persona que ejerciera el trabajo sexual en la vía pública. Este logro se alcanzó luego de una intensa campaña, en articulación con legisladores y actores políticos locales.
AMMAR Córdoba impulsó, en el año 2012, la conformación de la Red por el Reconocimiento del Trabajo Sexual, donde se nuclean aliados pertenecientes a diversos sectores, desde la academia, estudiantes, organizaciones de base, personas autoconvocadas, activistas LGTTBIQ, feministas, entre otrxs. Desde allí, se organizan paneles-debate, asambleas con las afiliadas, con el fin de hacer pública la discusión y los fundamentos a favor del derecho al ejercicio del trabajo sexual para toda persona mayor de edad que así lo decida. Un nuevo desafío es fortalecer la Red por el Reconocimiento del Trabajo Sexual – Norpatagonia formada en el año 2016 con la iniciativa de la Red por el Reconocimiento del Trabajo Sexual- Córdoba, al igual que ampliar el trabajo político sindical a todas provincias de Argentina.
En el año 2013 se publicó el libro "Sexo y Trabajo" donde desde AMMAR, en articulación con distintos intelectuales y activistas, intenta manifestar con profundidad el debate en torno al trabajo sexual. Este texto fue editado por Facultad de Filosofía y Humanidades de la Universidad Nacional de Córdoba (UNC), a través de la Editorial Sofía La Cartonera. Luego de esta primera experiencia, se editó el libro "Párate en mi esquina". Este libro fue compilado por Eugenia Aravena (AMMAR Córdoba), Juan Marco Vaggione, (UNC) Liliana Pereyra (UNC) y Laura Judith Sánchez (UNC), entro otrxs, y editado, también, por la Facultad de Filosofía y Humanidades. Es un proyecto impulsado en conjunto por AMMAR y la Red por el Reconocimiento Sexual, desde mediados del 2012, en conjunto con activistas, académicos y personas que se sintieron convocadas por nuestra causa y se organizaron en un espacio que produzca herramientas y dispositivos para apoyar el pleno ejercicio de lxs trabajadorxs sexuales y su reconocimiento. Es el primer libro que a nivel nacional ensaya y reflexiona los derechos de las personas que eligen ofrecer servicios sexuales a cambio de dinero o de alguna forma de pago.
En noviembre del 2018 se llevó a cabo el 1° Encuentro Nacional de Trabajadorxs Sexuales en Córdoba. Con una gran expectativa, recibimos a más de 50 compañeres de todo el país para debatir sobre la realidad que atraviesa el ejercicio del trabajo sexual en distintos puntos del país. Debatimos en comisiones sobre qué estrategias colectivas construir para luchar por el reconocimiento de nuestros derechos laborales y de seguridad social. Así se ha logrado articular con nueve agrupaciones de trabajadoras sexuales de todo el país en General Roca, Río Negro con la organización de Trabajadorxs Sexuales Transgénero, otras compañeras que no se encontraban organizadas, como es el caso del Bolsón, San Juan y algunas compañeras de CABA Buenos Aires.
Cuéntanos sobre un gran evento o desafío en el que hayas trabajado recientemente. ¿Cómo te fue?
Se realizó una campaña que contó con una muestra, "Trabajadorxs Sexuales Ocupan el Museo" en el Museo de Antropología, realizada en articulación con la Red por el Reconocimiento del Trabajo Sexual. Esta campaña duró todo el mes de junio, mes que también se encuentra la consagración del Día Internacional de la Trabajadora Sexual. Con cuatro viernes de conversatorios, se abordó desde diferentes perspectivas el trabajo sexual: Desde la organización y lucha, desde la primera persona, lo académico, y la salud y el deseo. Intelectuales, profesionales de la salud, trabajadoras sexuales de diferentes sectores de la Argentina, luchadores, dieron voz a la urgencia por reconocer el trabajo sexual. Esto trajo muchos visitantes que se acercaron a la muestra como a los conversatorios, estimamos que más de 700 personas.
¿A qué retos se enfrenta tu organización?
En los últimos meses, hemos notado una gran repercusión de las consecuencias del contexto político actual, tanto nacional como provincial, traduciéndose esto en un empeoramiento de las condiciones de vida de amplios sectores de la sociedad. Fundamentalmente hemos identificado esta situación de deterioro de la calidad de vida, y de limitaciones en el acceso a recursos fundamentales para la resolución de necesidades básicas, en muchas de las trabajadoras sexuales, mujeres y trans, incluyendo sus familias, que concurren diariamente a AMMAR Córdoba, o que participan de las actividades y servicios que la organización brinda. Ha resultado de mucho impacto la cantidad de trabajadoras sexuales que han tenido que acudir a la organización en los últimos meses para poder resolver la necesidad alimentaria por ejemplo, lo que implicó desde AMMAR Córdoba un gran trabajo para poder ampliar la cobertura alimentaria.
También este contexto político económico ha generado muchas personas en situación de calle, muchas de ellas trabajadoras sexuales trans que no cuentan con lugar donde permanecer, y concurren a la organización solicitando vivienda además de alimentación, vestimenta, poder higienizarse, etc. AMMAR Córdoba ha intentado solidariamente seguir apostando en la medida de lo posible, a brindar ayudas y aportes a trabajadoras sexuales en estas situaciones dificultosas arriba descriptas, sin embargo, queda la preocupación en cuanto al incremento de las mismas, y las limitaciones de la organización en cuanto a los recursos necesarios para poder ampliar estos apoyos al sector afectado.
¿Tiene la organización un mensaje para el movimiento por los derechos de las trabajadoras sexuales? ¿Y para quiénes están fuera del movimiento?
Pedimos que nos den seguimiento en las redes sociales, ya que nuestra organización se empeña en construir y difundir, desde hace varios años, campañas públicas con impacto político orientadas a cambiar la percepción social sobre el trabajo sexual y sobre quienes los ejercen. Hace poco lanzamos una campaña con la finalidad de perseguir la jubilación y obra social para las trabajadoras sexuales:
*Comenzamos en primer lugar con difundir de un modo amigable, icónico y visual las estadísticas producidas en el convenio establecido el año 2018 con la Facultad de Ciencias Sociales, Escuela de Trabajo Social, quienes realizaron un relevamiento social del sector de las trabajadoras sexuales de la ciudad de Córdoba. Éste arrojó datos muy significativos para entender lo primordial de acceder a estas cuestiones básicas de la justicia social de cualquier trabajadorx.
* También se produjeron videos con diferentes profesionales y actores de las luchas sociales, que justificaban y daban argumentos para exigir la Jubilación y obra Social para las trabajadoras sexuales. Ejemplo aquí.
Tell us about your organisation.
Ammar Córdoba was created in the early 2000s by a self-motivated group of sex workers, with the initial goal to confront police violence and systematic persecution by various state institutions. We obtained non-profit status in May 2014, after a lengthy dispute with local authorities, since our right to organise, both as a civil association and as a union, was unclear.
AMMAR Córdoba is an organisation by and for sex workers which fights to defend their human rights, obtain labour rights, the right to health and education and to contribute to improve the general quality of life of those who perform sex work. Our work focuses primarily on women sex workers, but we decided to actively incorporate transgender people into the organisation. Similarly, the activities and services offered by the organisation also extend to families in the sex work sector: children, adolescents and youth, and adults in socially at-risk situations.
AMMAR Córdoba's mission is to defend sex workers' human rights, with an emphasis on their labour, health and educational rights, while pushing for the general improvement of quality of life in this sector. The main strategies AMMAR Córdoba pursues to achieve its mission are based on:
The consolidation of the organisation as a key social actor in the defense of sex worker rights, promoting the increase and expansion of this work to other regions of the country.
The sustained empowerment of sex workers as protagonists of their own struggles and demands.
What kind of services does your organisation offer? Does the organisation do political work or campaigns?
For many years, the work of AMMAR Córdoba has been organised into different areas, each with their own content and activities, with peer-based work as an overarching theme in each one of these.
Health: Originally, in the health area, we began working hard on the prevention of HIV and AIDS and STIs through the distribution of condoms and accompaniment both before and after testing, but over time, the area began diversifying and expanding its objectives and actions. Although we continue the distribution of condoms, AMMAR's health area now is now moving toward comprehensive health services in order to keep up with new demands. In essence, we carry out HIV and STIs prevention tests, sexual and reproductive health, and specific accompaniment of sex workers, women and transgender people living with HIV. We also provide assistance and support to sex workers experiencing gender-based violence. Since 2013, the "Friendly Centre for Comprehensive Health" has been installed at AMMAR Córdoba's headquarters, in coordination with state institutions. It has been officially recognised by the National Ministry of Health, which has HIV and STI testing and gynaecological services. A Frontline Addiction Counselling Centre has also been opened.
Education: The AMMAR Educational Center is a space open to both affiliates as well as to the entire community. This is how the Primary and Secondary School for adults and the Child Care Centre (which welcomes children from 45 days to 5 years old) function. We offer craft workshops, such as sewing, cooking, makeup, and pastry, and social and labour skills. We continuously encourage the active participation of sex workers and people in at-risk situations in general through these educational spaces.
Political-Institutional-Union: We strengthen the political organisation of sex workers through this area, both in the capital and in the provinces. This area increases the effectiveness of the actions and responses to the arbitrary application of the Provincial Penal Code and any other law that affects or criminalises sex work. We seek to advise, train and strengthen the participation of affiliates by creating assemblies according to sex work areas, which maintain a permanent dialogue with our organisation through their delegates.
Communications: An area for active participation in spaces for debate and construction of knowledge (from educational institutions of all levels to mass media), in order to eliminate prejudice, curb discrimination, and raise awareness among all sectors of the community about a problem as complex as sex work. We have a website, and social media profiles, Facebook and Instagram.
How are sex workers meaningfully involved in the organisation?
AMMAR Córdoba is directed and led by sex workers, and meets the following criteria as set out in our guidelines:
100% of those who make the decisions of AMMAR Córdoba are sex workers (no one who is not a sex worker assumes this role in the organisation).
The decision-making process is developed through a horizontal and democratic process. As a grassroots organisation, it is the sex worker members of the organisation who continuously make decisions. AMMAR Córdoba has a specially designed structure and work dynamic to enable sufficient sex worker representation and inclusive decision-making for members of the organisation. 6 sex workers are on the Board of Directors. These meet weekly and communicate daily. AMMAR Córdoba also has 10 sex worker "delegates" in work areas. These keep up a continuous connection between the organisation and the specific territory in which sex workers work through visits to the different work areas. Once a month there is an "Extended Commission" meeting, which is made up of the members of the Board of Directors together with the area delegates.
Work and decision-making includes assemblies every two or three months, in which sex workers from different territories participate, and discuss and exchange points of view and proposals. These collective bodies are the priority space used to make cross-sector decisions.
What have been the main achievements of your organisation in recent years?
Since the beginning, AMMAR has been a part of the CTA (Central de Trabajadores Argentinos [Argentine Workers Centre]), an independent worker-union that brings together various unions in the country. This is a space that gives us a class identity, and a model of struggle in which workers and grassroots unions become the engine of social change. At different times, AMMAR has chaired different union secretaries of the CTA; for example, the Secretary of Human Rights and the Secretary of Gender and Equal Opportunities.
In 2010, our organisation won UNAIDS' Red Ribbon Award at the World AIDS Conference in Vienna, for the impactful and innovative peer-based work of our group.
Another one of our fundamental achievements was the repeal of the article in the Local Penal Code that allowed police to arrest anyone who did sex work in public. This achievement happened after an intense campaign, coordinated with local legislators and political actors.
In 2012, AMMAR Córdoba promoted the creation of the Sex Work Recognition Network, which brings together allies from various sectors, including the academy, students, grassroots organisations, private individuals, LGTTBIQ activists, feminists, among others. Panels, debates and assemblies with affiliates are organised in this space in order to publicly debate and discuss the points favouring the right to exercise sex work for any person of legal age who wishes to do so. A new challenge is to strengthen the Sex Work Recognition Network – Norpatagonia, formed in 2016, with support from the Sex Work Recognition Network - Córdoba, as well as expand the political and union work to all Argentinian provinces.
In 2013, the book "Sex and Work," which explores the debate on sex work in depth, was published through AMMAR, in coordination with different intellectuals and activists. This text was edited by the Philosophy and Humanities Department at the National University of Córdoba (UNC), through the Sofía La Cartonera Publishing House. After this first experience, we published the book "Stand on my Corner." This book was compiled by Eugenia Aravena (AMMAR Córdoba), Juan Marco Vaggione (UNC), Liliana Pereyra (UNC) and Laura Judith Sánchez (UNC), among others, and also edited by the Philosophy and Humanities Department. This was a project promoted both by AMMAR and the Sex Work Recognition Network since mid-2012, together with activists, academics and people who felt drawn to our cause and wanted to organise a space that produces tools and devices to support the full exercise of sex work and its recognition. It is the first book that expresses and reflects on the rights of people nationwide who choose to offer sexual services in exchange for money or some other form of payment.
In November 2018, the 1st National Sex Worker Congress was held in Córdoba. We welcomed more than 50 partners from all over the country with high expectations to discuss the reality of sex work in different parts of the country. In commissions, we debated different collective strategies to build the fight for the recognition of our labour and social security rights. This made it possible to link nine groups of sex workers from across the country in General Roca, Río Negro with the organisation of transgender sex workers, and other partners who were not yet organised, such as in Bolsón, San Juan and some women in CABA Buenos Aires.
Tell us about something you have worked on recently.
We organised a campaign that featured an exhibit, "Sex Workers Occupy the Museum" at the Museum of Anthropology, in coordination with the Sex Work Recognition Network. This campaign lasted throughout the month of June, which is also the month in which International Sex Workers Day is celebrated. We had four Fridays of forums in which sex work was approached from different perspectives: organising and struggle, first person, academia, and health and desire. Intellectuals, health professionals, sex workers from different parts of Argentina, activists, all voiced the urgency of recognising sex work. This brought in many visitors who came to the exhibit as well as to the forums— we estimate more than 700 attendees.
What challenges does your organisation face?
In recent months we have noticed a large impact from current policies, both national and provincial, which have worsened the living conditions for broad sectors of society. We have noticed this decline in quality of life as well as limitations in accessing key resources to meet basic needs in many of the sex workers, cis women and trans, as well as their families, who attend AMMAR Córdoba daily, or who participate in the activities and services that the organisation provides. The number of sex workers who have had to visit the organisation in recent months to solve their food needs, for example, has been really shocking, and it has meant that AMMAR Córdoba has faced a huge task in expanding its food coverage.
This economic and political context has also pushed many people onto the streets, many of them trans sex workers who do not have a place to stay, and visit the organisation requesting housing in addition to food, clothing, hygiene products, etc. AMMAR Córdoba has tried to continue its focus on providing aid and support to sex workers as much as possible in these difficult situations described above; however, this increase is concerning, as are the limitations of the organisation in being able to provide enough resources to extend support to those affected.
Does the organisation have a message for the sex worker rights movement? What about those outside of the movement?
Follow us on social media, since for years our organisation has been committed to building and disseminating public campaigns with political impact aimed at changing the social perceptions of sex work and those who exercise it. We recently launched a campaign to demand pensions and social security for sex workers:
* First of all we began by turning statistics produced through a 2018 agreement with the School of Social Work in the Department of Social Sciences, into friendly, eye-catching images in order to share the results of a survey conducted with sex workers in Córdoba. These results revealed important statistics that allows one to see the need for access to these basic social justice categories for any worker.
17% of sex workers see themselves as trans women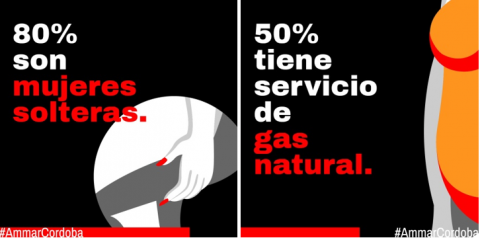 80% are single women. 50% have natural gas at home.
35% have indoor plumbing. 73% are heads of household
73% are heads of household. 53% have been in sex work for more than 10 years. 
63% work every day. 85% would like to keep studying (At Ammar Córdoba we have day-care, skill-building workshops, and primary and secondary school for sex workers and the whole community)
This is why we need social services and pensions. Join the campaign #ReconocimientoYA [RecognitionNOW]
* We also produced videos with different professionals and activists in social struggles, which justified and argued for the right to retirement and social security for sex workers. Here is an example.