Imagen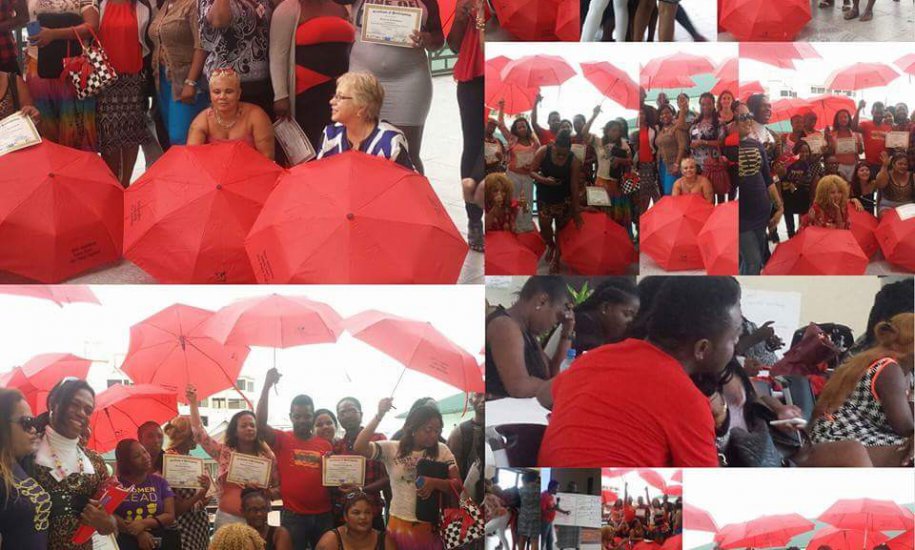 Miriam Edwards is the Executive Director and founding member of the Guyana Sex Work Coalition (GSWC) and co-chair of the Caribbean Sex Work Coalition. The GSWC is "a network of groups and individuals living in Guyana that are engaged in sex work" and which embraces "female, male and trans sex workers from both urban and rural communities whose work may be street-based, hotel/motel-based, or brothel-based."
GSWC's core services include "counseling and testing for sexually transmitted infections, support group meetings, training and capacity building for sex workers" along with "sensitization and empowerment sessions for law enforcement officers, health care providers and operators of establishments that cater exclusively to sex work." As the coalition states,  "These sensitization sessions are aimed at strengthening the stakeholders' capacity so that they can dispense their services in a non-judgmental, safe and enabling manner, free from discrimination."
As well as supporting sex workers, GSWC offers programmes and services "to men who have sex with men (MSM), youth, women, ex-prisoners and persons who are living with HIV."
CSWC is comprised of organisations that span the Caribbean and includes the Caribbean Regional Trans in Action (CRTA) in Belize, The SW Association of Jamaica (SWAJ) and the United Women's Movement (MODEMU) in the Dominican Republic. Miriam kindly gave NSWP's North America and Caribbean Regional Correspondent an interview to highlight some of the excellent work CSWC does and the challenges the coalition faces.
Which countries and/or regions is CSWC focused on?
CSWC currently works with sex workers in Guyana, Jamaica, Suriname, Trinidad, Antigua, Grenada and Dominican Republic. "We have links with non-sex worker organisations in Haiti such as ANAPFEH (L'Association nationale de protection des femmes et enfants haïtiens) to do work when necessary. Currently, we are partnering with the Organisation of Eastern Caribbean States (OECS) to work in other smaller islands such as Barbados St. Kitts/Nevis and St. Vincent," stated Miriam. "In the countries that we work in, the countries have laws and policies that prohibit sex work and solicitation. For example, in Grenada, an individual can get up to ten years in prison for sex work. Sex work is not regulated in the Caribbean. Sex workers work whenever and wherever."
A paper led by Kamala Kempadoo on the criminal status of sex work in the Caribbean states that, "in the English-speaking Caribbean almost all activities for female and male sex workers are criminalized. These include aiding prostitution and procuring for the purposes of prostitution; soliciting, loitering or wandering in a public place for purposes of prostitution; the use of premises as a brothel; living off or on, partially or wholly, the earnings of prostitution; sexual intercourse with a minor (person under the age of 16), and same-sex sexual intercourse" while "Laws in the Dutch Caribbean do not criminalize the prostitute or prostitution, but instead focus on the activities of third parties (men such as brothel-keepers, facilitators, procurers and sex industry managers) who profit from and manage the prostitution of another person." The French speaking Caribbean countries are governed by the laws in France.
When was CSWC formed?
"The organisation was formed in February 2008 by sex workers from several countries after they were exposed to human rights and empowerment training. This was an initiative by Dr. Robert Carr, who brought together sex workers for the first time to discuss the issues affecting them and the way forward," says Miriam and recalls that "the challenges faced at the time of formation of CSWC was the fact that sex workers were not fully accessing health services, specifically HIV and STI testing and treatment and there was high levels of stigma and discrimination at public spaces health and security), and ignorance of human rights. These sex workers were empowered to improve the lives of sex workers as well as to advocate for better health services for sex workers. It was then that they decided to form CSWC."
What are the priority areas that CSWC works in?
CSWC focuses on advocating for improved health services, human rights awareness, policy making and capacity building of sex workers.  "We get over our messages, goals through sensitisation sessions, workshops, meetings, discussion groups, outreaches," says Miriam.
Does CSWC provide services to sex workers?
Some services that are provided to sex workers are peer outreach, support group meetings, HIV/counselling and testing, human rights awareness workshops, leadership workshops, sensitization of health care providers and police officers (on human rights and skills dealing with sex workers).
Does CSWC do political work?
CSWC member organisations advocate nationally for better health, social and justice services for sex workers as well as human rights advancement. Regionally, CSWC is part of a Caribbean Regional Coordinating Mechanism which focuses on advocating for sex workers at a regional level whilst engaging governments in the same process. Miriam explains that "This RCM is a board made up of regional government officials, regional organizations, international agencies representatives and key population groups," and that "CSWC uses the opportunity for advocacy and representation."
How are sex workers meaningfully included in the organisation?
Sex workers form the board as well as the members of the organisation. Hence, they are included in all the planning, decision-making and management of the organisation. 
What were the biggest events or challenges this organisation has worked on in the past?
"The biggest event CSWC organised was the regional workshop that was held in Guyana in 2014 where 27 sex workers from seven Caribbean Countries attended," says Miriam and notes that, "sometimes, bringing sex workers in one location can be challenge as it is very costly."
The objective of the workshop was train sex worker leaders in leadership and advocacy. Activities included examining country policy laws and how sex workers can advocate around these laws and skill building sessions where sex workers learned to advocate for their human rights through role playing and quizzes.
As Kempadoo wrote in 2009, "'Sex work' and 'sex workers' are not legal terms in any Caribbean country. The most common terms used in the law are prostitution and prostitutes. Laws that date to the late 19th and early 20th century define a prostitute as 'a woman who engages in common lewdness.'" but that "today, the term sex work has been fully adopted by Caribbean organizations, researchers, social workers, health practitioners, and policy makers." This is undoubtedly due in part to the work of the CSWC and their allies.
What will be the biggest challenges for the organisation in the future? 
Funds to continue working with sex work in this region will be a challenge as many donors globally have stated that the funds are depleting. Getting sex workers to access services will also be a challenge if funding is not available. Currently, getting sex workers to access services is difficult. 
Does CSWC have a message for the sex worker rights movement? What about for people outside of the movement?
"Sex work is work. Sex worker rights are human rights. Each sex worker belongs to, has a family, has feelings, and has needs. As such, they should benefit from the same rights as any other person," said Miriam.  
Terms