Horizontes Diversos is an NSWP Member based in Manta, Ecuador. The are an entirely unfunded and volunteer-run organisation. Their focus used to be on providing resources solely transgender people, regardless of their involvement in sex work, but now their focus is more diverse. "We provide services to straight sex workers, gay boys, people working in bars - anyone - and our focus is on education and addressing human rights violations in Manta," said Chavica Moreira, the director of Horizontes Diversos.
Chaiva Moreira is a former sex worker and has been an activist for transgender rights and sex workers' rights for over 20 years.
How was the organisation founded? In what year was the organisation formed?
Horizontes Diversos was originally formed as a transgender human rights organisations in 2006. "In 2006 we started to do training with Camera [a regional AIDS organisation] handing out condoms to all populations. Through that relationship I started working with the Ministry of Health on HIV prevention as a volunteer. […] We started to get more political and work on policies that were more in line with our diverse needs," said Moreira.
Horizontes Diversos began to look beyond the needs of transgender people and became inclusive of sex work around this time. They also started to do move beyond regional work and started to work at a national level. "In 2007-2008 we started working on activism at the national level and our main focus was on health access for transgender people [including transgender sex workers]. We started to think about policy and our goals for policy reform. We continued with this for a few years and then I left the organisation for personal reasons. In 2014-2015 the organisation had a low profile and we focused more on health and access to healthcare."
In Ecuador, indoor sex work is legalised and regulated at a municipal level. Street-based sex work is often criminalised and areas where street-based sex work occur are often the targets of anti-sex work campaigns to 'clean' the city. Street-based sex workers face a lot of violence and discrimination.
Sex workers do not have access to healthcare services so Horizontes Diversos sought a space within clinics for women to get HIV testing. "Unfortunately there was a change of office at this time, so now we run those services out of my home," said Moreira. "Now I can offer out-patient care through home visits. It's in 2015 that we changed our name to reflect our diversity. We work towards addressing access to healthcare for people who are marginalised," she continued.
"Everything is run out of my home. We don't have have an office and because the situation is so difficult, we don't have funding. We send invitation to our home. It's like a family here. I live here with my family and we have separate meeting spaces," said Moreira.
What is your relationship with PLAPERTS?
Horizontes Diversos are members of the Plataforma Latinoamerica de Personas que Ejercen el Trabajo Sexual (PLAPERTS). Chavica Moreira met Karina Bravo from Associacion Flor de Azale in Ecuador, who is also a regional representative of PLAPERTS.
"She [Karina] motivated me to start pushing for political reform in gender variant communities. She hooked me up with NSWP and then PLAPERTS and the sex worker community," said Moreira.
Once Moreira was introduced to the sex work community, Moreira trained in Mexico on issues related to LGBT people and HIV.
"That's how I got involved trying to influence policies at the national level. I had several people who had been around for a lot longer. A lot of older people who connected me to these broader issues. We were able to have a really nice closer relationship with authorities including sex workers, specifically with the labour, education, and health ministry. We were able to make visible how women in the sex industry were being affected by national policy," continued Moreira.
What are the priority areas for? Does Horizontes Diversos offer services to sex workers? What kind?
Horizontes Diversos offers a range of services to sex workers. They offer a leadership school, they speak publicly on behalf of sex workers if their human rights are violated, they offer workshops and provide health services. They do all of this without funding and from the director's private residence.
Horizontes Diversos is very inclusive of people living with HIV and they are also part of the gender-based and domestic violence network. "Gender-based violence affects our members a lot," said Moreira, "especially as they transition."
What were the biggest challenges of Horizontes Diversos?
"I think one of our biggest challenges has been the issue of inequality for the populations we work with. Transgender sex workers experience a lot of discrimination and it's not easy to overcome it. We can't get the care we need," said Moreira.
However, despite many challenges, they have also had many victories. According to Chavica Moreira, Mantha, the city Horizontes Diversos is located in, is an example city for the rest of Ecuador. "We are very close to the authorities here. We are addressing discrimination in a meaningful way."
Chavica Moreira was elected to the Country Coordinating Mechanism of the Global Fund in Ecuador in September 2016. Their first meeting was in February 2017. 
According to Chavica, sex workers were not included in the Concept Note development and the new Global Fund contract is with Quimerina as the principal recipient of Global Fund money, and Quimer as the sub-recipient. Horizontes Diversos does not receive funding from the Global Fund. For more information on the Global Fund, please read NSWP's Smart Sex Worker's Guide to the Global Fund here.
"We want to see if we can change the contract so that the women [sex workers] are involved. My work with the Global Fund has been with the Quimer Foundation. My organisation has not been able to work directly with the Global Fund," she said.
As civil society members, "we do not know how the principal recipient, Quimerina, will implement its programmes. That's why it's important I am on the CCM," said Chavica.
This is a major challenge for sex workers with Horizontes Diversos, because they do not have funding and sex workers are often excluded from the development and implementation of programming for sex workers.
In addition to challenges with stigma, discrimination, the law, and the Global Fund, there was also an earthquake in Ecuador last year which impacted their abilities to offer services and also impacted sex workers immensely.
Does Horizontes Diversos participate in marches or protests?
Horizontes Diversos participates in the yearly March for Peace against gender-based violence. They participated in the Marcha de las Putas in 2017 [which loosely translated to the 'March of Whores'] as well.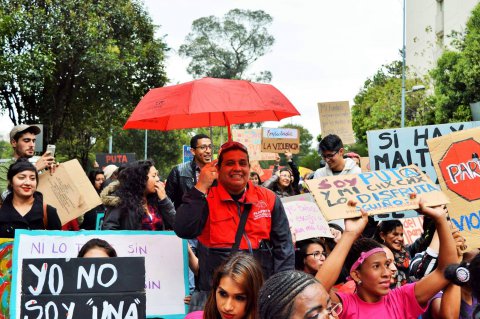 What will be some of the biggest challenges in the future?
The main goal of Horizontes Diversos is equality. "We want our work to be free from discrimination and sexism. Our biggest challenge is addressing the HIV epidemic. We don't want HIV anymore, and we need to learn to better care for one another," said Moreira.
Do you have a message for people in the industry? What about outside of the industry?
"My message is keep going! It's a struggle for all the populations to be more visible. We want to make it known that we are part of society. We have the same rights as everyone else. We have the right to not have our rights violated. Keep going… Someday people will understand and there won't be discrimination. I think that within the industry, it's not easy. People don't consider sex work as work, but the struggle goes on. I know that we will have success and support from all the different organisations that we work with."
"I know one day we will live in a work where there is no discrimination," concluded Moreira.