Imagen
M.I.L.D. works to protect and promote sex workers' rights in El Salvador. 
[Scroll down for English]
Cuéntanos sobre tu organización.    
Soy Juana R. Torres (Dulce Ana), presidenta y fundadora de Mujeres Independientes Luchando por sus Derechos. También soy conocida como Dulce Ana y soy de nacionalidad hondureña y vivo en Panamá. He ejercido el trabajo sexual desde muy joven. Empecé en bares por contrato y lo hice ahí por mucho tiempo, sin embargo, decidí independizarme y salir a trabajar a la calle para ser independiente y no tener que pagar comisiones por el contrato. A partir de ahí pude visibilizar y experimentar en carne propia la violencia que simplemente por ser trabajadora sexual vivimos; en indistintas ocasiones nuestros derechos son violentados en nuestros hogares, en la vía pública y en sitios de trabajo públicos.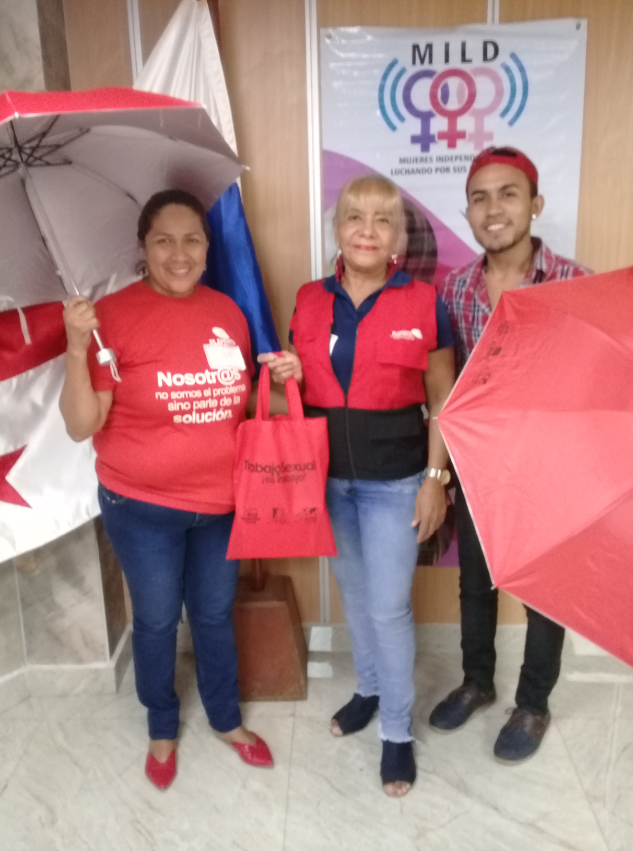 En Panamá el trabajo sexual no es penalizado, pero tampoco es reconocido como un trabajo. Sin embargo, siempre estamos luchando para que nuestro trabajo sea reconocido igual que cualquier otro empleo a nivel nacional.
En uno de mis días de trabajo observé que algunas compañeras no tenían acceso a la salud. La policía nos reprimía por estar trabajando en la calle. Desde luego, si alguna de nosotras no tenía documentos era arrestada con el fin de extorsionarnos, quitándonos todo nuestro dinero o muchas veces nos pedían el carnet de salud. Si no los teníamos, éramos llevadas a la cárcel, cobrándonos de multa un dólar al día. Nuestra desigualdad lograba que solo quienes tenían para pagar su multa podían salir y las demás pues teníamos que esperar el tiempo de arresto. Todo esto me llamó la atención.
Siempre me ha gustado la defensa de los derechos humanos. Siempre quise y anhelaba defender los derechos humanos de quienes necesitaban un servicio de acompañamiento, entonces tuve la idea de formar un grupo de compañeras. Les pregunté por qué ellas no tenían un carnet de salud. Me contestaron que ellas querían asistir a un centro de salud, pero que tenían muchos problemas para poder tener acceso a este. A partir de esto nos fuimos organizando en grupos entre pares, para en conjunto acudir por nuestro carnet de salud, el cual en algunas ocasiones es requisito laboral. Debido a esto, tomamos la iniciativa de organizarnos como grupo de personas trabajadoras sexuales y desde entonces continuamos en pie de lucha con nuestras compañeras.
A partir de ahí me invitaban a participar en temas de salud e información sobre diferentes temas; eran mis primeros talleres de formación y prevención en enfermedades de transmisión sexual. El grupo estaba creciendo y nos acercamos al Doctor Quintero para solicitar que nos sensibilizara en algunos temas de suma importancia en el trabajo sexual, entre ellos la prevención del VIH y otras ITS. Así participamos en cursos de educadoras pares y replicamos nuestros conocimientos con nuestras compañeras en los lugares de trabajo. A partir de esta necesidad decidimos conformar la Asociación MILD: Mujeres Independientes, Luchando por sus Derechos, la cual se formó en el mayo del 2015, con el objetivo de luchar para que la comunidad, clientes y autoridades respeten nuestros derechos como ciudadanas panameñas.
Yo, Dulce Ana, estoy dispuesta a seguir adelante ya sea en contra de la corriente para seguir avanzando por una mejor calidad de vida. La mayoría de los miembros de MILD no tenemos posibilidades de estudios, debido a escasos recursos económicos y la falta de oportunidades. Muchas de nosotras no tenemos en donde descansar, mucho menos un lugar propio. La pasamos afuera buscando como ejercer nuestros servicios para lograr un ingreso económico, bien sea durante el día o la noche. Es por eso que muchas de nosotras no tenemos las mismas oportunidades.
MILD se ha dado la tarea de continuar apoyando a otras compañeras, hablándoles sobre temas como violencia intrafamiliar, violencia doméstica, también temas de autoestima, discriminación por orientación sexual e identidad de género.
Ahora somos conocidas como organización y a la vez me ha formado como una figura pública, ya que por primera vez hay alguien que lucha por los derechos humanos de las mujeres trabajadoras sexuales. He viajado a otros países en Latinoamérica participando en talleres y foros para continuar aprendiendo acerca de nuestros derechos humanos y compartiendo nuestras experiencias.
Actualmente MILD forma parte de la NSWP y de la Plataforma Latinoamericana de Personas que Ejercen el Trabajo Sexual (PLAPERTS), en donde nuestra voz es escuchada y participamos en conjunto como movimiento latinoamericano para lograr mejorar nuestras condiciones en el trabajo sexual. Estar organizadas a nivel nacional, regional y mundial es una excelente herramienta para lograr estos cambios y trabajar siempre en conjunto para vivir libres de estigma y discriminación. Actualmente estamos implementando la herramienta SWIT, misma que se desarrolla en varios países a nivel regional y mundial.
¿Qué tipo de servicios ofrece tu organización?
Una de nuestras principales actividades la realizamos entre pares en nuestros lugares de trabajo. Consiste en sensibilizar y apoyar a las compañeras para que accedan a los beneficios de las clínicas amigables, ya que la mayoría de las clínicas de salud no cuentan con los servicios adecuados para la atención integral de nuestra salud, el acceso a pruebas de detección de VIH y otras ITS libres de estigma y discriminación, y el acceso a medicamentos.
Como organización llevamos a cabo pláticas de sensibilización con servidores públicos, policías y autoridades con el objetivo de disminuir la violencia que vivimos en los operativos que se realizan en nuestros lugares de trabajo. Gracias a esta sensibilización hemos logrado que las compañeras acudan a denunciar la violencia que vivimos.
MILD trabaja en conjunto con otras organizaciones aliadas que nos apoyan con donaciones de métodos anticonceptivos, preservativos, lubricantes etc. y para incrementar los conocimientos en materia de prevención del VIH y otras ITS con el uso correcto y consistente del condón en el trabajo sexual y en sus relaciones personales.
Uno de nuestros objetivos principales como MILD es tener un refugio para las compañeras de la tercera edad y compañeras que no tengan donde vivir. Un lugar de atención entre pares en donde MILD pueda dar asesoría en los temas más importantes para el correcto desarrollo de nuestra personalidad y del ejercicio del trabajo sexual y los derechos sexuales y reproductivos. Un lugar donde pues podamos seguir adelante con nuestros sueños de ser mejores en un futuro para lograr algunas metas que se nos presenten.
¿Tu organización hace trabajo político o campañas? ¿De qué tipo? 
Desde el inicio de MILD el objetivo ha sido mejorar las condiciones en las que se desempeña el trabajo sexual en Panamá. Para esto es necesario trabajar en la incidencia política. He implementado pláticas y foros con instituciones y autoridades para sensibilizarles acerca de nuestros derechos y el derecho a ejercer el trabajo sexual como un trabajo, haciendo énfasis en la importancia del acceso a la salud y a métodos de prevención gratuitos, así como la atención a nuestra salud integral libre de estigma y discriminación. Esto ha tenido buenos resultados, sin embargo aún tenemos un gran vacío con la policía que continúa violentándonos, discriminándonos y estigmatizándonos, prohibiéndonos el libre tránsito por algunas calles de Panamá.
Como grupo hemos participado en foros con universidades y grupos de apoyo en donde la población ha podido escuchar nuestras problemáticas desde nuestra propia voz. Esta ha sido una excelente oportunidad para visibilizarnos y sensibilizar a la comunidad sobre nuestra decisión de ejercer el trabajo sexual y los derechos que se nos vulneran debido al estigma y discriminación.
Todas las campañas que realizamos son muy importantes y cada una de ellas es enriquecedora. Siempre logramos identificar problemáticas actuales; acompañamos a nuestras pares en la denuncia, y fortalecemos sus conocimientos. Estas campañas son exitosas y las llevamos a cabo al menos dos veces por semana en los lugares de trabajo. Es importante mencionar que también incluimos a dueños de los bares, personal de seguridad, taxistas y comunidad que nos frecuenta, con el objetivo de sensibilizarlos para tener lugares de trabajo sexual seguros, libres de estigma y discriminación.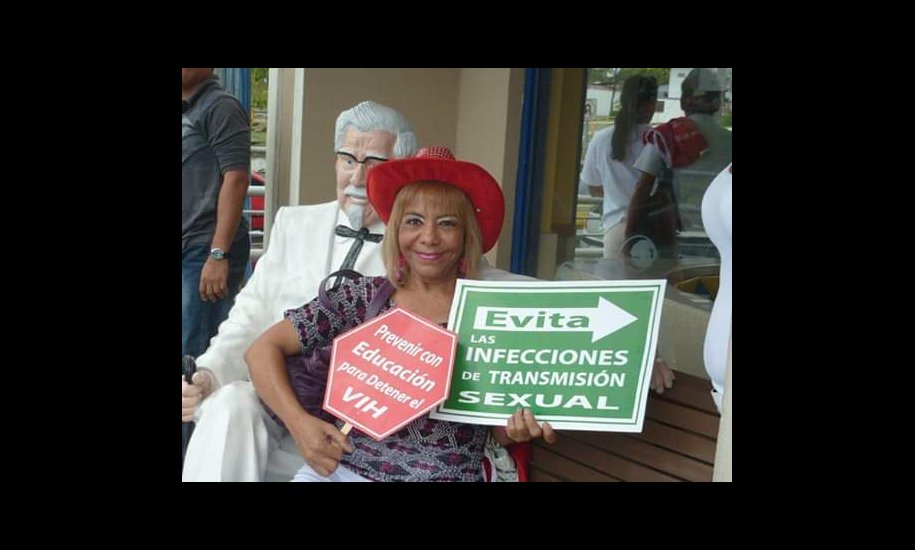 ¿Cómo incluyen significativamente a las trabajadoras sexuales en la organización?
La capacitación constante entre pares ha sido la clave para lograr que las integrantes de MILD sean educadoras pares con conocimientos de prevención y atención de nuestra salud integral, así como la prevención de la violencia y como levantar denuncias ante violaciones de derechos humanos, tanto en nuestros lugares de trabajo como en nuestra vida diaria. De esta forma siendo educadoras pares, acudimos a nuestros lugares de trabajo para que nuestras compañeras conozcan del tema. Somos también promotoras de salud poniendo al alcance condones y lubricantes en paquetes accesibles acompañados de información tanto del uso del condón como de los lugares de atención a su salud gratuitos a los que pueden acudir. Invitamos a nuestras compañeras a integrarse a la organización y a formarse como educadoras pares para la prevención de violencia y atención a la salud en el trabajo sexual.
Muchas mujeres que nos dedicamos al trabajo sexual no  tenemos la  misma oportunidad de asistir a algún evento o taller por falta de capacitación en los temas a tratar en estos foros y eventos. Hemos identificado este vacío y constantemente estamos capacitando a nuestras compañeras para que sepan cómo poder incidir en estos foros y lograr que nuestra voz sea escuchada. Sin embargo, la falta de recursos económicos para contar con un espacio adecuado para la organización en donde podamos brindar los servicios a nuestras pares es un gran obstáculo en el cual tenemos que trabajar para lograrlo.
Cuéntanos sobre un gran desafío en el que hayas trabajado recientemente, por ejemplo, una campaña o un gran evento.
Asistí a un foro de derechos humanos en diciembre 2018 en Panamá en el cual expuse el tema de violencia hablando desde mi propia experiencia. El interés de las personas que asistieron fue notable y logré sensibilizarlos sobre el tema de trabajo sexual y la violencia que vivimos como mujeres que lo ejercemos. Esta ha sido una de mis mejores participaciones y motivaciones, ya que además logré incrementar mis conocimientos en temas que indirectamente se relacionan con el trabajo sexual.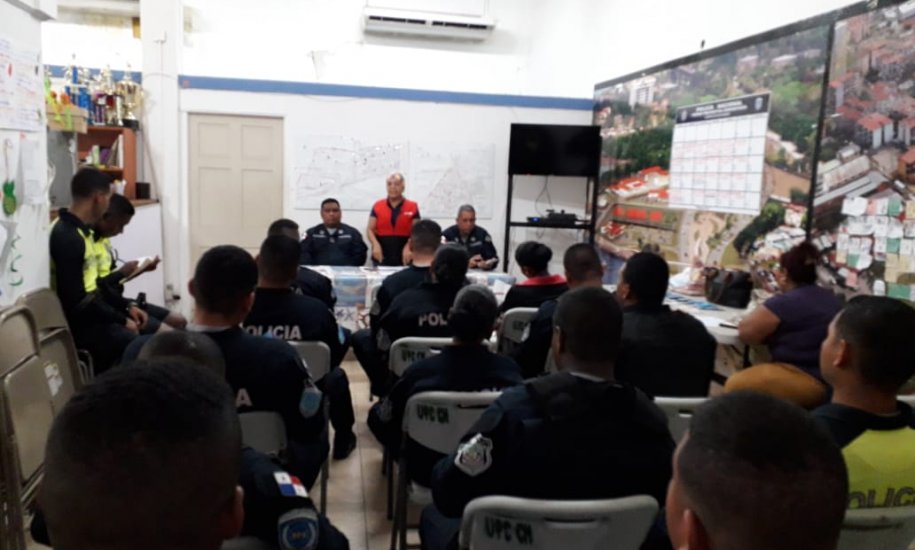 ¿A qué retos se enfrenta tu organización?
Nuestro principal reto es obtener la personería jurídica. No es fácil. Requiere de dinero, y procedimientos que por el momento son una barrera para lograrlo. Sin embargo no deja de ser una prioridad para nosotras ya que contar con personería jurídica nos brinda la oportunidad de poder acceder a proyectos y financiamientos nacionales para el fortalecimiento organizacional y de nuestras compañeras. Poder acceder a programas y financiamientos contribuiría a mejorar nuestras condiciones como organización y como personas que ejercemos el trabajo sexual.
La personería nos permitiría crecer como organización nacional con derechos de igualdad, con puntos focales en cada provincia o barriada y así lograr una mejor inclusión a nivel nacional,  siendo nosotras mismas parte de la solución y no del problema. En ocasiones me he reunido con personas del gobierno para dialogar sobre esta iniciativa ya que también quisiéramos una infraestructura equipada para poder brindar atención integral a nuestras compañeras que acuden a la organización para recibir atención, información o métodos de prevención.
Un otro reto es lograr sensibilizar a las autoridades para disminuir la violencia policial de la cual somos víctimas y lograr el reconocimiento de nuestro trabajo, garantizando las condiciones laborales a las cuales tenemos derechos.
¿Tiene la organización un mensaje para el movimiento por los derechos de las trabajadoras sexuales? ¿Y las personas fuera del movimiento?
Las personas que ejercemos el trabajo sexual somos objeto de derechos al igual que cualquier ciudadano. El estar organizadas en grupos, formar organizaciones y a la vez integrar redes o movimientos con nuestras pares es sin duda la mejor herramienta para lograr el empoderamiento de nuevas líderes en el movimiento. Nuestra voz debe de ser escuchada en todos los lugares en donde se involucre el tema de trabajo sexual, y debemos participar en los lugares de toma de decisiones y elaboraciones de leyes, mandatos o reglamentos que puedan poner en vulnerabilidad nuestro entorno.
La unión y la fortaleza se adquieren a través del trabajo en conjunto. MILD continuará luchando para que nuestros derechos sean respetados, y nuestro trabajo sea reconocido a nivel nacional, y para que podamos trabajar y vivir libres de violencia, estigma y discriminación. El trabajo sexual es un trabajo al cual tenemos derecho como opción laboral, dejando de ser víctimas para ser responsables. Trabajar en conjunto es una estrategia efectiva que permite nuestro pleno desarrollo como personas exitosas.
Tell us about your organisation
I'm Juana R. Torres, president and founder of Mujeres Independientes Luchando por sus Derechos [Independent Women Fighting for their Rights]. I'm also known as Dulce Ana and I'm a Honduran national living in Panama. I've been in sex work since I was very young. I started in bars under contract and I was in that for a long time. However, I decided to break away and go work on the streets so that I could be independent and wouldn't have to pay commission on the contract. It was at that point that I was able to see and feel the violence that we face simply for being sex workers. At different times, our rights are violated in the streets, in public and in public workplaces.
Sex work in Panama is not criminalised but it is not recognised as work either. Still, we're always fighting for our work to be recognised, just like any other form of employment in the country.
One day while I was working I noticed that some women didn't have access to health care. The police would repress us for working in the streets. Of course, if one of us didn't have papers, she would be arrested in order to be extorted and have all her money taken. Often they would ask us for our health cards. If we didn't have them, we would be taken to jail and fined a dollar a day. Our own inequality meant that only those of us who had the money to pay their fine could get out and the rest of us, well, we had to wait out our arrest period. All that got my attention.
I've always been interested in human rights defence. I've always wanted and dreamt about defending the human rights of those who needed accompaniment, so I got the idea of putting together a group of women. I asked them why they didn't have health cards, and they replied that they would like to visit a health care centre but that they had many problems in accessing it. After that, we began organising ourselves into pair-based groups to go get our health cards together, which is sometimes a precondition to be able to work. Because of this situation, we took the initiative to organise ourselves as a group of sex workers and since then we've kept up the fight with our co-workers.
After this, we were invited to participate in spaces on health and information on various topics. These were my first educational and prevention workshops on sexually transmitted infections. The group was growing, and we approached Dr Quintero to ask him to teach us about a few topics of great importance for sex work, among these, the prevention of HIV and other STIs. This is how we joined classes on peer education and we began to share our knowledge with our colleagues in the workplace. Based on these needs, we decided to start the MILD Association: Independent Women Fighting for their Rights, which was started in May 2015 with the goal of fighting so that clients, authorities and the community respect our rights as Panamanian citizens.
I am willing to keep moving forward, even if it's against the current, in order to reach a better quality of life. Most of MILD's members, we don't have the option of studying because of scarce economic resources and a lack of opportunities. Many of us don't have a place to rest, much less a place of our own. We're always outside looking to see how we can perform our services to get an income, be it during the day or at night. This is why many of us don't have the same opportunities.
MILD has continued supporting other women, talking to them about issues like family violence, domestic violence, as well as issues of self-esteem and discrimination based on sexual orientation and gender identity.
Now we are well known as an organisation and at the same time I have shaped myself into a public figure, since, for the first time, there is someone fighting for the human rights of women sex workers. I have travelled to other countries in Latin America participating in workshops and forums to continue to learn about our human rights and share our experiences.
Currently, MILD is part of NSWP and the Latin American Sex Worker Platform [Plataforma Latinoamericana de Personas que Ejercen el Trabajo Sexual] (PLAPERTS), where our voices are heard and where we participate alongside the Latin American movement in order to improve the conditions we face in sex work. Being organised at the national, regional and global levels is an excellent way to make these changes and work together to live free from stigma and discrimination. We're currently implementing the SWIT, the same one that's being used in several countries in the region and in the world.
What types of services does your organisation offer?
One of the main activities we conduct is with our peers at the workplace. We educate and support our co-workers so that they can access the benefits available at friendly clinics, since most health clinics don't have adequate services offering holistic care, access to HIV and other STI tests free from stigma and discrimination, and access to medication.
As an organisation, we give educational talks to public servants, police officers and authorities with the goal of reducing the violence we experience during the operatives conducted at our places of work. Thanks to this sensitivity training, we have gotten women to start reporting the violence we experience.
MILD works with other ally organisations that support us through contraceptive, condom, lubricant, etc. donations and work with us to increase HIV and STI prevention knowledge through the correct and consistent use of condoms in sex work and in personal relationships.
One of our main objectives as MILD is to have a shelter for elderly sex workers and sex workers who don't have a place to live. A place for peer-based services where MILD can counsel people on the most important issues for the appropriate development of our personalities, for performing sex work, for sexual and reproductive rights. A place where we can move forward with our dreams of being better in the future in order to achieve the goals that may appear in the future.
Does your organisation do campaigns or political work? What kind?
Since the beginning, MILD's objective has been to improve the conditions for sex work in Panama. For this, it is necessary to work on political pressure. I've done talks and forums with institutions and authorities in order to educate them about our rights and the right to engage in sex work as work, emphasizing the importance of access to healthcare and free contraceptives, as well as holistic healthcare free from stigma and discrimination. This has had good results; however, we're still facing a great gap with the police, who continue to assault us, discriminate and stigmatize us, prohibiting our freedom of movement through certain streets in Panama.
As a group we have participated in forums with universities and support groups where the populace has been able to listen to our issues through our own voices. This has been an excellent opportunity to raise awareness and educate the community about our decision to perform sex work and the rights that we have violated through stigma and discrimination.
All the campaigns we do are very important and each one of them is enriching. We're always able to identify current problems— we go with our colleagues to report violations and we strengthen their knowledge. These campaigns are successful and we do them at least twice a week at work sites. It's important to mention that we also include bar owners, security personnel, taxi drivers and the community that seeks our services, with the goal of educating them so as to have safe workplaces free from stigma and discrimination.
How do you ensure significant participation of sex workers in the organisation?
Constant peer-based education training has been the key to ensuring that members of MILD become peer-based educators with information on prevention, on holistic healthcare services, as well as on violence prevention and how to report human rights violations, both at work and in our daily lives. As peer-based educators, we go to our workplaces so that our co-workers can understand the issues. We're also healthcare promoters, putting condoms and lubricants in accessible packaging within reach. These come with information not only on condom use, but also on the free health care centres they can visit. We invite our co-workers to join the organisation and become peer educators trained on violence prevention and healthcare in sex work.
Many women who perform sex work don't have the same opportunities to go to certain events or workshops because of a lack of training on the issues being discussed. We've identified this gap, and are constantly training our colleagues so that they know how to participate in these forums and have our voices heard. However, the lack of economic resources for an appropriate space so that the organisation can provide services to our peers is a great obstacle which we have to overcome.
Tell us about a big event you have been part of recently.
I went to a human rights forum in December 2018 in Panama where I talked about the issue of violence from my own experience. The audience had noticeable interest and I was able to educate them on issues of sex work and the violence we experience as women in that field. That has been one of my greatest appearances and it was motivational, too, since I was also able to increase my own knowledge of issues that indirectly relate to sex work.
What challenges does your organisation face?
Our primary challenge is getting non-profit status. It's not easy. It requires money and certain procedures which at the moment are a barrier to overcome. However, this is still a priority for us, since having non-profit status gives us the opportunity to access projects and national funding to strengthen both the organisation and our colleagues. Being eligible for programs and grants would improve our conditions as an organisation and as people who do sex work.
Non-profit status would allow us to grow as a national organisation with equal rights. We could have focal points in each province or neighbourhood and achieve greater inclusion at the national level, since we are a part of the solution and not the problem. I have occasionally met with people in government to talk about this initiative, since we would also like proper infrastructure in order to provide a holistic offering to our co-workers who visit the organisation for services, information or contraceptive methods.
Another challenge is being able to educate the authorities in order to reduce the police violence that victimizes us, as well as ensuring the recognition of our work, guaranteeing the kinds of labour conditions that we are entitled to.
Does your organisation have a message for the sex worker rights movement? And for those outside the movement?
Sex workers are the subjects of rights the same as any other citizen. Being organised in groups, forming our own organisations and at the same time being a part of networks or movements with our peers is without a doubt the best tool for empowering new leaders in the movement. Our voice must be heard in all places where sex work issues are involved. We must participate in decision-making spaces and in drafting laws, declarations or regulations that could put our surroundings at risk.
Unity and strength are acquired by working together. MILD will continue to fight for our rights and for our work to be recognised at the national level so that we can work and live free from violence, stigma and discrimination. Sex work is work and we have the right to engage in it as one job option among many, leaving behind the idea that we are victims in order to be responsible. Working together as a group is an effective strategy that allows us to fully develop as successful people.