Imagen
PLAPERTS is an NSWP member and the regional platform for Latin America. When spelled out, the acronym stands for "Plataforma Latinoamericana de Personas que ejercen el Trabajo Sexual", which means "Latin American Platform of People who do Sex Work."
Which countries and/or regions PLAPERTS focused on?
PLAPERTS has members in 7 countries in Latin America including Ecuador, Peru, Colombia, El Salvador, Nicaragua, México, and Brazil.
What is the history of PLAPERTS? How and why was it formed?
PLAPERTS was formed in November 2013 when NSWP hosted a gathering with representatives from Brazil, Ecuador, Mexico and Peru. The goal of the gathering was to identify and document best practices undertaken by sex workers in carrying out programmes related to sex work and HIV. The programme was funded by the Robert Carr Fund For Civil Society Networks. The final report can be found here.
A result of the meeting was the formation of a new group of sex workers of all gender in Latin America. At the time, its aim was "the visibility of all populations of sex workers in Latin America in policy making and advocacy for the human, labour, and health rights of sex workers."
The proposed activities were:
To design effective communication strategies.
To share experiences that strengthens sex workers' leadership.
To have an updated directory of sex worker-led organisations that offer effective intervention strategies.
To promote the active participation of sex workers in decision-making.
To get funding to achieve the objectives of the platform.
Organisations began to share strength, knowledge, resources and experiences. Soon, PLAPERTS created a strategic plan. It was mainly through training and empowerment of sex worker leaders that the strategic plan was implemented, and PLAPERTS began strengthening the capacities of sex workers within their organisations.
What are the priority areas that PLAPERTS works in?
PLAPERTS is a new organisation that is still developing its priority areas. Currently, all members agree that PLAPERTS will uphold NSWP core values and Consensus Statement on Sex Work, Human Rights, and the Law and work towards acceptance of sex work as work, and an end to violence, stigma, and discrimination.
Here we can see a flyer of the Statement in Spanish: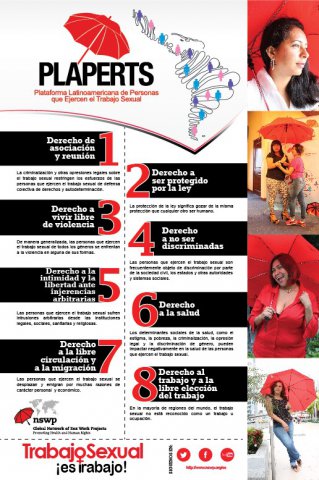 How are sex workers meaningfully included in PLAPERTS?
Ninety-eight percent of PLAPERTS members are sex worker-led organisations, with the remaining 2% comprised of organisations that are not sex worker-led but support the acceptance of sex work as work. Sex workers are included in every level of decision making at PLAPERTS.
PLAPERTS' mission is to build the capacity of male, female, and transgender sex workers, including sex workers living with HIV, migrant sex workers, and sex workers who use drugs through the strengthening of local and national sex workers-led organisations. PLAPERTS is inclusive of all sex workers.
How are decisions made?
PLAPERTS is still undergoing changes, and as a new organisation, their governance structure and decision-making processes are still evolving. "There is not a rigidly defined structure of who is who, who is the president of the network, or who is the spokesperson," said Karina Bravo, member of PLAPERTS.
PLAPERTS members are continuously in contact with each other to share information and reach consensus within the network, including through WhatsApp and emails. "We have a group in WhatsApp where we can communicate with them [country members], inform them, for example about future meetings or major decisions," said Karina.
Both Karina Bravo and Miguel Angel Saurin Romero are the NSWP Regional Representatives in Latin America on the NSWP Board of Directors, and they are also the informal spokespeople for PLAPERTS. Both work very hard to build the capacity of other members to lead PLAPERTS and feel empowered to speak up.
"I try to lower my profile a bit, so that there is room for other voices, for example, Miguel's voice, or on the other hand, our colleague Ana Karen in Mexico who is carrying out the Sex Worker Implementation Tool project, so in some manner, the role of being the voice of PLAPERTS is spread out and shared," said Karina.
PLAPERTS makes important decisions by consulting members. They are a non-hierarchical organisation. Each country is fully independent, and each organisation can do whatever they would like as long as it fits within the shared values of PLAPERTS.
When a major decision must be made or a particularly contentious issue arises, a Skype meeting is organised through WhatsApp.
"Every country is autonomous, and they can work on their own demands, not all the on-the-ground country contexts are the same. There are some countries that need one thing, others another, so each country is autonomous. So, we have a general alignment, based on the consensus document of NSWP, but every country will, every country is autonomous," said Miguel.
PLAPERTS members are consulted about priorities and informed about funding received to implement programmes, which enable some members to meet each year during activities.            
What were the biggest events or challenges of PLAPERTS? E.g. opposing or campaigning for a law; organising an event …?
Financial constraints are the biggest challenge of PLAPERTS, membership has grown from 4 to 7 countries, and while we are always in communication and share information, but there is not enough money to implement all of the issues that we need to work on.
What will be the biggest challenges for PLAPERTS in the future? 
"To keep on the work of strengthening new militants, to position sex workers rights in the political agendas, laws, debates. Also a big challenge will be getting funding to continue working on the proposed strategies," said Miguel and Karina.
Does PLAPERTS have a message for the sex worker rights movement? What about for people outside of the movement?
"We must overcome the gap that pulls us apart. We must link together to be stronger [...]. We want to make mistakes. This will make us learn and improve, and will be a chance to talk about our own contexts. It is a chance to keep dreaming that one day, our rights will be respected. As our fellow Gabriela Leite said 'dream that the word whore will be a nice word'. If we work together we can achieve many things," said Miguel and Karina.