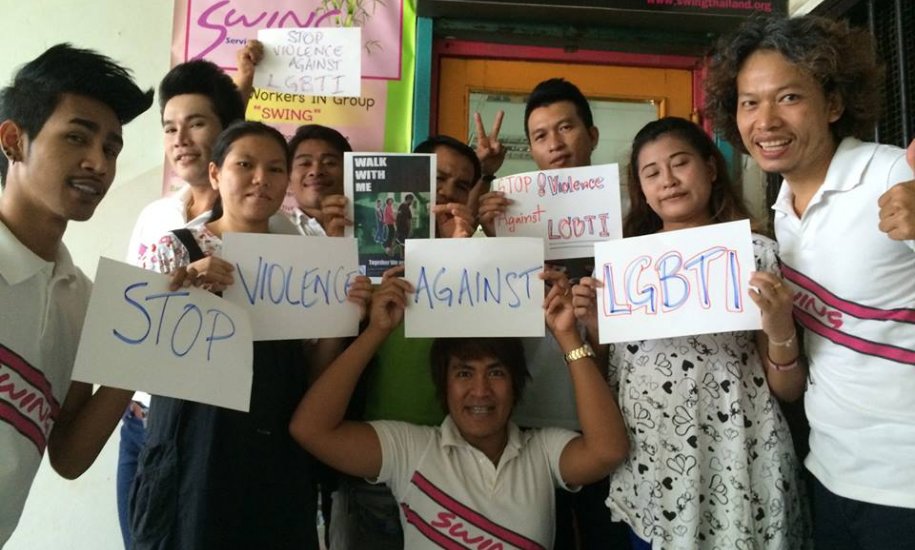 The Sex Workers IN Group (SWING) are a sex worker organisation with drop-in spaces and offices across three of Thailand's most infamous red-light districts: Bangkok (Patpong), Koh Samui, and Pattaya (Walking Street). As an organisation working at the local, national and regional level, SWING are recognised for their expertise in developing creative and innovative core programs and projects which focus on the health and wellbeing of sex worker communities, using a human rights framework and peer-led health promotion activities.
SWING's work is driven by principles of community ownership and community representation, which reflect the organisation's commitment to providing its exclusive sex worker membership with a range of peer education initiatives that build the capacity of individual members and ensure the sustainability of the network. In creating a space and voice for sex workers in society, SWING employs a strategy of empowerment through education, which aims to increase the quality of life of its members and to enhance their abilities to participate in the local and national sex worker movements as peer-leaders.

In advocating for sex workers' rights, SWING recognises that sex workers are the most effective agents of change; however, the organisation also works to build strategic alliances with institutions and individuals who can enact cultural change within their own communities for the benefit of sex workers.

SWING are a member of the Asia Pacific Network of Sex Workers (APNSW) and are widely respected within the Asia Pacific region for the flagship work they have undertaken within male and trans* sex workers communities.
In December 2010, SWING staff in Pattaya promoted World AIDS Day with a parade through Pattaya's infamous red-light district, Walking Street. Free condoms, lube and Femidoms were promoted; and staff engaged in conversations with sex workers and their clients, as to safer sex strategies and the use of safer sex prophylactics.
SWING's Bangkok staff and volunteers celebrate the 2013 launch of the organisation's in-house, peer-run Voluntary, Testing and Counselling (VCT), rapid HIV testing service in the Patpong drop-in centre. Pre and post counselling is undertaken by SWING peer staff who have been specifically trained in counselling and referral.Sex workers who test positive are offered referral to SWING's self funded, peer-run, Care and Support program. 
SWING staff and volunteers in 2013, promoting the launch of the organisation's peer-run VCT, HIV rapid testing service, in Bangkok's red-light districts, Patpong, Nana and Soi Cowboy.

Community Organising from the Grassroots
SWING evolved from the EMPOWER Foundation, a national Thai sex worker network which has been operating a service and drop-in space for female sex workers in Bangkok's Soi Patpong since 1985.

A long term EMPOWER staff member, Khun (K.) Surang Janyam, recognised that male and trans* sex workers were not able to identify the range, albeit limited, of health care and advocacy services available to female sex workers, nor had access to equitable peer health and education services.  Based on her experiences of working with women sex workers in the Thai sex industry through-out the height of the HIV pandemic, K. Surang recognised the susceptibility of trans* and male sex workers to HIV/AIDS and the potential for a peer based sex worker organisation to use grassroots community development strategies to avert transmission of the virus amongst male and trans* sex worker networks.

Hence, in collaboration with several key male sex workers, Chamrong Phaengnongyang (Pi Tee) and Yoshina Chon (Pi Yo), who were accessing EMPOWER's Patpong drop-in space for safer sex prophylactics and peer support, K. Surang began facilitating community meetings throughout 2004 with the aim of developing a strategic approach toward building a new network that would cater to a male and trans* sex worker membership.

As testament to the dedication they feel toward SWING, the organisation's first 3 staff, nominated by a process of community consensus at SWING's official launch on 1 September, 2004, all continue to retain their positions a decade into the organisation's history. From the left, K. Surang Janyam (Director), Pi Yo (Programs Manager) and Pi Tee (Assistant Director).

As there was scant research regarding the needs and issues affecting Bangkok's male and trans* sex worker communities; K. Surang, Pi Tee and Pi Yo's first self-funded, voluntary activity involved ascertaining the viability of the proposed network through a coordinated mapping exercise of Bangkok's male and trans* sex work venues and spaces. These venues included 'boy-zone' areas, bars, sex clubs and theatres, sex on premises venues, streets, parks, beats and other public spaces in which sex was known to be traded surreptitiously. In addition to undertaking a mapping exercise of Bangkok's male and trans* sex work areas, an exercise involving the identification of key issues impacting on male and trans* sex workers was also instigated.

The outcome of these activities confirmed that male and trans* sex workers were not included in the national and civil society response to HIV/AIDS in a meaningful way, nor were there any organisations undertaking service delivery, advocacy or community representation of male and trans* sex workers. Although there were several budding peer-based MSM networks in Thailand at the time, many male sex workers felt excluded from them. As some male sex workers did not identify as gay (due to their only sexual contact with men occurring in a work contact), they were uncomfortable engaging with these organisations as they were not representative of their experiences. Similarly, male sex workers who did identify as gay reported experiencing stigma and discrimination from the MSM community as a result of their employment within the sex industry.

Subsequently, with a mandate from the Bangkok male and trans* community, K. Surang, Pi Tee and Pi Yo, instigated a community fundraising effort to raise money for a drop-in space, in which they could build a service provision organisation. With donations from sex workers and their clients, $3000USD was raised within 3 weeks. However, in clear instances of discrimination, several attempts at locating an affordable and accessible space were aborted when property owners balked at renting their spaces to male and trans* sex workers. A space was eventually identified in the Patpong district, coincidently, within the same building as the EMPOWER Foundation, where key SWING staff and members had previously worked and utilized services.

During a meeting of sex workers and allies on 1 September, 2004, SWING was officially named the Service Workers IN Group. The decision to refrain from using the term "sex worker" in the organisation's title was strategic, as the group wanted to acknowledge that their work involved service provision, yet wanted to avoid the stigma associated with the sex industry. Additionally, the group feared that the notoriously conservative Thai government department responsible for registering NGOs would have objections to the term "sex work" and would cause delays and disruptions to the registration process. (Unfortunately, many sex worker groups across the region continue to face difficulties in registering their network name if it contains the term "sex worker" or indicates support for sex worker rights).

The meeting also resulted in the founding of a steering committee and staff were elected to their positions by the community. K. Surang was nominated to the position of Director, Pi Tee to Assistant Director, and Pi Yo to Program Manager. As testament to their dedication toward SWING, the organisation's first 3 staff all continue to retain their positions a decade into the organisation's history. With support from APNSW, in early 2005, SWING secured funding from Family Health International to implement an outreach program and to provide advocacy, information, referral and support to the male and trans* sex worker community.

After several years successfully implementing programs for trans* and male sex workers, SWING expanded its focus to regional areas and began to include female sex workers in its program work. SWING's expansion involved facilitating programs in Pattaya (2006), Koh Samui (2009) and Aranyaprathet (2009); 3 districts with large female sex worker communities that were not receiving peer-run services or support. Due to their experiences of stigma and discrimination from service providers, female sex workers in these areas were initially reticent to access any health promotion services; however, through utilising peer education as a key component of its community mobilisation strategy and by employing former and current local sex workers to undertake outreach activities, SWING was able to build successful relationships with sex workers, sex industry establishment owners and others on the periphery who profit from the sex industry (i.e. doormen, bartenders, motorbike and taxi drivers etc).

Soi Twilight, or Soi Boystown, is one of inner-city Bangkok's most infamous bars and sex on venue areas for males and trans* workers. Whilst undertaking a mapping exercise of Soi Twilight, it was essential for SWING to engage in relationship building with both sex workers and venue management. Due to the successful relationships that SWING has sustained with venue management and staff, SWING regularly undertake health promotion activities within Soi Boystown.

As of 2014, SWING operates offices located within the centre of red-light districts in Bangkok (Patpong), Koh Samui and Pattaya. Each SWING office is staffed by a majority of peers and although each office offers similar core services (including, peer education and referral, outreach to local sex industry venues and areas, access to a high school certificate through the Non Formal Education program, a Care and Support program for HIV positive sex workers, and English language classes) all three of SWING's offices enjoy a unique character, reflecting the culture of the local sex industry.

Between 2009 and 2013, SWING operated a drop-in space in Aranyaprathet, a small town on the Thai-Cambodian border. The Aranyaprathet office primarily offered services to migrant Khmer sex workers who operated from local karaoke bars.
Pattaya-based staff promote SWING's in-house, peer-run Voluntary, Testing and Counselling (VCT), rapid HIV testing service in Walking Street. Pre and post counselling is undertaken by SWING peer staff who have been specifically trained in counselling and referral.
SWING's Bangkok staff prepare to undertake a safer sex health promotion activity within the Nana red-light district on Valentine's Day, 2012.
SWING's Patpong drop-in centre includes a gymnasium. The gym was established at the request of HIV positive sex workers who identified that they wished to maintain their physiques, but felt uncomfortable accessing commercial gyms. To ensure the confidentiality of people's sero-status, gym users do not need to identify whether they are HIV positive or negative. (Please note that the individuals in this photograph do not necessarily identify as HIV positive).
Organisational Priority Issues
SWING undertakes work within three primary thematic pillars: empowerment; health; and policy. The areas addressed within these thematic pillars include:
Work rights;
Human rights, including developing sex worker generated strategies to challenge and decrease the incidence of violence against sex workers perpetrated by state actors;
Health rights and self health care, including access to ARVs and OST;
Health promotion (including prevention and care, self-health care, self esteem and gender identity issues);
Access to education;
Skills building and capacity development with peer leaders;
Challenging stigma and discrimination, with a particular focus on HIV+ sex workers, sex workers who use drugs, male and trans* sex workers, migrant sex workers, and sex workers who lack access to stable accommodation; 
Issues affecting migrant sex workers;
Advocacy, with an aim that sex workers are included in policy development processes which will impact on our lives and livelihood;
Representation within a number of forums, with an aim that sex workers drive the agendas impacting us;
Relationship building and sensitivity training with police, medical professionals and others that sex workers commonly face prejudicial treatment from.
SWING staff, joined by a representative from the International Labour Organisation, promote an Occupational Health and Safety initiative in Bangkok's Soi Boystown.

SWING utilises the use of "games" in undertaking workshops within sex industry venues. This strategy has proven an effective alternative to traditional outreach tools, such as brochures, particularly for migrant sex workers and/or those with limited Thai literary skills. By undertaking sex industry specific versions of traditional games such as Bingo (i.e. SWINGO), SWING staff are able to engage sex workers in discussing issues which may be culturally taboo or embarrassing. SWING's unique outreach style is also extremely effective in relationship building between both sex workers and SWING staff. In 2012, SWING outreach staff began experimenting with the use of tablets as a health promotion tool. This approach is both novel to sex workers and particularly effective in engaging sex workers with limited Thai literary skills.
Addressing the Impact of Criminalisation
An ongoing issue which SWING addresses in its advocacy and program work involves addressing the relationship between sex workers and the police. Sex work is criminalised in Thailand, resultantly; sex workers are afforded little protection under the law and are vulnerable to the excesses of police corruption, with many sex workers reporting that they have been subject to harassment, detention and abuse by the police. Some sex workers have had to pay "fines" or provide free sexual services to police in order to avoid arrest. Similarly, many sex industry venue owners are required by police to pay for an unofficial "licence to operate" and commonly it is the sex workers employed in these establishments whose wages are docked to raise the money to pay for the "licence". Police executing searches of suspected sex workers will commonly use condoms as evidence that a person is a sex worker. Given that condoms are universally recognised as a best practise strategy for reducing HIV and STI transmission, and that widespread condom distribution amongst communities at high-risk of HIV/AIDS are part of Thailand's National AIDS strategy, the confiscation of condoms and their use as evidence in charging a person for engaging in sex work is not only counter to official Thai government policy, but is also counter to HIV/AIDS prevention efforts.

Over the past 10 years, many sex workers have reported to SWING that problems with police are the primary issue affecting their working conditions. To address issues surrounding police harassment of sex workers, in late 2004, SWING began to facilitate short-term education and sensitivity training program with 'beat' police operating in Bangkok's 'hot spots' – areas identified by sex workers as being prone to high levels of police activity. The training SWING undertook seemed to have some impact, as sex workers initially reported a decline in police harassment following police participation in the program. However, sex workers reported that within several months of completing the training, police would return to their previous behavioural patterns and the harassment of sex workers would resume. Subsequently, SWING identified that a different, long-term approach was needed, and after much discussion and consultation with the sex worker community, in 2005, a new, more strategic approach was developed.

SWING's new approach to working with police involved launching a self-funded project which aimed to reduce gender based violence against sex workers by working with police to support individual officers to enact cultural change within the police force. The Royal Thai Police Force training program requires police cadets to undertake three weeks of community service with a Non-Government Organisation (NGO) before graduation, with the aim of broadening the perspectives of police cadets by exposing them to social issues and the grassroots responses to these issues. Hence, SWING's pilot Police Cadet Training Program involved offering nine third year police cadets a three week internship placement at SWING's Patpong office.

The nine police cadets were paired with nine SWING peer staff and were required to undertake the same work as SWING staff members. This involved cleaning the drop-in office prior to opening, preparing food for drop-in members, engaging in health promotion campaigns, undertaking nightly outreach to sex work areas, offering support to SWING members accessing the drop-in centre, teaching English and/or Non Formal Education classes, drafting human rights based policies and facilitating safer sex workshops in sex industry workplaces. Every evening the police cadets had an opportunity to debrief with their SWING counterpart about their experiences and the challenges they were facing. During this debriefing time, SWING staff was able to give context to the work the cadets were engaged in, to challenge the preconceived ideas of cadets toward sex worker/ers, and to guide the cadets' understanding of criminalisation on the lives of sex workers. Upon completing the 3 week internship at SWING, police cadets were required to give a presentation to the entire police cadet academy about their experiences, highlighting what they learnt and how their perspectives about sex work/ers had changed.

SWING deliberately engaged with police cadets with the aim of being able to influence the attitude of young police officers towards sex workers before they entered the police force. Engaging with young police officers was also a strategic move to try to influence police officers to change the culture of their own organisation by challenging discriminatory attitudes and practices toward sex workers. Similarly, SWING reasoned that in the future these young police officers would reasonably be expected to be promoted to higher positions of authority within the police force, and from these positions would have a greater capacity to influence the way in which police relate to sex workers. Hosting police cadet as interns also gave SWING the opportunity to develop relationships with local police commanders, who acted as local support for police interns, many of whom were not familiar with Bangkok.

Implementing the Police Cadet Training Program, which SWING staff initially self-funded through their wages, proved just as challenging to sex workers as it was to police cadets. Sex workers who participated in the program had previously experienced police violence, corruption and harassment, and it proved challenging for some of these sex workers to "see beyond the uniform" and to build relationships with the police cadets. Some sex workers instinctively felt as though they were "working with the enemy" and had to put aside their personal feelings about police. However, due to the commitment of SWING staff, the program has yielded a number of positive outcomes: SWING has a network of police which it can call upon to support sex workers in need of police assistance. Similarly, some former cadets have developed such strong relationships with SWING staff that it is not uncommon for them to contact SWING to seek advice about personal and professional issues, including expressing frustration at the attitudes of other police towards sex workers, and seeking advice about strategies for enacting cultural changes within the police force.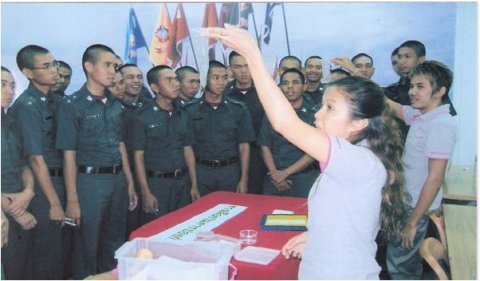 SWING undertaking training of police cadet recruits. SWING's long term strategy involves attempting to the change individual attitudes within the police force; given that there is a reasonable expectation that police officers will be promoted through the institution's ranks as their careers progress, these individuals are expected to implement local policies which reduce the impact of the criminalisation of sex workers.

Between 2005 and 2009, SWING annually hosted nine police interns for a three week period. A total of 45 police cadets have completed their internship with SWING. Due to political instability in Thailand, the police internship program has been suspended since 2010; however, SWING hopes to resume this program in the future. SWING's Police Cadet Training has gained international attention, and has been featured in both international media and a number of case studies exploring innovative sex worker community driven solutions to dealing with police violence. SWING has been invited to present on the Police Cadet Training program in a number of regional UN forums and international conferences, and to act as a consultant to the Vietnamese Government in developing strategies to improve the relationship between Vietnamese sex workers and police.
Successful recruits pay homage to SWING peer staff following their experience of working within a sex worker group. Prior to their successful graduation from the Police Academy, individual cadets are expected to deliver a presentation to their fellow recruits which represents their experience of working within SWING, including describing how their attitudes toward sex work have changed, and how they intend to deal with institutional responses to sex worker issues upon their graduation."Peer buddies" who were matched with individual cadets throughout the 3 week project are responsible for grading their "police buddies" presentations.
No "special privileges" – Just Equitable Rights
Ultimately SWING's work is undertaken with the aim of contributing to a society in which the human rights of sex workers and other highly marginalised communities are recognised, respected and protected. SWING believes that everyone, regardless of their culture, nationality, occupation, gender, sexual orientation, lifestyle, income and physical ability have the right to access affordable health care from the service provider of their choice; the right to access education; the right to affordable accommodation within the community of their choosing; and the right to live free from violence, assault, stigma, discrimination and fear of persecution.

SWING recognises that sex workers have a unique insight into the plethora of issues which impact our lives and are therefore best placed to address these issues. Subsequently, an important aspect of SWING's work involves supporting sex workers to advocate around these issues in different forums. SWING recognises that sex workers have a key role to play in the broader struggle for social justice and by providing an enabling peer environment, sex workers empower themselves to address the larger social issues, such as the recent political turmoil in Thailand.

SWING believes that it is important that the broader community understand that sex workers are not advocating for "special privileges", but are simply asking for the same rights as everyone else.
SWING staff participated in the 2013-2014 Anti-amnesty Bill street protests,, which eventually led to the ousting of the democratically elected Yingluck Shinawatra Government, to be replaced by a "peacekeeping" military government. SWING also participated in the mass 2006 People's Alliance for Democracy (PAD) rallies which lead to the exile of Prime Minister, Thaksin Shinawatra.

Photo at top: SWING staff promoting 2014's International Day against Homophobia and Transphobia, at the entrance to the Patpong (Bangkok) drop-in and office space.