Imagen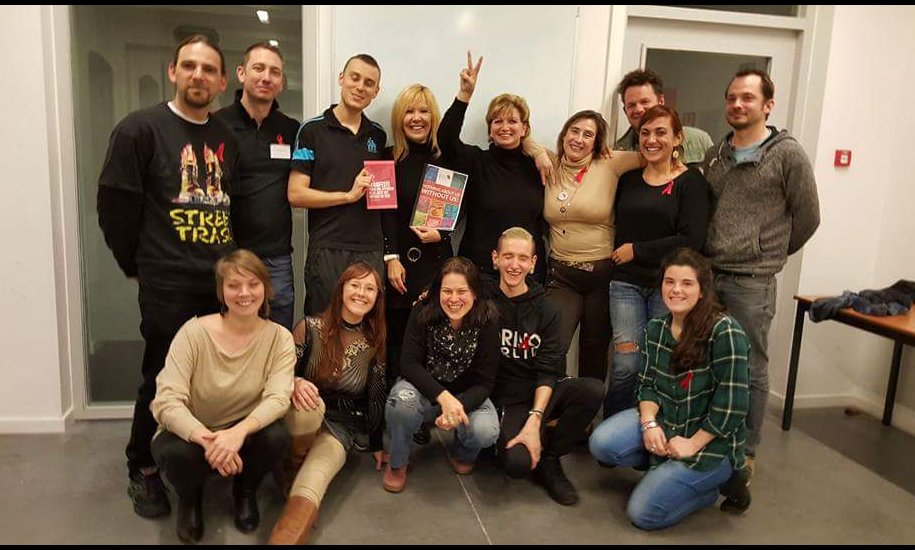 UTSOPI is a sex worker-only organisation, working across Belgium to promote sex workers' safety and rights.
What is the history of your organisation? How and why was it formed?
Our organisation was born in 2015, after a dinner between sex workers, suggested by Luca Stevenson from ICRSE. At the beginning, we only wanted to have regular dinner and drinks between sex workers, to talk and exchange with our community, because usually our family and friends don't have an exact understanding of all the challenges, issues and feelings that come with our job. Initially, we wanted to invite other sex workers to these kinds of events which had no goal other than to relax together.
It was only in 2015 when a local mayor of Saint-Josse, a municipality in the region of Brussels, decided to implement regulations aimed against sex workers on his territory, where one of us was working, that we decided to do more. We felt at this moment we had an opportunity to do something, but also a responsibility, for all the sex workers in this district. From this fight - which we won - UTSOPI became a community organisation with a political goal, namely that of bettering work and life conditions for sex workers and fighting against stigma.
How are sex workers meaningfully included in the organisation?
This is an organisation for and by sex workers. Every current or former sex worker who wants, can join the organisation, attend the monthly meetings, run for membership of the Administrative Board, be a volunteer or apply for a paid position as a staff member. At the monthly meetings, all ideas, issues, directions and strategies are discussed and each member is welcome to voice their opinion. All important decisions are taken by consensus.
What areas does your organisation work in?
UTSOPI is active in all of Belgium. As we started off in Brussels, most of our actions were and still are situated in Brussels. After 3 years, in 2018, we started a new project with the socio-medical aid organisation Violett in Flanders to extend UTSOPI's work there. After a year and a half of intense and challenging work in Flanders, we succeeded in creating two new chapters of UTSOPI: one in Ghent and one in Antwerp, which are the largest cities in Belgium, after Brussels. In the future, we wish to consolidate these chapters with the existing core group and try to create new groups in Wallonia, the Southern and French-speaking part of Belgium. We believe our work is of utmost importance in the city of Liège, where issues for sex workers are very complicated. In the city of Liège, sex work has been criminalised for several years and excluded outside of the city, to Seraing, another city close. Some of the policy makers there have an abolitionist and moralistic point of view on sex work. Recently, they derailed a project called "Eros Center" (a project working with sex workers in brothels in Seraing). Many of these sex workers are single mothers, sometimes with drug dependence issues, and the majority of them wanted this Eros Center to go ahead, particularly for safety reasons.
Our first objective is to create spaces for discussion, exchange and sharing, only open to sex workers. There are already many existing associations for sex workers, but nothing specifically by and for us. We want to be able to meet each other, share our stories and experiences, talk about our lives, our joys, our sorrows and rages, in a safe environment, where we won't be judged for what we do. The aim of these spaces is also to create a space where sex workers can get advice from colleagues, advice that only other sex workers can give, as support from colleagues and a listening ear is sometimes the most important thing you need as a sex worker.
Our second objective is to work towards representing, as far as possible, all sex workers in Belgium, to improve the living and working conditions for all sex workers, and to defend their fundamental human rights. Through advocacy work and lobbying, we expect to make legislative change in Belgium, to make it possible that sex work is recognised as work through the law. For us, this is the starting point to protect and further the rights of sex workers. In parallel, and not to be forgotten or neglected, it is one of our priorities to change the vision of sex work in society. We are still highly stigmatised in Belgium, even if our work is legal and many places where we work are visible in the public eye.
Both priorities work in reciprocity. To know about the issues at hand in the world of sex work, we need to have as much information as possible from as large a group of sex workers as possible. To be recognised as the voice of the community, we need to take notice of all issues in as many forms of sex work as possible, including those of undocumented sex workers, trans sex workers... At the end of the day, we are stronger together. We need to grow as an organisation to be able to have any effect. So we need to reach out to the community and offer an open invitation to sex workers to come join us.
Do you provide services to sex workers? 
The actions of UTSOPI are not really services, but we're offering a safe space every month, an event called 'Listen to You'. This is a moment between sex workers to exchange and share their troubles, desires, successes, etc. In parallel, we are in contact with lawyers who are supportive of our cause. Thanks to our mediation, it is possible for sex workers to be defended by these lawyers at a very low price. Regarding health and social services, our work is rather to redirect sex workers to service providers; we know them well, we are very much interlinked and their social workers and medical teams are more experienced and better equipped to find a solution to these issues.
Do you do political work, or campaigns? 
Changing the law in Belgium is our end goal so yes, we do a lot of advocacy work. We actively carry out advocacy work with local politicians at city level and members of Parliament. We know people within almost every political party who are supportive of our cause. Alongside active political lobbying - which comes down to meetings with politicians to present our demands - we embarked on a project of developing our own memorandum with all of our political demands. We presented this memorandum a few days before the elections and voiced our dissatisfaction in the press after the recent formation of the Brussels government: though we were glad that they took steps in their administrative agreement which can possible make living and working conditions for sex workers better, we expressed that we were disappointed we were not consulted while drafting the agreement.
Our lobbying has had some effect: every three months we are invited to discuss with the municipality of Schaarbeek, the Brussels municipality in which half of the largest red light district is located. After summer, liberal party Open VLD is organising a symposium around the question of social and labour rights for sex workers. UTSOPI will be the guest of honour. The socialist and liberal national trade unions have taken on the task of designing a social statute we can present to politicians to make an end to the current legal limbo in the country.
Tell us about a big event or campaign you have worked on recently.
For the moment, we're working on a project with ICRSE around the North District of Brussels, where the situation of sex workers is certainly the worst in Belgium. Our mission and project here is to identify the different forms of trafficking and organise for data on this to be collected and reported on, first in this district, and then in all of Belgium, to highlight the different forms of violence and lack of access to justice for sex workers. Because of this, we could have a real database on violence against sex workers and show what it is necessary to do. The idea for this project is also to identify and show the different forms of trafficking and exploitation, and organise a conference to show how realities are more complex than just clichés.
One of the last big events we were involved in was Belgian Pride, where UTSOPI had a float for the second year, in collaboration with different services providers in Belgium (Alias, Boysproject, Espace P). For us, it's an opportunity to claim rights for LGBTQI+ sex workers, as well as sex workers in general. This event is still a challenge for UTSOPI, because every year people from the community and outside attack us and our participation, question our place in the movement and our role in the LGBTQI+ community. It's still a big challenge to convince other oppressed community that we have to work together, including the most precarious of us, and organise our struggles together.
What challenges does your organisation face in the future?
Our fight against stigma and a legal recognition of sex work is being sabotaged by abolitionist feminism, the kind of feminism that considers sex work as a kind of slavery caused by patriarchy. Sex workers fighting for their rights are seen as having a "false consciousness". Led by the European Women's Lobby, we see that their influence is becoming larger in the women's movement and among politicians, especially within the Green Party which won the last elections in great parts of the country. We are building an alliance with non-abolitionist feminist groups to show that the women's movement does not speak with one voice and that the battle for sex workers' rights lies within the heart of all feminism. We must not lose the right to speak for ourselves and we must certainly not allow those claiming to be "acting in our best interest" to take that space away from us. 
Does the organisation have a message for the sex worker rights movement? What about for people outside of the movement?
We have a simple message: please don't give up, this is about more than only our rights. Don't forget that we can make the earth shake. This is not only about sex work but also about sex and often dated notions and judgements on what in sex is abnormal or immoral. This is about the pervasive "mother" versus "whore" dichotomy, where the non-monogamous woman, let alone the publicly non-monogamous woman is not considered worthy of a place in society. Entangled with this is the fact that sex in our age is by many considered the ultimate intimate act and proof of love. To monetise it is a sin. Sex workers, in this sense, are truly "fallen women", to be approached with suspicion, not worthy of anyone's trust and better not listened to. Deviant sexuality is seen as an easy reason for too many people to silence others, putting the trans and gender fluid sex workers in an even less enviable position. This is a fight to shake society out of its notions of normality and heteronormativity, patriarchy and contemporary forms of slavery and colonisation. We need to decolonise the body.
To the others: everybody needs protection. Is it moral to deny protection to some because you think that what they do is immoral?