Since its inception in 1996, The Veshya Anyay Mukti Parishad (VAMP) has taken a rights-based approach to sex worker organising. Prior to VAMP's existence, Sampada Grameen Mahila Sanstha (SANGRAM) had been running the peer intervention program with sex workers, and SANGRAM went on to support sex workers with resources and training to develop the collective.
Chanda Vajane from VAMP was interviewed by NSWP. She said, "the older leaders at the time were doing condom distribution and teaching women how to distribute condoms. However, women were facing a lot of violence in their dhanda (work). Some of the older leaders realised that we need to do much more than give condoms and keep them safe from HIV." Chanda explained that in March 1995, the concept of forming a collective to "help each other fight injustice and violence" was discussed, and from this, VAMP was born. There was a clear vision and understanding of the need for HIV prevention to be more holistic. "If the women did not feel good about their lives, themselves – their ability to negotiate their work doing all this HIV work was not going to help."
When the collective included 150 sex workers, VAMP registered as a volunteer non-governmental organisation under the name Veshya AIDS Muquabla Parishad [Prostitutes to combat AIDS] in 1996. Kiran from VAMP pointed out that Veshya is the Sanskrit name for 'prostitutes' which was reclaimed by VAMP. Sangita added, "we wanted to bring back dignity to the word 'Veshya' and remove all the stigma that we were facing from that name. There is nothing wrong with being a 'Veshya'." Reclaiming this word was not an easy process, said Chanda, who explained that it was a point of discussion in a lot of their meetings. "It was a difficult word for us to accept for ourselves, but the women became convinced that we could not allow our dignity to be decided by others and through names that they called us."
Chanda told NSWP that after a few years of working together as a collective they become much stronger and confident in reclaiming the word. Most people did not understand sex workers' decision to use the term 'Veshya', since for most people it had a negative meaning. "When we approach the media or officials, they don't know how to react to it. Newspapers hesitate to use the full name of VAMP" said Chanda.

VAMP also has another unregistered collective body under the same acronym. However in this version the alphabet "A" stands for Anyaya or injustice. While the acronym remains the same, this collective means "Prostitutes Against Injustice".  Hence collective undertakes the work to fight injustice against and within the community. The collective took a decision that it would not register undertake this work voluntarily and would not seek any funding.

VAMP runs and manages peer intervention in five districts: Sangli, Satara, Kolhapur, Bagalkot and Belgaum. These districts are located in the West/South West region of India in Maharashtra and North Karnataka. While they have three larger targeted interventions in Sangli and Satara, a smaller intervention is run for sex workers in Bagalkot and Belgaum which focuses on condom distribution, treatment access and violence against sex workers. VAMP does not have a collective in Kolhapur, but works in partnership with organisations there that support sex workers.
Chanda explained to NSWP that VAMP decided to focus on these areas since a lot of women who were coming to Sangli were from North Karnataka. There was no intervention for the women who were going back and doing sex work in North Karnataka or their family members in sex work, who live in North Karnataka. "We decided that all women should get access to condoms, treatment and free from violence, so that they have safe working conditions" said Chanda, "sex workers from the collective do a lot of peer outreach and distribute condoms in the HIV programme [in North Karnataka]." Kiran added that sex work leaders often visited these areas to do field visits to do HIV prevention work. So they made a schedule and encouraged more sex workers to visit and share their experiences.
What type of work does VAMP do?
In 2010 the VAMP Institute was formalised. Numerous visitors, grassroots workers and sex workers some from outside India, used to visit VAMP for exposure and informal training. VAMP realised that there was a wealth of experiences and lessons learned that could be shaped and shared with sex worker groups and activists in India and at the South Asia level. This led to the formal VAMP Institute. Since 2010, trainers have been identified from the VAMP collective and a training curriculum has been also developed. Members from 12 collectives in India have visited and received formal training through the Institute. In addition, trainings have been given to collectives from Uganda, Kenya, Bangladesh, Sri Lanka and Nepal on collectivisation including human rights mechanisms such as the Convention on the Elimination of all Forms of Discrimination Against Women (CEDAW) and the United Nations Universal Periodic Review (UPR) in the South Asian region. The VAMP institute inspired the Sex Worker Academy Africa.  
"Now our partnership has strengthened in three other countries also – Sri Lanka, Bangladesh, Nepal – it is called SWASA or Sex Workers & Allies South Asia, so our work has now gone to the South Asia level," said Kiran. From doing these exchange visits with sex workers from different countries VAMP have both learned and taught a lot. VAMP is also working with others through this network to do joint advocacy on various issues such as the development of the UN Women policy on sex work. VAMP submitted a statement which is available here, and produced a YouTube video.
VAMP does a lot of advocacy work at both the national and international level. Their focus is often on draft bills and policies that affect sex workers. VAMP also works with children of sex workers and provides educational support to them through a program called MITRA.

VAMP's other work includes a Targeted Programme which includes Prevention, Peer Intervention and Care & Support. VAMP also has Crisis Redressal Committees called Tanta Mukthi, which resolves issues within communities and does advocacy with other stakeholders.
Through VAMP, sex workers have created a shared space to offer support, share experiences, and develop knowledge and skills to address HIV and Gender Based Violence (GBV). Maya explained to NSWP, "VAMP members meet weekly on Monday, in open forums where information is shared and decisions made collectively. Through a range of activities including mediation within families or between partners, collective meetings and advocacy with police or other institutions, violence in different forms is identified and addressed. When women report experiencing violence within the family, VAMP members intervene and provide mediation."
Mediation is through the `Tanta Mukti Samithi,' a conflict redressal committee for sex workers by sex workers. In cases of state or structural violence, VAMP undertakes sex worker-led protests and advocacy activities to create public awareness and pressure for change, as well as pursuing legal redress through the courts. Oppressive and exploitative brothel owners are also challenged by the Tanta Mukti Samithi. As Sangeeta told NSWP, "in cases of systemic violence such as in healthcare settings, or harassment or violence from police or private landlords, VAMP does public advocacy. For issues within the sex work community VAMP does negotiation or mediation with the perpetrators from the community to seek a resolution."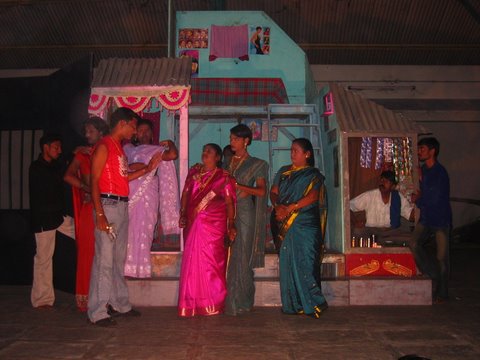 How are sex workers meaningfully involved?
Kiran told NSWP how support from SANGRAM and the involvement of a growing number of sex workers helped develop and shape the collective. "As the collective grew, we began to include addressing violence" said Kiran, "women who do various forms of sex work are part of the collective, which also works in partnership with collectives of male and transgender sex workers."

What were the biggest events or challenges VAMP has worked on in the past?
VAMP has achieved positive change for its members through building the capacity of sex workers, creating a mutual network of support and a foundation for a range of activities to promote the rights of sex workers and to respond to HIV and GBV. "The collective has conducted advocacy with community leaders, political actors, policy makers, police and NGOs," said Kiran, adding that VAMP has also carried out education and sensitisation activities including with members of the judiciary in Delhi for the past 3 years. "This complements ongoing violence intervention activities and advocacy to promote the human rights of sex workers." In addition, VAMP members are reaching out to other feminists and women's organisations to promote the principle of collectivesation and share their learning and experiences.

Chanda recalled VAMPs involvement in the National and International Campaign around the `Nippani' Incident. In 2002, VAMP leaders were prevented from holding meetings in their office in Nippani, North Karnataka. Members of VAMP were physically prevented from entering the premises by local leaders and police. SANGRAM and VAMP, with National Network of Sex Workers, led the protests at the local level supported by feminist and women's rights organisations from Bangalore, Pune and Mumbai who were part of protesting the incident in Belguam. 
Chanda also talked about VAMP's work as part of a national campaign around the Baina episode, where sex workers were forcibly evicted from their homes and asked to leave the state of Goa. Rainbow Planet, a coalition of NGO's, activists, feminists, sex work networks and Community Based Organisations (including VAMP) produced a report called 'Women Without a Country 'on the evictions.
In responding to this question, Sangeeta spoke about the work VAMP has done in taking collective action to expose oppression and seek justice for its members. She explained, "the strength in the collective upholds principles of 'nothing about us without us' and underlines how sex worker-led initiatives are essential to successfully addressing Gender Based Violence against women who do sex work."
In 2013, VAMP partnered with SANGRAM and campaigned against the Justice Verma Commissions' articulation of trafficking in the Criminal Amendment Bill. The definition sought to include 'prostitution' within the meaning of exploitation, which would have led to the criminalisation of sex work in India. VAMP and SANGRAM were joined by the National Network of Sex Workers and women's groups who opposed the definition and finally managed to get this definition amended in the Criminal Law Amendment 2013.

Members of VAMP have also been active as part of the  National Network of Sex Workers (NNSW), including on the board of NNSW. Since 2013, NNSW has been very actively engaged in national advocacy.
Since 2014, members of VAMP and the National Network of Sex Workers have actively participated in the Supreme Court appointed panel to discuss measures and recommendations for preventing trafficking, providing options for sex workers who wish to exit from sex work and for all sex workers who would like to continue working with dignity in sex work. VAMP Institute did extensive training workshops on the law (Immoral Traffic Prevention Act), which enabled members to present their recommendations on the law. (While ITPA was introduced to prevent trafficking, there are numerous clauses which make soliciting, living on the earnings of a sex worker an offence. In addition, there are provisions which enable judges to evict sex workers from their homes and close them; bar sex workers from entering into the city limits. Sex workers can also be kept in correctional facilities to force them to give up sex work.) The panel has recommended that the ITP Act should be read down in the context of adult sex workers.
Another good thing VAMP has done is their engagement with the Special Rapporteur on Violence Against Women in 2013. VAMP, SANGRAM and members of NNSW made a submission to the SR – VAW. After, members of VAMP met with the Special Rapporteur and shared their concerns on the conflation of trafficking and sex work, forced rescue and rehabilitation measures. In her report submitted to the UN General Assembly, the Special Rapporteur called attention to the conflation and made the following recommendations to the Government:-
"The Special Rapporteur recommends that the Government review the Immoral Traffic (Prevention) Act, 1956 that de facto criminalizes sex work and ensure that measures to address trafficking in persons do not overshadow the need for effective measures to protect the human rights of sex workers."
VAMP has also intervened with the National Commission for Women (NCW) to oppose the demand for legalisation of sex work and the move to register sex workers. The collective calls for the decriminalisation of sex work, so sex workers have access to the same laws and services as other citizens.
Kiran told NSWP how VAMP was part of the shadow report to the CEDAW committee in 2014. "We did a lot of data collection for that report," said Kiran, "members of the network went to the field and collected case studies of violence, raids, family violence and discrimination in health care." 


All of the members of the SWASA Alliance (Bangladesh, Nepal, Sri Lanka and India sex worker networks) came together in August, holding a meeting in Kathmandu, Nepal, to decide on what recommendations sex workers wanted to provide to the CEDAW Committee. Bangladesh reported to the committee in 2016 and Sri Lanka will be reporting in early 2017. The India group is reporting to the Human Rights council as part of the Universal Periodic Review (UPR) in 2017. "These are new things for us and we are getting to learn how we can do advocacy at the international level" explained Kiran. In this meeting in Kathmandu, VAMP was able to share their experiences with others from Nepal, Sri Lanka and Bangladesh who are now are making efforts to write a report for the CEDAW Committee. 
More recently, VAMP opposed the draft anti-trafficking bill in 2016.
VAMP celebrates International Sex Workers Rights Day on 3 March with Sex Worker's Pride, Women's Day on 8 March and Ambedkar Jayanti on 14 March.

VAMP's campaign included a series of activities including testifying before the Supreme Court Panel, addressing the National Commission for Women, highlighting the concerns of sex workers in print and social media.
 
What will be the biggest challenges for VAMP in the future?
Kiran spoke of one of VAMP's biggest challenge in the future being working with new laws that do not consider sex work as work. "Anti-trafficking groups globally and across India, have often muddied the waters on the issue of adult consenting sex work," explained Kiran, pointing to the fact that such groups have done so by continuously claiming that "efforts to decriminalise sex work will lead to increased demand for trafficked victims and fuel sexual exploitation".

Sangeeta explained that in India the major focus is on the demand for decriminalisation of sex work as well as opposing the introduction of the currently proposed "Immoral Traffic Prevention Act." She shared Kiran's concerns regarding momentum around the Swedish Model and the way in which women's groups and anti-trafficking groups have tried to argue that the Swedish model is the only way to tackle trafficking.

Making sure the public and lawmakers understand what decriminalisation is, and to ensuring there is an understanding that "sex work is adult consensual provision of sexual services and must not be equated with sexual exploitation or sex trafficking" appear to be key challenges VAMP will continue to face in the future. As Maya put it, there is a critical need to "understand the fact that anti-trafficking strategies are adversely impacting rights of sex workers".
Does VAMP have a message for the sex worker rights movement? What about for people outside of the movement? 
VAMP's main message is that sex work should be seemed as "Decent Work". "What we do is work – just like what others do for a living and livelihood. It is a source of livelihood and supports families, provides them education, health care – just like any other work." VAMP made it clear they would like safe working conditions for all sex workers.