Imagen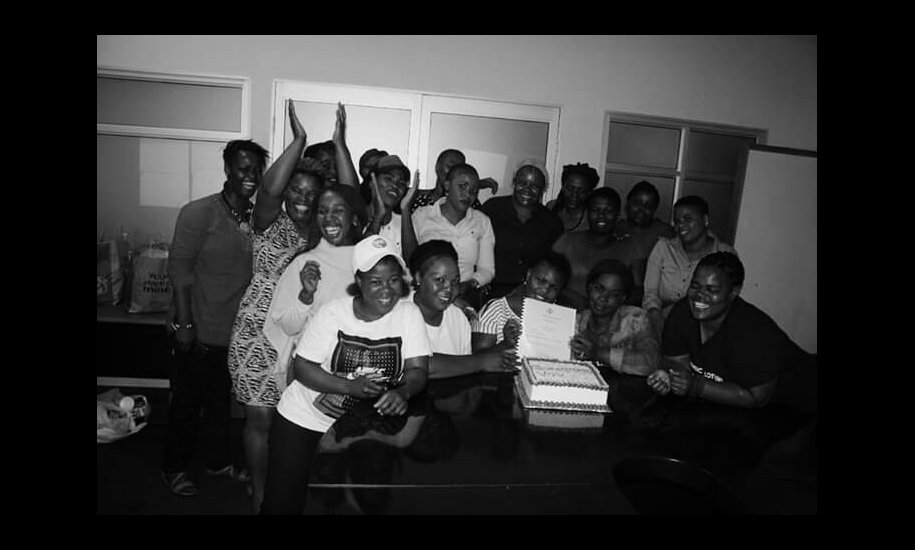 Voice of Our Voices is a sex worker-led organisation from Eswatini, supporting sex workers to advocate for their human rights and promote access to health services.
Tell us about your organisation.
Voice of Our Voices (VOOV) is an organisation led by sex workers for sex workers in Eswatini, located in the Southern part of Africa. Our priority areas are to advocate for social change and the protection of sex workers, linking sex workers with service providers, and distribution of health commodities to sex workers. We also advocate for law reform that accommodates everyone.
Voice of Our Voices is a registered non-governmental organisation whose mission is to build an effective long-term community response to issues faced by sex workers in Eswatini. Our vision is to see 'a healthy compassionate vibrant Eswatini' that is a safe for all citizens, including sex workers.  Sex workers are one of the populations that are disproportionately affected by HIV as compared to the general population in Eswatini, with UNAIDS recording a HIV prevalence of 60%. Sex workers continue to face challenges accessing health services within the public clinics due to issues of stigma and discrimination. Sex work in Eswatini remains a crime and police continue to harass sex workers. Voice of Our Voices, working with the Ministry of Health Swaziland National AIDS Programme, FHI360, CANGO, PACT, SAFAIDS, COSPE and key population-led organisations (e.g. Rock of Hope, Trans Swati, House of Our Pride partners), works tirelessly to ensure that sex workers have access to health services and their voices are heard. Voice of Our Voices also works with ASWA on giving capacity building to the members of the organisation through the Sex Worker Academy Africa. PACT played a vital role in capacity building of the organisation at a local level.
What is the legal context for sex work in Eswatini?
Sex work is criminalised in the kingdom of Eswatini, and sex workers are often arrested for loitering which the is a crime act of 1889. However, the law is quiet about clients. Sex workers are not given a fair hearing whenever they are arrested for loitering; they are taken to a National Court where they are made to pay fines and it is not clear how these procedures can be changed.
The main challenge is that the law does not recognise sex work, and instead sees sex workers as criminals for being in this type of work. Culture contributes also to stigma and discrimination to sex workers as most of the time society have their own expectations as you grow. The inequality of people is also a factor that contributes to the high rates of gender-based violence. We see this throughout society, from all types of people in the country.
What is the history of your organisation? How and why was it formed?
The "super group" which gave birth to VOOV was a task team for sex workers that worked with the Ministry of Health in addressing the health needs of sex workers. At the super group, each hotspot (four geographic focus areas) was represented by two sex workers from all the four regions of the country. The super group met monthly to discuss issues of sex workers from the different hotspots. This platform was also used for capacity building for the sex workers on topics that were chosen by them. The super group meetings started in 2014 and were hosted by the Ministry of Health Swaziland National Aids Programme, HC3 and later FHI360. The birth of VOOV was formulated and crafted in these meetings. FHI360 and Pact played a pivotal role, by providing venue, meals, transport and technical support for the meetings. Currently VOOV is hosted by PACT. VOOV is a member of ASWA and NSWP, and the organisation conducts national activities, funded through ASWA and NSWP.
Voice of Our Voices was formed in 2017 by 56 sex workers who come from the four regions of Eswatini, who had faced challenges including access to health services, human rights violation from members of the public, clients and uniform forces also the violence that comes from the sex workers among themselves. These sex workers committed to come together to influence change in their work spaces through supporting each other whenever challenges come up.
What are the priority areas in which your organisation works?
Enhance knowledge and skills of vulnerable women who are disproportionately affected by HIV and AIDS, to protect and care for themselves and those affected;
Strengthen linkages between service providers and vulnerable women to collaboratively provide information on HIV and AIDS, and quality services;
Strengthen partnerships among women disproportionately affected by HIV and AIDS to address their needs and impact of development challenges including HIV, SRHR and poverty.
To ensure the promotion and protection of rights of sex workers, VOOV conducts advocacy in several fora including national CEDAW reporting, HIV prevention, Technical Working Group (TWG) and other national and international platforms.
Our organisation sits on the Key Populations Technical Working Group where all issues related to key populations and access to health services are discussed. The organisation is currently working with the Ministry and other key population organisations in sensitising health care workers, the police, religious leaders and other community leaders on issues of key populations. The organisation is currently implementing the insika yakusasa project sub-granted by Pact, which focuses on support for orphaned and vulnerable children. VOOV also works closely with the children of sex workers in the project. The aim of the project is to assist VOOV to learn how to implement, and assists children of sex workers with birth registration, educational support, parenting sessions and economic strengthening for sex workers. The organisation does not provide clinical services but promotes access to services through outreach work.
Do you provide services?
The service package offered by VOOV includes outreach work with sex workers to encourage sex workers to take up HIV testing and linking them to testing, care and treatment services. We also offer distribution of commodities such as condoms and lubricants, including to clients. VOOV does outreach work and FHI360 provides the clinical component and a mobile clinic.
VOOV works to address challenges in delivery of health services for sex workers by addressing mistrust of health care system and concerns regarding loss of income as a result of illness and arrests. We create safe spaces for sharing information about sexual behaviour, substance and drug use. Sex workers are fully involved in designing our programmes, in decision making for the organisation and are the ones who lead the implementation.
VOOV work to promote equal rights for all, under the human rights for all project funded by the EU civil society programme. VOOV promotes health and human rights, but this is an area where there is a real lack of focus on sex workers' rights, to be recognised in the country, which is something VOOV is pushing to cover.
The main task of the group is to represent the members of the hotspots, bring forward their views on how VOOV should operate, and do the programming of each region, as there are some sex workers from rural areas where the approach is not similar to the urban areas. Their tasks include to give information about the situation of their working conditions, health issues on service delivery, and access to justice whenever needed.
Other tasks for the group are to give feedback to the hotspots peers on what our discussions have been about, to teach others how to prevent violence among sex workers and conduct group discussions on income generation aside from sex work, for sustainability. They also take a lead on service delivery for any kind when Voice of Our Voices visits sex work hotspots. Another task was to accompany sex workers to health facilities, which was done voluntarily by both parties, to avoid illnesses as result of not accessing health services in time.
VOOV has trained paralegals who assist sex workers by training them on human rights, assisting them by connecting them to a lawyer who assists should sex workers need a legal expert. Our organisation supports with court hearings, whenever sex workers are arrested for loitering.
Tell us about something you have worked on recently.
A big event that VOOV successfully did recently was conducting a national sex workers' Indaba (discussion meeting), which 40 stakeholders from different NGOs and government bodies attended. The organisations included COSPE, FHI360, SAFAIDS, social workers from the Deputy Prime Minister's office, World Vision, PACT, SWAGGA, SWANEPHA, representatives from the Police, Ministry of Health, Justice and the Human Rights Commission. Sex worker communities were invited to voice their views, including on the challenges they face whenever they need to access a service, and the difficulties they face from the public, including with violence and hate crime. Sex workers shared their perspective on the law, human rights violations, and potential resolutions to these problems. The group drew a road map on how to see these improvements, and by conducting the Indaba yearly, this will also help sex workers to get to know one another.
What challenges does your organisation face in the future?
The group has faced many challenges since this initial group came together. As much as we had a common goal, many were lost along the way as a result of migrating to operate in neighbouring countries, where they could work and exercise their rights more easily. Others sadly passed away, which means we are smaller in number today than when we started. Other sex workers gave up on the process of forming the organisation as it seemed to be impossible to them, as a result of the vulnerability we faced each time when we opened our mouths to talk in some places. We had to speak in court whenever we were arrested for loitering, as most of the street-based sex workers are used to being caught and arrested. One day we realised that we must tell people what we are all about, as our work matters and the money we get helps us to solve our problems and earn our living.
The main threat we face now is that in our country, we have a dual system that affects our operation, which is being ruled by the common Dutch law. In Eswatini we have two legal systems: Roman Dutch law and Swati customary law. Both systems are used in the country, Swati customary law is fluid and varies from region to region whereas Roman Dutch is documented in statutes. This type of system often does not favour the constitution. There are five main threats that we face in the organisation. VOOV uses the content of the constitution to advocate for sex workers' rights: for example, in the constitution we have 'the right of free movement', but we are still arrested for the crime of loitering.  
Politics
VOOV faces a political issue as the law does not recognise sex workers as workers. In this case the work we do is seen as illegal in the country, which makes us more vulnerable to any situation, such as exposure to violence and diseases. We are not protected by law. This also limits us to access many services which are supposed to be given to all citizens or reduces many opportunities for the organisation.
Resources and working space
Shrinking donor funding means we don't have resources to sustain our work in the long term. We still do not have a working space with good systems. A lack of staff capacity to support the work of Voice of Our Voices is also a challenge.
Societal trends
A big challenge is internalised stigma, and stigma and discrimination from others. There are challenges created by cultural beliefs and some people's attitudes, including the leadership in Eswatini on addressing the issues of key populations in the country. In some instances, where the government stigmatises key populations, we use the constitution as a major tool to bring harmony and continuity to operate in the country freely. With some stakeholders and partners the main message is that we should be treated as human beings and understand that we need each other for the mission to be accomplished. The church makes the assertion that our organisation is here to promote sex work by the advocating for sex workers' protection, and this limits the partnering to local organisations who are affiliated with Christianity.
Technological trends
Most sex workers here are not familiar with using the internet and are not using some websites that could help them. VOOV has trained some sex workers in IT, but we need to work more in this area.
Do you have a message for the sex workers' movement? What about people outside of the movement?
Our message for sex workers is that they must believe in themselves. Sex work is work, and sex workers' rights are human rights. For the people outside the movement, we ask them not to fight sex workers, but fight the drivers to sex work. Every person has a right to live and work, and sex workers should be able to enjoy these rights too. WE ARE HUMAN!