Imagen
Zambia Sex Workers Alliance is a community-led organisation that seeks to promote and improve health outcomes and livelihoods of sex workers, lesbians, and gay and gender diverse people in Zambia.
Tell us about your organisation
ZASWA envisions a Zambian community that embraces, acknowledges and accepts the diverse behaviours, sexual practices, lifestyles and expressions for the existence of everyone. Our mandate is focused on ensuring:
that everyone has access to social, health, economic, political services,
that sex workers' and gender and sexual minorities' rights are defended, respected, protected and appreciated as equal members of society,
that the alliance uses community-led, rights-based and public health approaches and programming in its work, to respond to the needs of sex workers, and gender and sexual minorities in Zambia. In the delivery of its programmes, ZASWA collaborates and networks with like-minded organisations for an improved health, social, economic and policy environment.
What is the history of the organisation? How and why was it formed?
ZASWA was started in 2016, in June, by Chantel and myself (Martin) with other activists after graduating from the Sex Worker Academy Africa in Kenya. We felt the need to form an alliance that was community-led to speak to the needs and address the issues, gaps and challenges faced by the different subgroups of sex workers in Zambia. At this time, sex workers were being exploited by different local and international organisations and then left out in many intervention platforms. Our issues were not being addressed but we were also experiencing increasing marginalisation and exclusion of sex workers' voices. We decided that we were the only ones who can speak and raise awareness on our plight to increase representation, acceptance and visibility. I drafted all the organisational documents while Chantel took the lead in representing the organisation at different platforms and spaces where we shared our ideas and visions on what we were building. A year later, Chantel left and I remained running the organisation by recruiting a group of volunteers at Board, Secretariat and community levels who passionately contributed to the vision and goals of the organisation. At this time, Gwen (another graduate from SWAA currently working at Secretariat) joined me in furthering the organisation by attending every invited and uninvited meeting and platform pushing for the rights of sex workers until we gained the recognition we needed from different stakeholders and partners. For example, we attended meetings with the National Aids Council under the Ministry of Health (NAC), Southern Africa Aids Trust (SAT) country office, Centre for Infectious Diseases and Research in Zambia (CIDRZ) JSI Discover Health (JSI), University of Maryland Zambia, Amsher, Friends of Rainka Zambia and other local organisations. The pool of volunteers and the support from many other sex workers managed to formalise the establishment of the alliance to the point of legally registering the organisation.
Which countries and/or regions do you work in?
We have national coverage with Lusaka, Chipata, Kitwe, Solwezi, Livingstone, Mansa, Mongu and Kasama as regional hubs.
What are the challenges faced by sex workers in Zambia?
Sex workers face many challenges in Zambia because of the perceptions and myths surrounding the existence of the profession and choice of work. The fact that we are the only sex worker-led organisation in the country means we are marginalised in collective activism on other issues that intersect with sex work. The lack of direct funding to the sector has also amplified the many following challenges faced by the average sex worker in Zambia:
All sex workers experience stigma and discrimination, though this manifests differently for the different 'sub groups' of sex workers from the communities where they live and places of work. Parallel programming that aims to 'reform' sex workers further stigmatises and makes sex workers more vulnerable to abuse, beatings and hate speech. This seems to be most hostile towards the street and bar-based sex workers. Families of sex workers are also highly discriminated by association and living with them.
Divide and rule from non sex worker–led organisations, that provide some health services to sex workers and local organisations, but don't recognise sex work as work.
Violence from clients, who act with impunity because of the patriarchal privileges and lack of action from the police.  Law enforcement agencies and other security wings often lack the knowledge, understanding and interpretation of the law regarding the criminalisation of certain aspects of sex work. In most instances, sex workers when arrested during night raids and charged with curfew, they end up having sex with the law enforcers in order to be released.
Lack of access to legal services and redress due to bias by the judiciary system and acknowledgement that sex workers have human rights that needs to be respected. Many state entities are silent to many cases of human rights violations faced by sex workers in Zambia.  
Lack of research about sex work and sex workers to general data and evidence to inform advocacy and programming
High HIV prevalence in some semi urban and rural districts due to lack of better and informed tailored access to basic health, social, sexual reproductive health and rights services for sex workers.
Self-stigma and low esteem resulting in poor working conditions and lack of access to high paying spots and clients plunging sex workers into harsh and hostile irresponsible working environments. This in the long term results in poor mental health.
Lack of sex worker empowerment training and opportunities to enhance to savings, financial inclusion, marketing and branding.
Deliberate exclusion of trans and cis women sex workers in the feminist and women activism movements.
What are the priority areas that your organisation works in?
The Outreach Programme aims to provide platforms for sex workers where they are free from different forms of stigma and discrimination, to promote awareness and visibility for the entire community. This seeks to establish well-coordinated structures that empower the community for a sustainable and stronger movement of the community as a whole.
The Research and Development programme aims to address the need for evidence and useful research base that is in the interests of sex workers, to improve the effectiveness of our interventions and support our work around health and human rights. This component of programming will work closely with the Advocacy programme through the needs assessments and surveys to be conducted.
The Advocacy Programme aims to give input to legislative reform processes at a national and local government level, and challenge human rights violations. This programme strives to make optimum use of the media in order to raise public awareness, and influence public and social perceptions and political attitudes towards sex workers. It further aims to engage legislators and other state actors who can champion our goal to provide a voice for the community of sex workers. 
Knowledge Management and Service Provision programme. This long term component of programming is aimed at direct and/or indirect service provision in health, social and political services. It seeks to empower sex workers with skills so as to enhance their capacity with affirmation to address human rights and sexual reproductive health rights, seeking redress on health and occupational concerns. It is focused on interventions that address the immediate safety and security needs of sex workers collectively with in-depth workshops around safer sex, general health and life skills.
Networking is a cross-cutting element in ZASWA programming and aims to provide coordination and engagement with other civil society organisations (CSOs) in creating a stronger united front that delivers better services for sex workers. The aim is to create a broader support network for the different campaigns and use of public events to raise awareness around the concerns and challenges that sex workers face from civil societies. The main core to this program is fostering partnerships and alliance building. This will complement efforts of the advocacy programmes for a broader and wider movement.
Our priority areas focus on movement building and member mobilisation, social justice, improved livelihoods and health promotion programmes.
Do you provide services to sex workers?
ZASWA currently supports the service provision of local and international organisations that are implementing programmes for sex workers in Zambia. We are collaboratively working with JSI Discover Health in Ndola through the provision of the PrEP and other HIV services in the district. We are also working with CIDRZ in Lusaka in the provision of HIV prevention and support services. In 2018, we trained female sex workers in basic human rights and the strengthening of community structures and mechanisms for self-coordinating grassroots movement. In 2017, we provided legal services and food to imprisoned migrant sex workers who were arrested from some brothels in Lusaka. Some female sex workers who were raped and harassed were provided with assistance to medical help and shelter as well as referred to specialised services.
Do you do political work, or campaigns?
We are currently fundraising for a human rights march on International Human Rights Day on 10th December, and International Sex Worker Rights Day in March.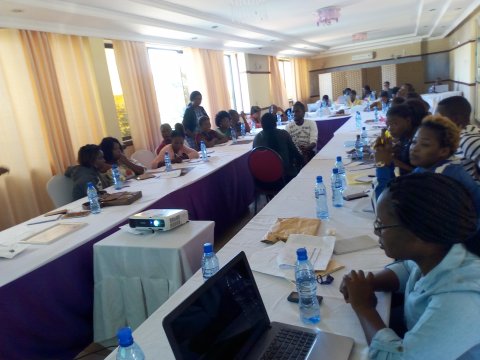 How sex workers are meaningfully included in the organisation?
There are different sub-categories of sex workers at every arm of the organisation from the Executive Board, Secretariat, Community Focal Persons and Community levels with diverse characteristics, expertise and skills. This is part of our strategic objective as a self-representative and sex workers' community-led organisation.
What challenges does your organisation face in the future?
Since the inception of the organisation in 2016 we have been volunteer-run, with a pool of volunteers using their passion, resources and efforts to link and work with the organisation. Our major concerns are that, if we continue to be unfunded, this goodwill may run out and volunteers will leave for greener pastures where they are able to gain financially to sustain themselves. This will impact the efforts and milestones we have already achieved and affect the entire sex worker movement in Zambia.
The shrinking funding space is making it difficult for emerging organisations to compete with already established big organisations. The new trend of funding requesting coalitions applications making it difficult for smaller organisations to have voices in these spaces. This makes it hard to allow room for growth and solidarity in the movement.
Does the organisation have a message for the sex worker rights movement?
We need to stand in solidarity to amplify our voices, highlighting our lived experiences and push for enabling and collaborative working environments. That our fundamental rights are acknowledged, protected, respected, accepted and appreciated as equal members of society. That we seek a world where equality and dignity is for everyone.
 What about for people outside of the movement?
People outside the movement should understand and accept that we are here to co-exist and appreciate one another to live in harmony, peace and love. That we seek no special treatment but that we are accepted as human beings with freedoms and liberties to choose and express our desires.