Submitted by
NSWP
on 1st October 2019
Source (institute/publication):
Swedish sex worker organisation Fuckförbundet has held the first sex worker-organised international conference in the country following the introduction of client criminalisation in 1999. Between 28th and 30th September, more than 80 sex workers joined the conference – Sex Work, Human Rights and Health: Assessing 20 Years of Swedish Model – in Stockholm.
On 28th and 29th​ September, more than 80 sex workers attended workshops including strategising for decriminalisation, migrant workers organising, a film night, and the first sex worker street protest in Stockholm, through the red light district to Parliament. 
On Monday 30th, 140 people attended the main conference, with panel discussions covered a range of topics linked to the Nordic Model.
The impact of the Swedish Model in other countries included speakers from Decrim Now (UK)/TAMPEP (Europe), STRASS (France), PION (Norway), Argaman (Israel) and SWAI (Republic of Ireland).
Criminalisation and stigmatisation: impact on sex workers' physical and mental health discussed the findings from research including the recent LSHTM study into criminalisation of clients, Sex Work and Mental Health, and a presentation from Médecins du Monde on its research into criminalisation of clients in France.
Migrant sex workers: intersection of criminalisation and discrimination was chaired by SexWorkCall, and included discussions on findings from the SEXHUM project on migrant sex workers' experiences and understandings of exploitation and agency. Other speakers included ACCEPTESS-T (France), Red Canary Song (USA), SWAI, Folkets Juristbyrå and PICUM, who have recently released a new paper on migrant sex workers' rights across Europe.
The panels ended with a discussion on Towards Decriminalisation, chaired by ICRSE and involving speakers from Lund University, Amnesty International, Decrim NY, Decrim Now/UVW, STRASS, Transgender Europe and Fuckförbundet.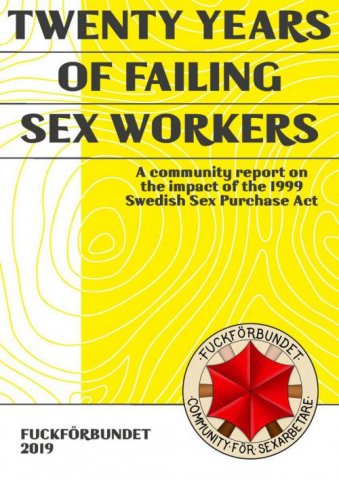 Fuckförbundet also released a report - Twenty Years of Failing Sex Workers: A community report on the impact of the 1999 Swedish Sex Purchase Act – to coincide with the conference. The report was produced by sex workers in Sweden and covers a range of topics linked to the implementation of the Swedish Model, including stigma, exclusion and discrimination, discourses conflating trafficking with sex work, interpersonal violence, access to healthcare, and the impact of 'exporting' client criminalisation to other countries, including France and Ireland.
The conference was supported by ICRSE and hosted by the Swedish Federation for Lesbian, Gay, Bisexual, Transgender and Queer Rights, after the original venue was forced to withdraw its support.
Read the ICRSE report on the event on their website. You can also read more about the conference by following #ffconf on Twitter.