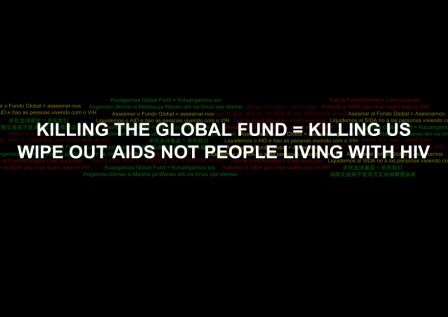 At its 25th Board Meeting in Ghana, 20-22 November, the Global Fund Board decided to cancel Round 11, its funding opportunity for countries to put forward ambitious proposals for scale-up of HIV/AIDS, TB and/or malaria programs, National Strategies and health systems strengthening. The reason for this is lack of money and unwillingness by the donors to invest more in AIDS, TB and malaria through the Global Fund. The immediate consequence is that countries will only be able to apply for funding for continuation of essential prevention, treatment and/or care programs currently financed by the Global Fund that will otherwise face disruption between January 2012 and 31 March 2014. Funding for new programs and scale-up would only come available again as of 2014. This happens at a time when the Global Fund Board also approved a new Strategy 2012-2016 with ambitious targets – that could fundamentally change the course of the epidemics.
There are a number of online petitions that we encourage you to sign on to, some of which are listed below:
International Civil Society Support 
Call to Action (below)
PLEASE SIGN ON – send your endorsement to jw@icssupport.org
CALL TO ACTION
The cancellation by the Global Fund to Fight AIDS, TB and Malaria of all new programming until 2014 is unacceptable. This decision will cost lives and cripple international efforts to deliver on health-related goals, breaking promises made to some of the world's most vulnerable people, and punishing the Global Fund's success of the last ten years.
People living with HIV and their supporters, as well as communities affected by TB or malaria, are extremely concerned about the damage under-funding of the Global Fund is causing. We therefore demand that:
The Global Fund Board and Secretariat mobilise the resources necessary to scale-up the response to the three diseases through a new funding opportunity for 2012, estimated at US$2 billion.
Donors to the Global Fund – particularly governments –urgently deliver on the commitments they made to meet health goals  and to fund the Global Fund at its Replenishment Meeting in 2010.
The Global Fund hold an emergency donor conferenceand issue a new call for proposals before the International AIDS Conference in July 2012 to fully fund the scale-up of programmes that will fundamentally change the course of these three epidemics, and put the world on the path towards ending AIDS.
Donors and others now have 200 days, starting from 1 January to save the Global Fund.
We cannot wait until 2014 for the Global Fund to support further scale-up of programmes and life-saving treatment. We urgently call on the Global Fund to meet the timeline above and for donors and affected countries to ensure that interventions with the highest impact on the three epidemics are supported.
The clock is ticking. Millions of lives are at stake. 
WECARe+ Women in Europe & Central Asia regions
Global Fund Petition to G8 Leaders
Petition on Global Fund G8 Committments