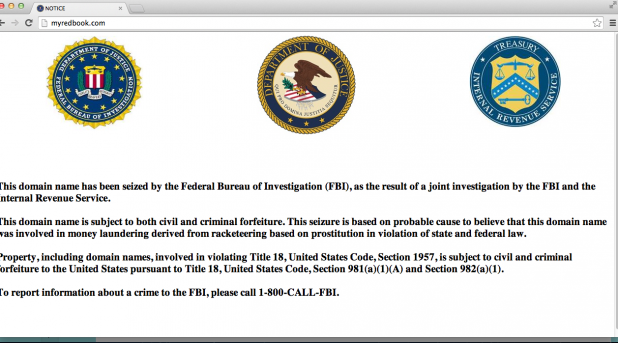 Screenshot of myredbook.com's landing page. Author's own image
On Wednesday, June 25th, the long-running San Francisco area sex worker advertising/community website MyRedbook was seized by the Federal Bureau of Investigations. Two employees were arrested and the site, which featured listings and discussions forums for sex workers; a review section, and a bad date list, was shut down. The main image on the site was replaced by the above message from the F.B.I and Internal Revenue Service.
CNN is reporting that the raid was part of "Operation Cross Country," a national anti-trafficking effort that the F.B.I claims recovered 168 children last week and led to the arrest of 281 "pimps". CNN cites an anonymous law enforcement source saying that some of the children rescued in the sweep were identified through My Redbook.
However, the F.B.I's indictment of My Redbook cites no trafficking charges. Both suspects are charged with one count of interstate travel in the aid of a racketeering enterprise, and one is charged with 24 counts of money laundering. The first suspect (with the additional charges) entered a not guilty plea, while the other did not enter a plea. Both have been ordered to appear before a judge on July 10th.
A statement from the F.B.I describes the grounds for its actions:
"According to information available on the publically accessible website as of the date of its seizure by the FBI, myredbook.com purported to provide "Escort, Massage, and Strip Club Reviews." Instead, however, the website hosted advertisements for prostitutes, complete with explicit photos, lewd physical descriptions, menus of sexual services, hourly and nightly rates, and customer reviews of the prostitutes' services."
The F.B.I's statement goes on to say: "The Indictment seeks the forfeiture of more than $5 million in property and money derived from the facilitation of prostitution, as well as the Internet domain names myredbook.com and sfredbook.com."
As my Redbook was a free service for sex workers, allowing workers to advertise services in a safe environment and to screen potential clients, it is the most marginalised sex workers who are likely feeling the biggest impact.
NSWP members SWOP Bay Area addressed this concern with the following statement on their website:
"We are very alarmed by the seizure of Myredbook.  Many Bay Area sex workers have been able to improve their working conditions by using Myredbook as the site provided a private, discreet venue for negotiations that otherwise often happen in a public venues or on the street. Now that the only free local online female sex worker ad hosting site is gone, where will people go to work? We are very concerned for those who may be forced into more dangerous working conditions at this time.
Today we also lost extensive online forums for a community of sex workers to keep each other safe, screen clients, and blacklist predators. Myredbook also hosted resource guides for sex workers who were struggling and created a venue for community counseling for those in need. Many local outreach organisations used this forum to connect with vulnerable sex workers.
While we are certainly concerned with the issue of sex trafficking, this misguided effort only pushes the most marginalised of us further into the underground. The current anti trafficking moral panic is causing so much unnecessary harm, which we will continue to see as a result of this seizure. Sex workers want to end trafficking. The answer is the decriminalisation of prostitution, which would effectively end the black market, and give workers the ability to unionise and report crimes committed against and around us. It would then be much easier to see the difference between choice and coercion or force. Increasing criminalisation of poor working women in the Bay Area is a dangerous move and the most marginalised of us will suffer the worst."