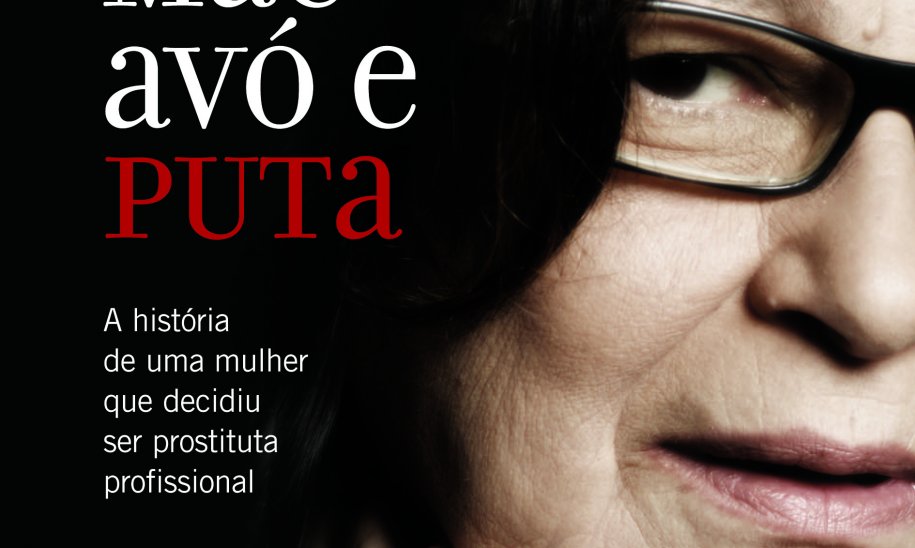 Gabriela Leite was a leader of the Brazil sex workers' movement. In this article, the author recalls important moments in Gabriela's life, work and activism.
Please note: the words 'whore/s'; 'prostitutes'; 'prostitution' is used throughout this article. These were and are the preferred terms used by Gabriela, the author and others within the Brazilian sex workers' rights movement.

Background
Gabriela Leite was compelled as an activist for the rights of prostitutes for her entire life by two issues: confronting stigma, and combatting discrimination and violations of human rights. The slogan of the First National Gathering of Prostitutes, which Gabriela organized in 1987, sums up her principal strategy: "Speak, woman of 'the life'" (Fala, mulher da vida).

In this article, I will recall important moments of Gabriela's trajectory, until she died in October of 2013, and situate them with words she spoke or wrote, in homage to the way she lived and acted politically, to her protagonism of assuming her place in society and encouraging her colleagues to assume theirs. I've gathered excerpts from the autobiography she published in 2009, Daughter, Mother, Grandmother and Whore, from editions of the publication she founded, Beijo da Rua (Kiss from the street), and from the 2013 documentary, A Kiss for Gabriela.

Born in 1951 in São Paulo to a middle class family, Gabriela Leite became the founding activist for prostitutes' rights in Brazil. A daughter of the counter-culture of the 1970's, she traded in her college education in sociology and "stupid jobs" for prostitution, a decision she called her "personal revolution," and worked in Boca do Lixo, the main area of prostitution in São Paulo, at the start of the 1970's. Boca do Lixo was where she led the first protest by prostitutes in 1979 against police repression of sex work.

Gabriela wrote "It was the time of the dictatorship…  (...) the police instituted a curfew in Boca do Lixo (...) During the day (...) the police would enter in the buildings, demanding our clients' documents and attacking them for no reason (...) They took money from the women and travestis and then beat them (...) In one of these incidences, two women disappeared. (...) We decided to organise a protest (...). Owners of bars, waiters, madams, malandros [hustler], travestis (...) came together in the name of the prostitutes".

Three years later, when she moved to Rio after working for a year in another city, Belo Horizonte, Gabriela and her colleagues in the "zone" known as Vila Mimosa in Rio de Janeiro were invited to participate in a meeting of Women from the Favelas and Periphery (Mulheres de Favelas e Periferia), promoted by the first black woman city councilor in Rio de Janeiro, Benedita da Silva.

"I spent an entire day listening to women from different walks of life talking about the conditions of their lives. [At the end of the meeting], on an impulse, without knowing that it would be just the first of hundreds of talks I would give, I got up and went to the front – scared to death, of course. 'My name is Gabriela, and I am a prostitute in Vila Mimosa'."

The "impulse" caused "an uproar" – seeing as how "the taboo that prostitutes don't talk persisted even there, among these "conscious" women – and resulted in a series of invitations for interviews in the media. "All I had to do was start to talk to discover that there were a lot of people who wanted to listen to what I had to say".

The interviews turned "a dream of mine into a collective reality: we started to construct a new discourse about prostitution and the world of the night, no longer anchored in vice or victimisation, but a discourse at the beginning, the beginning, the beginning of the construction of our full citizenship in society".

Along this trajectory, Gabriela was invited, in 1985, to develop her activism within the structure of an NGO, Instituto de Estudos da Religião (Iser). With a structure to support her, and the partnership of her friend Maria de Lourdes Barreto, a prostitute from northern Brazil she'd met during her travels through the country, she could now organize the first National Gathering of Prostitutes, in 1987.
With seventy prostitutes in attendance from four of the five regions of Brazil, three themes emerged at the inaugural National Gathering of Prostitutes: discrimination, police violence, and the association of prostitution with disease. "Prostitutes have always been blamed for the rise of STDs (…), that's the way it was with syphilis, and how it is now with AIDS" Gabriela said in an interview for the newspaper O Dia, in July 1987.

Most important Leite says, however, seemed to be this observation: "Society saw us organised in the name of our profession. We saw ourselves that way for the first time". The result was that the participants of the event "returned to their cities and started to organise their own associations [of prostitutes]".

During the following years, Gabriela advised or helped organise these and other organisations, traveling an uncountable number of times across the country. Shortly after the inaugural gathering, she and a number of colleagues "founded the first Association of Prostitutes of Brazil" in Vila Mimosa, the historic zone of prostitution in Rio. By the mid-1990's, however, the association was taken over by the madams of Vila Mimosa, and is today managed by AMOCAVIM, the association of homeowners of Vila Mimosa.

Another consequence of the First Gathering of Prostitutes was the Brazilian Network of Prostitutes, a political articulation of its composite organisations, of which there are now more than thirty across Brazil. It was also the birth of the newspaper Beijo da rua, which seeks to amplify the visibility and reach of the voices of women of "the life", as Gabriela wrote in the inaugural edition:

"… I imagined the movement of prostitutes having their own newspaper, where they could discuss all of the issues of our beloved/cursed marginality (...) Just as one day I showed my face as a prostitute, and everyone was shocked when they realized I was no different than other women, my dream is to see others, many other prostitutes showing their faces too, to the anguish of our moralists, whether they admit it or not".
The visibility and organisation the Brazilian prostitutes achieved at precisely the time that AIDS was becoming a global concern contributed to the birth of partnerships with the then-forming social movement to combat AIDS, and shortly after, with Brazil's own Ministry of Health.
With the Ministry of Health's invitation, Gabriela coordinated the production of the first manual of prevention of HIV/AIDS for prostitutes. The publication was validated by representatives of the government and sex workers alike during the Second National Gathering of Prostitutes, titled "Prostitution and AIDS," in 1989.
The same year, Gabriela participated in the Fifth International AIDS Conference in Montreal, the first to include activists from civil society. She would later join the conferences in Florence (1991), Bangkok (2004), Toronto (2006) and Mexico (2008).
In parallel, she initiated articulations with the international movement of prostitutes, starting with the World Whore's Summit, or the Sex Worker Conference in San Francisco, with the slogan "Outlaw Poverty, not Prostitution," organised by COYOTE, also in 1989.
Of the event in San Francisco, including the Gay Pride Parade in which prostitutes participated, she wrote: "It is good to feel that we are not alone when we are fighting for our civil rights; it is good to perceive that there are people all over the world who, just like us, are concerned with policies that are clear and just for the so-called "sexual minorities." The sense of solidarity was the high point of the event: there were so many gays, lesbians,
travestis
and prostitutes dancing to the sound of all sorts of bands and showing our pride, in spite of all of the stigma imposed and internalised in each one of us".
Video (at 0'56'' and 1'40')
Through these events, where Gabriela got to know other activists in the prostitutes rights movement, the fight against AIDS and feminists, she traveled to dozens of countries in Europe, Asia and Africa, in addition to her own continent, where she participated in the foundation of the Rede Latino-americana e Caribenha de Trabalhadoras do Sexo (RedTraSex).

In the decade of the 1990's, Gabriela published her first book, Me, a woman of 'the life'  [Eu, mulher da vida] and founded the NGO Davida (1992), which is entirely dedicated to the cause of prostitutes rights. Directing the NGO, Gabriela launched programs to prevent HIV/AIDS in partnership with the federal government that combined cultural activities and communication, like prostitutes' serenades, carnival parades and theatrical presentations, to encourage social integration and self-esteem, and combat stigma and discrimination.

In 2002, in articulation with colleagues from all across Brazil, she managed to get the Ministry of Health to produce a national campaign for the prevention of HIV/AIDS with the slogan, "No shame, girl. You have a profession." The initiative, with stickers, buttons, radio spots and a diary, contributed in a strategic way to articulate public policy that advanced the movement beyond the discussion of health alone: the same year, prostitution was included in the list of professional occupations maintained by Brazil's Ministry of Work.
The highlight of 2003 was approximation with the Legislative Powers of Brazil, when the federal deputy Fernando Gabeira presented a project to decriminalise aspects of sex work that remain illegal in Brazil, such as maintaining a house of prostitution. The proposal was archived, but in 2011 the federal deputy Jean Wyllys proposed a project called the Gabriela Leite Law, with similar objectives, and clearly differentiating prostitution from sexual exploitation. The project was the fruit of a meeting in 2010, when Gabriela and Wyllys, a known gay activist, decided that if only one of them was elected to the House of Representatives, they would take on the other's cause. In her campaign for office with the Green Party, Gabriela had defended the strengthening of the public health system, same-sex marriage, the legalisation of abortion and the regulation of the prostitution industry.
In Gabriela's vast trajectory, two initiatives, both in 2005, would come to define her activism. The first was denouncing USAID, the North American organisation, which had begun to require that organisations benefitting from its financial resources to prevent HIV/AIDS sign a new contractual clause (the so-called "anti-prostitution pledge") that obliged them to formally condemn prostitution and prohibit them from defending the legalisation of sex work.
Gabriela said at the time "I spoke with my colleagues who also had projects funded by USAID and we traced an extremely clear line of action: either they retracted this clause, or we would interrupt our projects". Gabriela's decision had the support of other segments of the social movement against HIV/AIDS, and drove the federal government to reject $48 million in USAID funding that would have been directed to give continuity to these organizations' projects. The enormous international repercussion of the rejection of funding resulted in an invitation for Gabriela to take part in the Brazilian delegation received by the then-secretary general of the UN, Kofi Annan, months later.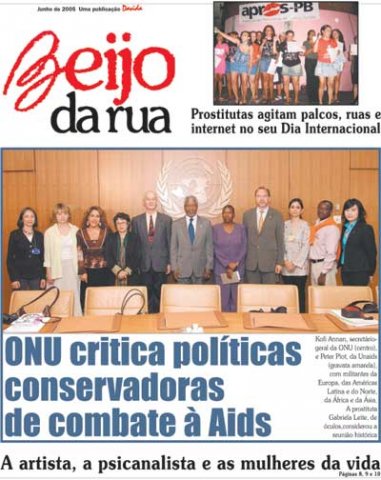 Also in 2005, Gabriela gained the status of a cultural icon when she founded, with her colleagues and allies, the clothing line DASPU (short for "das putas," or "of the whores"). The label designed to give visibility to the cause of sex workers and to generate funds for the NGO Davida, designed and debuted fashion lines in dozens of cities in Brazil and abroad, becoming worldwide news and the subject of an Italian documentary.

"I always dreamed about and believed in a movement that would transcend barriers and reach all of society, all of it. I always believed that the whore's movement couldn't be bullshit, like, all politically correct. I wanted – and I want – a revolutionary movement, recovering even the revolutionary sense of being revolutionary. A revolutionary organisation has to always remember that its goal is not to make its supporters listen to convincing lectures by leading experts, but to make them speak for themselves, so they can reach, or at least exert themselves to reach, a place of political participation. When my whore friends were parading beautiful and proud [for DASPU], with no shame for being whores, they were speaking for themselves and being political, extremely politically revolutionary".
Above: Daspu first catwalk, Rio, December 2005. Pictures by: Marcos Silva
Left: Prostitute Jane Eloy wearing a bride dress made of hotel sheets, São Paulo, October 2006. Pictures by: Juan Guerra
The story continued, with no rest. In the biennial of 2005-2006, Gabriela represented Latin America in the Programme Coordinating Board of UNAIDS and became a member of the Global Network of Sex Work Projects (NSWP). She participated actively in the elaboration of the UNAIDS guidance note on HIV and sex work, which recommends the decriminalisation of prostitution for the reduction of vulnerability to the global AIDS epidemic.

In 2006, she participated in the World Consultation on HIV/Aids and Commercial Sex (Rio) and, in 2007, in the Regional Consultation (Latin America and Caribbean), in Lima. Here, sex work was considered a sexual right, in direct opposition to the idea of victimisation, "a demonstration of the great history of protagonism we are constructing", as Gabriela noted in 2007.

The following year, in the Brazilian Consultation, she managed, with colleagues from across Brazil, to articulate official recommendations for a survey of human rights violations against sex workers, and the legal response to those violations; and for the de-linking of prostitution with the sexual exploitation of children and adolescents, and of sex trafficking with sex tourism.

She also led the Brazilian Network of Prostitutes' breaking of ties with partner organisations that associated prostitutes with the dissemination of diseases and that only supported condom distribution, seeking partnerships with other sectors of the state than the Ministry of Health – the Ministry of Work, the Ministry of Human Rights, and others oriented around women's issues in general.

Gabriela also worked on the construction of an extensive archive of documents about prostitution and sexuality and created, with academics from various disciplines, a Nucleus of Research within the NGO Davida, resulting in the national research initiative Human Rights and Female Prostitution (Direitos Humanos e Prostituição Feminina) with the support of the United Nations Population Fund (UNFPA).

Gabriela's campaign for office as a federal deputy was registered in 2010 in the documentary, A Kiss for Gabriela (Um beijo para Gabriela). The director, Laura Murray, did the important work of recording short interviews with Gabriela about recurring topics in her life, which contributed to the permanence of the visions, concepts and reflections of a trajectory that was interrupted, but not extinguished, by cancer in 2013.

Even after her diagnosis, Gabriela endured another 18 months of life with the same courage, intelligence and passion she'd led her whole life. She remained active and creative. Among other initiatives, she heavily criticised the federal government's censuring of an innovative campaign to prevent AIDS created by prostitutes that the government itself had financed.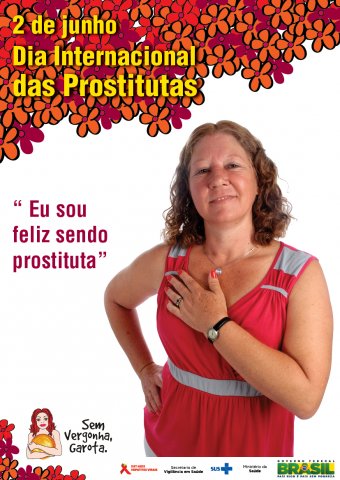 Image (right): "I am happy being a prostitute" censored campaign
In addition to that, she participated in the creation of the Observatory of Prostitution, an extension project of the Federal University of Rio de Janeiro – UFRJ in partnership with civil society that a year later, in 2014, has already
published research
documenting the effect of the World Cup on Brazil's prostitution industry.
For me, someone who shared in Gabriela's adventures and challenges in activism for 26 years, ever since she invited me to edit the publication
Kiss from the street (Beijo da rua)
in 1987 – and many other adventures and challenges of passion, companionship, alliance and love for 22 years – Gabriela crafted her life into an extraordinary act. At the same time she pulverised the stigma of prostitution within herself and reasserted the name of
Puta (Whore)
, contributing to a whole cohort of colleagues adopting the same term and assuming their place in society, she left her own mark – personal, political, passionate, poetic, present and everlasting on all of us.
Not by coincidence, Gabriela has been honored in countless manifestations, in physical events and in the media and social networks, by prostitutes, allies, activists from various movements, researchers, journalists, admirers, men, women, trans, Brazilian, and foreign, and intensely celebrated in the fashion shows DASPU has held in her honor.
In an attempt to synthesise this trajectory, the publication Gabriela founded,
A Kiss from the street
, reproduced in an issue in homage to her an expression she used constantly: "I'm not here to play around." 
("Eu não tô aqui de bobeira".)
Gabriela will conclude my text here as well – talking about a word and an essential feeling in her life, as documented in
A Kiss for Gabriela
.
Video:
The word "puta" (whore)
"I have always liked the word 'puta'. I think that is a word that has a nice sound and it is hot. If all putas didn't live with so much stigma in their heads, they would use the word and we could even overcome prejudice before it occurs, because people would hear the word 'puta' and first be shocked, and then say: 'oh, it's true, she's a puta'. (…) And I also think that if we don't take words by their horns, we won't change anything. I think that this is one of the reasons why our current society is so stupid and conservative; the politically correct world in which we live. There are a bunch of words that we can't say because they're bad for some people. It's very funny because I'm not a sociologist, because I didn't finish school. But people have in their heads that I'm a sociologist. So they say: 'Gabriela Leite, sociologist and ex-prostitute'. It's very funny because what I'm not, I am, and what I am, I'm not. For you to see how deep stigma and prejudice go. It is absurd. I'm not a sociologist, but I'm a puta. I'm retired, but I am. I hate being called an ex-prostitute, you don't need to call me a sociologist, I don't need or want to be. If people come up and ask me what I am, I say, 'I'm a puta'. (...) So we need to have identity, then we'll change something".
Video: Who is Gabriela?
"My sense of personal freedom is so strong, that it almost enslaves me. It's a contradiction – my sense of freedom almost enslaves me, because I always want to do what I want and what I like. I think this is the largest facet of my life".
By Flavio Lenz. Translation: Julie Ruvolo, research collaborator with the Observatory of Prostitution