"Our enemies are inequality, iniquity, discrimination, stigma, violence and exploitation. We need to fight them together."

Karina Bravo is Project Coordinator at Colectivo Flor de Azalea in Ecuador and Coordinator of the Latin American Platform of Persons Who Perform Sex Work (PLAPERTS). She is a regional representative of NSWP. In this interview, the sex worker leader talks about her life, work and activism.
How did you become involved with sex worker rights activism? What issues or people inspired you?
I am active member and secretary of the association "Asociación de Mujeres Trabajadoras Autónomas 22 de Julio" since 1993. This was the first organisation that I started working with in Latin America. Throughout the years I have denounced, in that association, corruption, inhuman and degrading treatment of sex workers and demanded integral and universal access to health, instead of mandatory health check controls.
In the women association Colectivo Flor de Azalea, I was the one who started mobilising my sex worker colleagues working on the street to halt violence and abuse against our human rights. At the moment, I am project coordinator and spokesperson for the association. We work towards quality and comprehensive health services to sex workers, as well as access to testing, treatment and care for HIV/STIs. Still we have been denouncing abuse, violation and mistreatment from the part of the police, who sometimes incarcerate sex workers with no legal grounds for 15 days. That disrespects our right to come and go inherent to all citizens.

At the international level I am board member of the NSWP and representative of the member organisations in the Latin American region. There, our areas of work range from health, labour, integrity and right to live freely from violence.

My inspiration comes from the inequality, iniquity and stigma posed on us as weigh that impede us from advancing as other citizens and as subjects of rights. My motivation comes from the violence against us, as I was many times discriminated, detained for performing sex work and I felt impotent before a patriarchy culture and certain governmental institutions.

What organisations are you currently involved in and what are the priority areas that these organisations work in? Tell us a bit about your activism/work specifically.
The work I realise is mostly concentrated in Machala, Ecuador, as director and spokesperson of the sex worker organisations there. Additionally, I have been active setting up and coordinating the Latin American Platform of Persons Who Perform Sex Work (PLAPERTS), which operates in four countries of Latin America: Mexico, Peru, Brazil and Ecuador.

Currently, there is a political and social context that stigmatises and criminalises persons who engage in sex work. Laws and policies focus on controlling our bodies, instead of guaranteeing integral protection our sex workers' rights. Moreover, there are still organisations and institutions that do not understand the issue of sex work in a comprehensive manner and do not favour sex workers' protagonism in the fight for our rights and demands that we pose in the public agenda.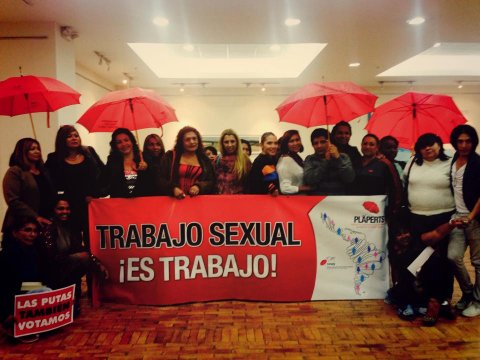 The PLAPERTS is born in this context, in order to articulate and strengthen the capacities of sex workers, leaders and spokespersons in the defense of sex workers' human rights. It is a regional platform based on national sex worker-led organisations, which are equal before the platform and contribute actively towards a common goal: realisation of sex workers' human rights in Latin America. The platform has a gender-based approach and includes female, male and transgender sex worker activists and has been positioning itself in several national and regional forums and events. In order to do so, the platform's strategy is to engage with key stakeholders and allies who support sex workers' rights.

What is the current context for sex workers in Ecuador?
The current trend, since 2008, in legal and policy making is to confuse sex work with trafficking, and the results is that laws and practices are becoming more and more repressive towards sex workers. At the same time, we have seen constitutional advances on issues related to human rights. Hence, fundamental constitutional rights have been advancing in Ecuador; still state institutions are backwards and do not always implement new decisions and practices.

We have been advocating for legalisation of autonomous sex work, the one that is realised independently of brothel owners and third parties. We wish to be able to work autonomously, with rights and free from violence.

There has been a short back in the recognition of sex workers rights in Ecuador, as we observe high levels of exploitation from brothel owners, third parties and illegal law enforcement activities. Still, sex worker organisations are not united, and unity is necessary to overcome several barriers faced by our communities across the country.

I wish to see sex worker organisations and (regional-) networks united and not fighting with each other for leadership. We need to build things together, not impede the development of local leaderships that have been developed in our countries. We should take advantage of the adverse environment to unite ourselves.

What were the biggest events or challenges you've worked on in the past? E.g. opposing or campaigning for a law; organising an event; running an organisation…?
Having gained respect and leadership to articulate, since 1993, the movement of sex workers in the struggle for rights. My participation in organising actions for the positive change of working conditions of sex workers.
In 1998 I managed to become peer educator specialised in health through the project of "La Sala", in which we worked on themes such as self-esteem, health, rights and empowerment.
In 1999 I took over the coordination of the project "La Sala".
In 2000 we organised a one weeklong strike in the brothel "La Puentecita", where my colleagues and I worked. The intention what to call attention to better labour conditions to sex workers, and to episodes of mistreatment and disrespect sex workers.
In 2002 I mobilised my sex worker colleagues working on the streets against law enforcement corruption, repression and abuse. We also called on mistreatment in public health services.
In 2004 I denounced mandatory health checks as practices that do not favour integral health of sex workers, but clients who benefit from a "clean vagina". Sex workers were obliged to pay for these corruptive, bad quality and quite often-offensive prophylactic services. We demanded targeted and integral health attention in the health centres; free maternity services and the right to participate in the development of health manuals issued by the Ministry of Health.
I also participated and worked in a project dealing with sexual exploitation, in which we demonstrated why sex work is different from sexual exploitation.
I executed the Global Fund Round 1 project on behalf of Fundación Quimera.
In 2008 I took the demands of sex workers to the national assembly, as they were discussing constitutional issues around legal and policy change on sex work.
What do you think will be the biggest challenges for your organisation/sex workers in your country in the future?
The biggest challenges are to:
Denounce abuse from the part of the police
To be treated as other citizens in health centres
To realise advocacy and respect for our human rights
To get involved and participate in national and international forums on HIV/AIDS, Human Rights and Sex Work
To make amendments in the labour code and improve the articles by recognising sex work as work and autonomous sex work legal
In order to overcome these challenges, I propose:
Strengthening new leaderships and build capacities of sex workers
Denouncing violations of our human rights by law enforcement and the State
Working against stigma and discrimination affecting sex workers
Advocating for the defense of our human rights
Strengthening and articulating sex worker organisations at the national, regional and international levels
Recognising sex work as work, as classify it as other forms of autonomous work
Strengthening and articulating with other countries in Latin America and create vocal sex worker leaders that are present in advocacy and lobby spaces in the benefit of our community.
How do you carry out your activism e.g. what forms of social media and/or strategies do you use? (protests, social media, legislation, e.t.c.) to further the cause you advocate for?
We have been using all necessary strategies in order to make our demands and ourselves visible, as sex workers, by realising strikes, law proposals, constitutional amendment proposals, and currently we have been using social medias, Internet, newspapers and television programmes to denounce and comment what has been done against sex workers and their organisations.

Still, we have been active writing letters to the media, official letters to state institutions/authorities, including to the president and local state representatives. We campaign in key dates such as 2 june (international day of sex workers), 17 dec (international day to end violence against sex workers), 1 dec (international AIDS day) and other human rights dates/festivities.

We are present in decision-making and policy discussion forums always positioning ourselves, making sure our voices are heard.

Do you have one message for the sex worker rights movement? Or one message for people outside of the movement?
I call on unity and solidarity to the sex worker movement in order to achieve our demands and conquer respect to our human rights. Our enemies are inequality, iniquity, discrimination, stigma, violence and exploitation. We need to fight them together.

To our allies I call on support when we make our demands and claim for our rights, by responding quickly in advocating and lobbying with the sex worker community for legal and policy change at the national/institutional and international level, by recognising us as subjects of rights and sex work as work.

Sex workers do not want to be seen as victims, but subjects of rights. Sex work is a profession as any other that is profitable and that guarantees income for those who work on it, and has been generating large amount of money to the states even if under covered by it.

Photo at top: Karina Bravo (2nd from the left, first row). Photo courtesty of Karina Bravo