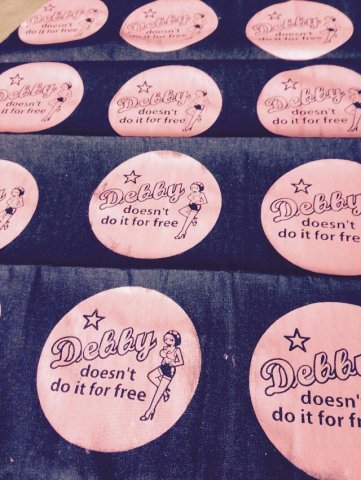 Image: Sex worker created merchandise from the Debby Doesn't Do it for Free art collective. As a self-funded arts-based activist group, members of the network produce their own merchandise for sale at Debby shows.
The Australian-based sex worker collective, "Debby Doesn't Do it For Free", held a national exhibition and retrospective of their work over the past 13 years at the Tap Gallery in Darlinghurst, Sydney. The exhibition, entitled, "Debby Doesn't Di it For Free", included an opening night party featuring a performance from the all sex worker band, Whore Core.
In addition to a 35 hours rotational performance in the window of the gallery, which aims to highlight the gentrification of Darlinghurst and to acknowledge it as historical street-based sex working area, in addition to offering solidarity to the window-based sex workers of Amsterdam; the exhibition also included wood prints, photography, photos, multi-media and instillations from sex worker artist and activists.
The "Debby Doesn't Do it For Free" collective has involved over 40 sex worker participants, all of whom adopt a moniker including the word "Debby", and has exhibited and performed advocacy works across Australia and internationally. In 2015, the collective attained a permanent rehearsal and meeting space in Sydney. As a self-funded organisation, the collective undertakes fundraising through the production and sale of merchandise.