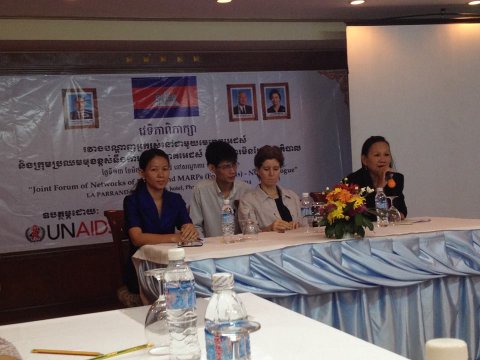 Image: WNU activists participating in the Joint Forum of Networks of PLHIV and MARPs NGO Dialogue, La Parranda Residence and Hotel, Phnom Penh, Cambodia, June 13, 2014. Photo attributed to WNU.
Women's Network for Unity (WNU) is gender diverse sex worker network based in the Cambodian capital of Phnom Phen. Founded in 2002, WNU is a grassroots collective of 6,400 members whose purpose primarily involves working on behalf of sex workers to advocate for: access to social services; freedom from violence and discrimination; and for sex workers to empower themselves to advocate for access to social justice, against abuse from state actors, and to challenge the rhetoric around sex work, particularly that concerned with the anti-trafficking movement and the "rehabilitation" of sex workers.
WNU is a member of the United Sisterhood Alliance (US), a solidarity organisation which recognises the intersectionality of different communities' struggles, and works together to lend meaningful support to political actions. The organisations which make up the US movement include: Women's Network for Unity, The Messenger Band, and the Women's Information Center (WIC), a movement operating drop-in centres within garment factories.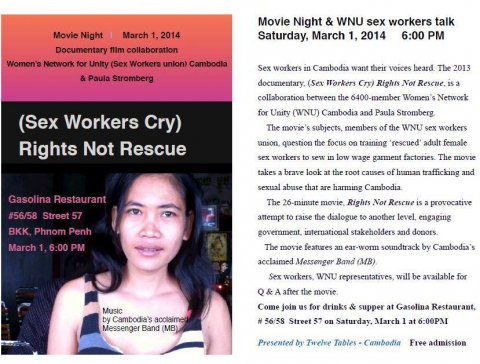 Under a national policy introduced in 1998, which advocated for a "raid and rescue" response to sex work, "rehabilitated" sex workers are "encouraged" to work in garment factories to develop alternative skill sets. Outsourced garment factories are commonly owned by multinational corporations which are attracted to Cambodia's privatised working conditions, despite many factories violating international occupational health and safety guidelines. In anecdotal reports, sex workers claim that they are only minimally retrained for low-wage jobs, similarly, "rescued" workers have been reported that it is common to be deprived of several months wages, ostensibly for the privilege of being trained in their new occupation.
Despite coming under physical attack from state actors for their protests and activism, WNU are highly committed to exposing the relationship between garment factories, and the criminalisation of sex work. WNU's use of high visibility strategies such as protest and performance to attract promote advocacy strategies has attracted attention and solidarity from around the globe.
Image: Flyer promoting the premiere of "(Sex Workers Cry) Rights not Rescue", a film produced by WNU in collaboration with Paula Stromberg, Phnom Phen, Cambodia, 2014. Photo attributed to WNU.