Submitted by
NSWP
on 7th April 2014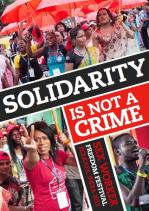 NSWP has published the Sex Worker Freedom Festival Report. The Sex Worker Freedom Festival (SWFF) was an alternative International AIDS Conference 2012 event for sex workers and allies held in Kolkata in India from 21 to 26 July 2012.  SWFF was an official International AIDS Conference 2012 Hub to protest the exclusion  of sex workers and ensure the voices of those excluded are heard in Washington.
This publication is a snapshot of curated content outlining a significant and historical moment in the Sex Worker Rights Movement. "Solidarity Is Not A Crime" seeks to document some of the momentous achievements that took place as part of the Sex Worker Freedom Festival, Kolkata, India 2012, and the impacts from this remarkable once in a lifetime gathering.
You can view the report here or download a PDF copy using the link at the bottom of this page.
Cover photos top © Marc De Clercq; bottom left & right © Dale Kongmont