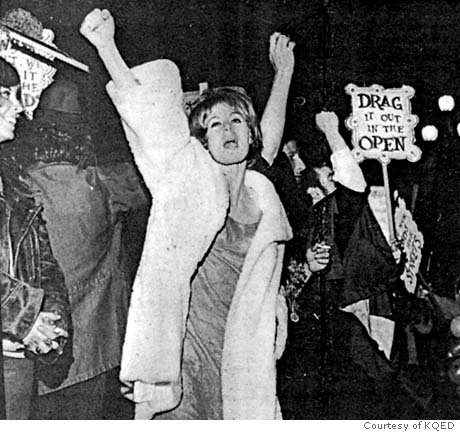 In August 1966, three years before the more well-known Stonewall Riots, transgender and male sex workers fought back against police harassment at Gene Compton's Cafeteria in San Francisco's Tenderloin district.

The all-night restaurant was a favourite hang out of drag queens, transsexual women, and young gay men – most of whom were involved in street-based sex work. Workers would spend hours throughout the night socializing and waiting between clients. Some were involved in early gay radical group Vanguard, who met at Compton's and had picketed the restaurant just a month before the riot.

Trans sex workers in the Tenderloin were frequently harassed and arrested by police – cross-dressing or 'female impersonation' was still illegal at this time. Raids by police were escalating at drag clubs and other hangouts for trans sex workers. Meanwhile, a serial killer was targeting them with no serious response from the police. These factors boiled over when staff at Compton's called the police on trans workers at Compton's one night in August 1966.

Sparked by a trans woman throwing her coffee in a police officer's face, the crowd ignited into three nights of rioting. As many as 60 rioting patrons smashed the plate glass windows of Compton's while they chased after police, and then came back and smashed them again the next night after they'd be replaced.

Long forgotten by the LGBT community, the riot was brought to light by the research of trans historian Susan Stryker who documented the event in both her book Transgender History (2008), and in her documentary Screaming Queens: the Riot at Compton's Cafeteria (2005).