图像
In September 2014, five sex workers who graduated from the Sex Worker Academy Africa (SWAA) returned to Zimbabwe and used what they had learned at SWAA to start Pow Wow: a sex worker-led movement in Zimbabwe.
Since 2014, Pow Wow has participated in a number of initiatives, including challenging sex workers' arrests, which resulted in a Constitutional Court ruling that prohibited arresting sex workers for loitering without direct evidence of solicitation. Pow Wow also participated in shadow report writing in 2014 for the Convention on the Elimination of All forms of Discrimination Against Women (CEDAW), and they helped run an 'Income Supplementation Day', aimed at helping sex workers supplement their income to give them more control over their work. On a day-to-day basis, Pow Wow works with partners to organise and train other sex workers in Zimbabwe on advocacy.
Pow Wow has also been instrumental in building a national sex workers' rights movement. Pow Wow's original founders, who stay involved in Pow Wow, helped create the Zimbabwe Sex Workers Alliance (ZIMSWA) (of which Pow Wow is now a member). Currently, Pow Wow has 28 members with a well-structured leadership which is made up of both female, male and transgender sex workers.
What is Pow Wow?
"Pow Wow's main aim is to empower sex workers in realising their human and health rights in Bulawayo," Charmaine, Pow Wow's co-coordinator said.
Pow Wow is run exclusively by sex workers, including sex workers of all genders. "As it is membership based, it is for sex workers, by sex workers," Charmaine said. "Pow Wow is a collective and any individual who is a sex worker can be a member." Pow Wow also works with allies and allied organisations in Bulawayo, the second largest city in Zimbabwe, and throughout the country.
"Pow Wow has been at the forefront to help share the knowledge and skills gained from the SWAA with other sex workers who have joined the movement," Charmaine said, and has since grown to include 28 members. "Pow Wow mobilises and empowers sex workers with their rights so that they may know, own and stand for their own rights, documenting human rights violations and collecting information so as to use it as evidence, and lobbying policy makers and buying in their support," Charmaine said.
Since being founded, Pow Wow has supported national sex worker organising and new sex worker leaders in Zimbabwe. Pow Wow was supported by FAHAMU to hold its first leadership training soon after it was formed collectively, as part of the Sex Worker Leadership Initiative.
What are the priority areas Pow Wow works in?
Advocacy
"The stigma associated with sex work has driven sex workers in Zimbabwe underground and [made them] legally vulnerable," Charmaine said. "Sex workers are left without recourse to legal protection from threats to their safety, vulnerable to violence, abuse and without access to health and social services. Stigma has been shown to impact sex workers on a deeper level and is associated with lower levels of self-esteem."
''Pow Wow opposes criminalisation of sex work in Zimbabwe by documenting the violations faced by sex workers and using [this documentation] to advocate for change for sex workers to be able to have equal access to health care and services," Charmaine said.
Pow Wow opposes stigma and human rights abuses, including coercive programming, mandatory testing, raids and forced 'rehabilitation'. "Pow Wow organises workshops, peer-to-peer education forums to educate sex workers on their rights and continued to oppose violence against sex workers while challenging the myth that sex work is inherently gender-based violence," Charmaine said.
Economic Empowerment
"Economic empowerment is an important strategy that gives sex workers an alternative livelihood support to improve sex workers' living and working conditions," Charmaine said. Pow Wow's economic empowerment work "seeks to increase economic options so that sex workers can achieve greater financial security, which makes it easier for them to make important decisions that affect their lives," Charmaine said. "These include their choice of work, including working hours and areas of work and their capacity to save for the future – both for themselves and their dependents. Improving economic options also helps sex workers to refuse clients' requests for unprotected sex, strengthens their ability to negotiate with clients and reduces the risk of violence and/or abuse."
Like other people working in informal economies, sex workers often lack access to bank accounts, loans and legal forms of credit, insurance, pensions, and other employment benefits, Charmaine explained. "Stigma, discrimination, and coercive 'raid and rescue' and 'rehabilitation' programmes heighten economic disempowerment by ignoring sex workers' labour rights and undermining their financial security," Charmaine said. "Economic empowerment will allow for sex workers then to be in decision-making positions, improve their economic standings, and be able to fight against stigma - and eventually achieve decriminalisation."
What are some of Pow Wow's biggest projects and successes?
Fighting Arbitrary Arrests of Sex Workers
"One of the most important successes for Pow Wow was when Pow Wow and the Sexual Rights Centre (SRC) of Zimbabwe pursued the case of the sex workers who were arrested during  'Operation No to Robberies and Prostitution' in 2014," Charmaine said.
In March 2014, during 'Operation No to Robberies and Prostitution', sex workers were arrested and charged with "standing in the street, looking for men to lure such that they will have sex and get payment thereafter."
According to Charmaine, sex workers in Zimbabwe have long been apprehended in various police operations and arrested under loitering charges. Women's rights activists, sex worker organisations and SRC had long complained about the gender discrimination in police operations that had become a common feature in the capital, Harare, and in Bulawayo. Most of the time, sex workers were arrested and charged with loitering 'for the purposes of prostitution', simply because they were wearing miniskirts or out alone at night.
"Media used to treat sex workers unfairly by denigrating sex work while the police abuse sex workers by arresting them for loitering and after that demand free sex. [The] justice system in Zimbabwe was biased against sex workers," Charmaine said.
In 2015, nine sex workers who were arrested during the operation decided to fight their charges. With support from SRC, Pow Wow was able to take up their case, challenged it in court and win. The Constitutional Court outlawed the arrest of sex workers for loitering 'for the purposes of prostitution,' saying as long as there were no men confirming being approached by women for sex, the arrests were unconstitutional.
"Police in Zimbabwe can no longer arrest sex workers on charges of soliciting for sex in the absence of men confirming they were offered the services for a fee," Charmaine said. "This was a great change from the time when sex workers were apprehended in various police operations and charged with loitering 'for the purposes of prostitution'. Pow Wow believes that this ruling is a step in the right direction," Charmaine said.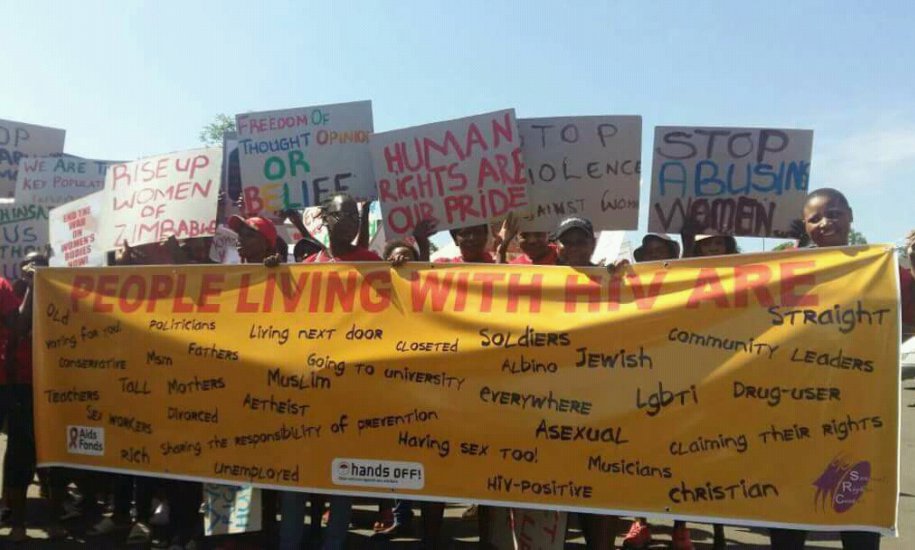 Addressing Discrimination and Other Barriers to Health Care
''Stigmatisation and discrimination [against] sex workers at some public hospitals and clinics is hampering sex workers' access to increased HIV/AIDS treatment and care," Charmaine said. "In some instances, sex workers are described as 'prostitutes' and accused of spreading HIV/AIDS by health workers."
Sex workers also frequently experience violence at the hands of clients, and the police often fail to adequately support sex workers. Female police officers dismiss sex workers' reports and accuse them of spreading HIV/AIDS, Charmaine said, and these abuses prevent sex workers from going to health institutions to access critical treatment, care and support. "Because of public humiliation," Charmaine said, "sex workers are hesitant to seek medical attention. Sex workers are discouraged from seeking health care, particularly in public health institutions."
"Pow Wow and partners are working to train and sensitise health care providers on the issues of sex workers and other key populations," Charmaine said, to make these services "friendly" to sex workers. Such sensitivity, Charmaine said, is "necessary to increase their access to treatment, treatment literacy and psycho-social support."
Income Supplementation Day
Pow Wow also participated in the Aidsfonds/ICCO project  Stepping Up, Stepping Out (SUSO), aimed at promoting human rights, reducing violence, and providing sex workers with economic empowerment opportunities. As part of the project, Pow Wow worked with SRC and SUSO to organise an Income Supplementation Day, a fair modelled on the Zimbabwe International Trade Fair. During the Income Supplementation Day, sex workers highlighted different ways sex workers could generate income in addition to sex work.
Sex workers used the Income Supplementation Day to showcase income-generating ideas, including jewellery making, clothes selling, bead work and crocheting or training to be a nursing assistant. "The opportunity enabled sex workers to represent their success stories and inspire each other," Charmaine said. "The event was successful in encouraging participants to start generating an extra income themselves. The goal is to make the Income Supplementation Day an annual event to allow "more sex workers to present their success stories and inspire each other."
Pow Wow and SUSO both understand that "sex workers face social marginalisation, criminalisation and other forms of legal oppression, violence and poor health," Charmaine said. "These overlapping and mutually reinforcing factors have been shown to restrict sex workers' ability to improve their living and working conditions and to achieve economic security."
 "SUSO allowed sex workers to take the lead in organising the Income Supplementation Day event so that they had greater ownership over it," Charmaine said. In Zimbabwe, "the catering was done by sex workers that had attended cooking classes, and publicity was done through social media by members of Pow Wow."
Sex worker leadership at the Income Supplementation Day is part of SUSO and Pow Wow's general approach to programming. "SUSO and Pow Wow both support sex worker-led programmes that are developed and implemented by and for sex workers," Charmaine said. "Sex workers must be in decision-making positions, and meaningfully involved in the design, implementation, monitoring and evaluation of the programme. Sex worker-led programmes go beyond having sex workers as peer outreach workers, and recognise that sex workers are fully capable of running projects, programmes, and non-profit organisations."
Other Important Successes
Pow Wow also participated in CEDAW shadow report writing in 2014 for Zimbabwe. "This was an important platform to lobby against discrimination of women in all sectors," Charmaine said. "Pow Wow also sits on the oversight committee for Key Population board,'' Charmaine said.
What has allowed Pow Wow to grow and make an Impact?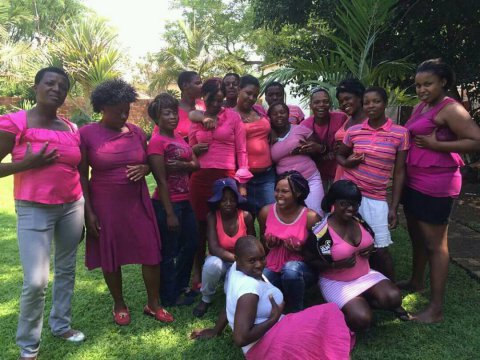 Pow Wow has received a lot of support from other Zimbabwe and global organisations, Charmaine said, especially from Aidsfond's Hands Off! and SUSO programmes and from the SRC, in Zimbabwe.
Pow Wow has received funding and capacity-building support from the Aidsfonds Partnership to Inspire, Transform and Connect the HIV response (PITCH) programme, which is connected to Hands Off!, Charmaine said. The PITCH grant "mainly supports activities the capacity strengthening of Pow Wow," Charmaine said, and has "supported documentation of human rights violations systematically through trained peer educators, who also conduct outreach." The PITCH programme also supports Pow Wow to hold local and national advocacy and key population forum meetings, which allow Pow Wow to meet as a collective and inform and get feedback from sex workers. "With the support…sex workers were trained on lobbying and advocacy so as to be able to resolve conflicts, have public relation skills and be able to network with other sex worker organisations and allies," Charmaine said.
The Aidsfonds SUSO programme has also allowed Pow Wow to engage in economic empowerment activities and events, aimed at ensuring sex workers have full free choice of employment and the economic resources to have more control over how and with whom they engage in sex work.
"SRC has continued…to provide support for movement building activities and a safe place to meet," Charmaine said. "Pow Wow has benefitted greatly through mentorship and capacity building by different initiatives and programmes by SRC under Hands Off!," Charmaine said. "Pow Wow is undergoing an intense mentorship programme [through SRC] where they are…taught on organisational development." SRC is also supporting Pow Wow "to map out its advocacy targets and change agents it would want to lobby and bring change that is decriminalisation of sex work in Zimbabwe."
Pow Wow has also indirectly received support from NSWP, Charmaine says. One of Pow Wow's members, Gregory Brighton Kata, is an NSWP board member, and this experience has given him the chance to attend meetings and meet and learn from sex workers organising in other parts of the world. Pow Wow members have also had opportunities to attend regional meetings and workshops such as the SWAA academy, which are supported by NSWP and implemented by the African Sex Workers' Alliance (ASWA).
What are the core values of Pow Wow?
Integrity
Transparency
Teamwork
Accountability
Hard work
Innovation
What will be the biggest challenge for Pow Wow in the future?
Charmaine says Pow Wow's biggest challenge is the fight for decriminalisation. ''Criminalisation of sex work exacerbates sex workers' vulnerability to HIV and other adverse health outcomes," Charmaine said. "It also increases sex worker risk-taking with clients as they have less time to negotiate condom use or assess safety prior to transacting sex. The preponderance of evidence linking criminalisation of sex work to HIV risk has led to repeated calls for decriminalisation of sex work in Zimbabwe."
Sex work is criminalised in Zimbabwe, and the laws criminalising sex work have remained "a patriarchal tool reflecting societal control and regulation of female sexuality," Charmaine said. The underlying goal of these laws, Charmaine said, is to "domesticate women by regulating sex workers' lives in the public sphere."
Charmaine is uncertain about how elections in 2018 will affect sex workers. "Already we have an oppressive environment; yet the country is yet to go for general election in July 2018; we aren't sure what the new government might have in store for sex workers."
Does Pow Wow have a message for sex workers' rights movements and people outside the movements?
''The journey to decriminalisation is 1000 miles, already we have taken the first steps, sex workers, let's stand together in this and speak one voice, let's continue making noise, I smell success #sexworkiswork #mybodymybusiness A luta Continua," Charmaine said.