Imagen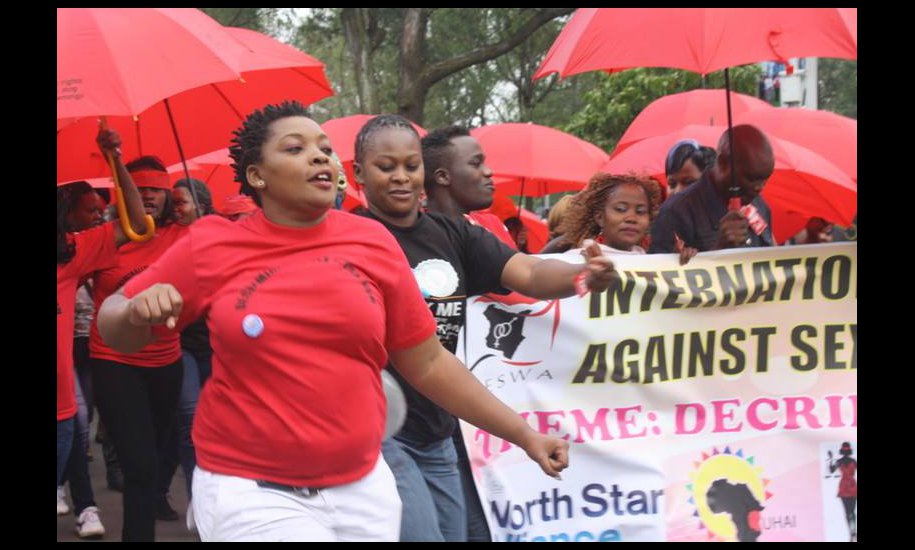 ​KESWA is the umbrella organisation of the Kenyan sex worker-led groups based in Nairobi. The organisations include: Health Options for Young Men on HIV, AIDS and STIs (HOYMAS), Bar Hostess Empowerment and Support Programme (BHESP), Warembo Sasa, Survivors (Busia), Coast Sex Workers Alliance (COSWA), Eldoret Sex Workers Alliance (ESWA), Kisumu Sex Workers Alliance (KISWA), Coast Hostess, Smart Ladies Nakuru, Laikipia Peer Educators, SWOP Ambassadors, EMAC, Sisters of Majengo, and Links to Smile.
ASWA is the regional movement of sex workers in Africa present in over 28 African countries and KESWA is one of the members of the ASWA. Both organisations are sex worker-led and KESWA implements the Sex Workers Academy Africa on behalf of ASWA, which is a capacity building forum for sex workers. For more information about the Sex Work Academy Africa, please read NSWP's case study on the academy here.
KESWA has many important partnerships. The East African Sexual Health and Rights Initiative (UHAI) support KESWA in the decriminalisation of sex work in Kenya. They have been helping with research on issues around sex work and violence. Bridging the Gaps and PITCH support KESWA in advocacy and capacity building for members.
How was KESWA formed?
The Kenya Sex Workers Alliance (KESWA), also known as Key Affected Population Health and Legal Rights Alliance, was founded in 2010 after the first African Sex Worker conference held in Johannesburg.
The conference brought together over 200 sex workers from 10 African countries. KESWA became the first operational country coalition followed by South Africa, Uganda, Zimbabwe, Botswana, Mozambique, Namibia and Nigeria.
KESWA recognises sex work as work and promotes equal protection of human rights, which are the foundational principles of Kenya's democratic society. KESWA advocates for sex workers rights as human rights through:
Awareness raising.
Capacity Strengthening.
Organisational Development and,
Advocacy.
"The mission of KESWA is to end human rights abuses against female, male and transgender sex workers," said Phelister Abdallah, who is the country coordinator for KESWA.
What are KESWA's Core Values?
KESWA's core values include transparency, equality, reliability, respect, and equality.
Transparency: "we are open and honest, and we seek to understand each other's points of view and acknowledge disagreement. We keep our members up to date on the movement, activities and resources," said Phelister.
KESWA's campaigns include community outreach targeting sex workers not only in Nairobi but also in surrounding areas, including Thika, Naivasha, Kiambu and Murang'a. Additionally, KESWA has also established a community center, which provides HIV testing and education to sex workers, as well as creative spaces and counseling groups.
KESWA incorporates media campaigns to raise awareness of the sex workers' rights in Kenya.
Equality: "we act in a way that is open, fair, accessible and equitable. We respect the views and aspirations of our members and colleagues. We put people first," said Phelister.
Reliability: "we honour our commitment and deliver on what we promise. We utilise all movements of resources in a responsible manner," said Phelister.
Accountability: "we take responsibility for our actions and omissions," said Phelister.
Respect: "we value the rights of sex workers to make informed choices about their lives. We demonstrate this by listening to our members and earn respect by being effective, professional and responsive to their needs. We value people's individuality and independence and treat our members and colleagues in the way they wish to be treated," said Phelister.
What is the history of the Organisation?
"We were formed in 2010, and registered as the Key Affected Population Health and Legal Rights Alliance. We were provided by technical support from NSWP," said Phelister.
What are the priority areas KESWA works in?
KESWA's areas of priority include: capacity building, advocacy, resource mobilisation for member groups, awareness creation and sensitisation, and decriminalisation of sex work. KESWA implements The Sex Worker Academy Africa (SWAA) which is an ASWA initiative. SWAA is a ground-breaking learning programme for community empowerment and capacity building, led by and for sex workers. It delivers an effective blend of knowledge and experience.
The Academy is presented over the course of a week, and includes workshops, site visits and art advocacy sessions. The first Academy was run for Kenyan participants, to build national capacity and sustainability, and provide facilitators with an opportunity to gain experience of facilitating in a Kenyan context. The second Academy invited country teams from other English-speaking countries.
The third Academy invited Francophone countries to nominate country teams. Non-English speaking participants are provided with whisper-interpreting. "The Academy provides sex workers with tools to advocate for and ensure that HIV and sex work-related policies, and HIV and STI prevention, treatment, care and support programming are rights-based, and designed and implemented with the meaningful participation of sex workers,'' said Phellister.
 At the Academy, participants acquire the skills and knowledge to influence both policy and service delivery. These goals are met through developing the capacity of Academy faculty members, developing demonstration sites, creating a curriculum that combines learning and practical experiences, and growing the pool of country teams of Academy graduates from across Africa, who have acquired the skills to build national sex workers' rights movements and built relationships for creating cohesion within national movements.
''KESWA is part of the regional sex worker networks in Africa, that developed Global Fund global and regional workshops in 2015 and 2016 whose goal was to strengthen the capacity of sex workers to engage in Global Fund processes, ensuring that sex workers are meaningfully involved in the decision making, planning, implementation and monitoring and evaluation of sex work programmes funded by The Global Fund,'' Said Phellister.
"Engagement with Global Fund processes provide additional benefits that will help ensure that sex workers are not excluded from policy and programmatic decision making and funding," said Phellister who is also a trained Regional Community Expert on the Global Fund.
In 2015, NSWP, in partnership with regional sex worker-led networks, delivered a series of 5-day workshops on the Global Fund.The global and regional workshops were designed to strengthen the capacity of sex worker-led networks and organisations and enhance knowledge of and access to Global Fund processes to allow sex workers to engage meaningfully in national dialogues. Within each region, sex worker-led organisations in each country nominated country teams of three sex workers to be trained as National Community Experts. Eighteen of the 34 countries eligible for Global Fund funding, and where NSWP and the regional networks had members, were chosen to hold national workshops. The regional networks nominated sex workers to be trained as Regional Community Experts, who then trained National Community Experts.
The regional networks nominated sex workers to be trained as Regional Community Experts, who then trained National Community Experts. Regional and National Community Experts worked together to adapt the workshop programmes to ensure relevance and co-facilitate national workshops in each of their respective regions. The country coordinator of KESWA, Phelister, is one of the Regional Community Experts on the Global Fund.
Advocacy: "KESWA actively participates in policy development at the national level and  engages the community in advocacy around human rights, end to violence and commemorating special events such as International Day of Sex Workers," said Phelister.
Human rights: "KESWA raise awareness of the sex workers' rights movement in Kenya, both among sex workers and non-sex workers, including demonstrations and marches, conferences, and communication with the press," said Phelister.
Health at a national level: "KESWA strives to ensure that sex workers in Kenya access health services indiscriminately. This starts from policy advocacy where we have to participate in developing heath policies that do not discriminate against sex workers. KESWA has continuously advocated for sex workers inclusion in the county by-laws, health committees and policies around HIV, violence, access to healthcare and stigma and discrimination among key populations," said Phelister.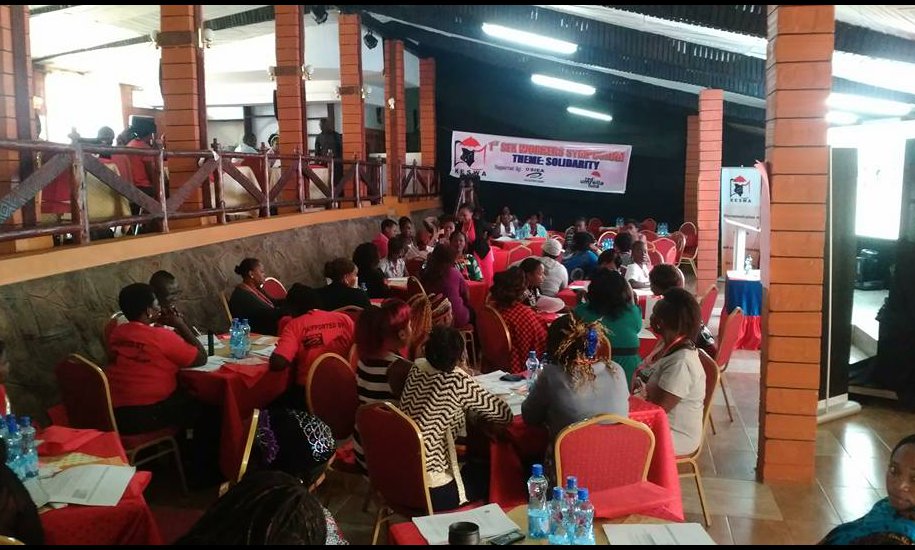 What are the biggest events or challenges KESWA has worked on in past?
The biggest challenge for sex workers in Kenya is the criminalisation of sex work and the hostile work environments. In 2010, a serial killer murdered sex workers in the town of Thika. When sex workers took to the streets to protest the killings, the police barricaded more than 300 sex workers and threatened demonstrators with teargas.
Other advocacy measures included attending various TV and radio talk shows. After these advocacy measures, the serial killer was identified as Philip Onyancha and he was arrested. Onyancha confessed to killing 17 women and told officers he had 83 more to kill before he reached his target of 100 sex workers. Onyancha was sentenced for 12 years for attempted rape and assault. However, his trial for the murders only begun in April 2014, four years after he confessed to the killings and five psychiatrists declared he was of sound mind to stand trial. Onyancha was then sentenced to 12 years for attempted rape and assault. You can read more here.
In terms of events, KESWA has always been involved in commemorating international days for human rights. For instance:
17 December: International Day to End Violence Against Sex Workers,
10 December: Human Rights Day,
8 March: International Women's day
3 March: International Sex Workers' Rights
"Criminalisation, discrimination and violence against sex workers remain the biggest challenges that KESWA continues to deal with. Even though sex work is at least partially legal in some countries, the law rarely protects sex workers. Around the world, there is a severe lack of legislation and policies protecting sex workers who may be at risk of violence from both state and non-state actors such as law enforcement, partners, family members and their clients.
The Kenyan Penal Code does not criminalise sex work. However, it criminalises third parties who live on the earnings of prostitution. The Penal Code defines two types of offenses with respect to sex work namely "living on the earnings of prostitution" and "soliciting or importuning for immoral purposes."
The Penal Code outlaws offenses such as
 Detention of females for immoral purposes (section 151)
 Male person living on the earnings of prostitution or soliciting (section 153)
 Woman living on earnings of prostitution or aiding, abetting or compelling an individual to engaging sex work (section 154).
Premises used for prostitution or residing in or frequenting or living in a house wholly or in part on the earnings of prostitution (section 155)
Advocacy towards proper policies by the government is one avenue that we shall continue to follow until sex workers get their rightful human dignity in the society," said Phelister.
What are some of the most important successes of KESWA?
''Capacity strengthening of member organisations to a stage where they can get funding on their own and be independent as sex worker led-groups is one of the most important successes of KESWA," said Phelister. KESWA has helped members through capacity building: holding meetings and forums that empower sex workers across Kenya and all the 47 counties. KESWA trains them on resource mobilisation, proposal writing, starting of savings initiative schemes and on how income generating activities can be beneficial to sex workers in Kenya.
"The decriminalisation process of sex work that is currently underway is another big success," said Bradley, KESWA Liaison Communication Officer.
Sex work is criminalised not only through prohibition of selling sexual services but also through laws that prohibit the solicitation of sex, living off the earnings of sex work or the purchase of sexual services. Sex workers are frequently penalised for non-criminal offenses. Decriminalisation means sex workers are more likely to feel safe reporting crimes, live without stigma, social exclusion and fear of violence.
''The decriminalisation process is a process whereby the Kenyan sex worker community aim for the fully liberty when it comes to sex work and services related to sex work. It is also the abolition of all laws and policies that criminalise sex work as work and hinder sex workers to do their work. Therefore, KESWA will be conducting a research to gather documentation and facts around violence that leads to sex workers rights being infringed and the impact it has when sex work is criminalised and later on proceed to court with evidences and documentation to challenge the laws and policies around sex work," said Bradley.
"It [the research] just began with a protocol being sent to the Ethical Review Board (ERB) in Kenya. We hope the ERB will get back to KESWA soon and give the way forward before we can challenge the violence incidences and evidences against sex workers in court," Bradley continued.
Another success is that KESWA's membership has grown. Membership is growing at both the national and county level, and more sex workers are coming out to voice their issues. "Things have been good and now we are working on decriminalisation," said Phelister.
What will be the biggest challenge for KESWA in future?
''Challenges, I don't think I see a challenge but I see a success in sex workers community. My dream is that sex work is decriminalised. Decriminalisation goes hand in hand with recognising sex work as work, and protecting the rights of sex workers through labour law, and workplace health and safety regulations. When sex work is decriminalised, sex workers can press for safer working conditions and use the justice systems to seek redress for discrimination and abuse. I want to see a society where sex workers have friendly environment, can access services without discrimination or stigma," said Phelister.
Does KESWA have a message for sex workers rights movements and people outside the movement?
''One of the messages to sex workers rights movements and people outside the movement is that sex workers organisation is possible, sex workers can be more organised, sex workers can do it better," said Phelister.