All-Ukrainian charitable organisation "Legalife-Ukraine" is based in Kropyvnytskyi (formerly Kirovograd), Ukraine.
Sex work is criminalised in Ukraine. Under the Code of Ukraine on Administrative Offenses sex work is punished either by a warning or a fine. In Ukraine, the state established a basic minimum income for all individuals. Fines, pensions, and social benefits are calculated based on that mount.  The fine for sex worker in Ukraine is 5 to 10 times the minimum income of citizens (85 to 170 UAH), and if a person is caught doing sex work for the second time within a year, then the fine is 8 to 15 times the minimum income of citizens (136 to 255 UAH).
Purchase of sexual services is not prohibited.
How did the sex workers' rights movement start in Ukraine?
The sex workers' rights movement in Ukraine started with the official registration of Sex Workers Advocacy Network (SWAN) in 2012. That year the Executive Director of SWAN, Stasa Placas, went to Ukraine, where allies, sex workers and social workers gathered. At the meeting they decided that they needed to unite to establish a formal sex worker organisation to fight for the rights of sex workers.
The first sex worker-led organisation that was established in Ukraine was League Legalife, in Kiev.
Alliance Ukraine was providing financial support for the sex workers' rights movement at this time. The Ukrainian Harm Reduction Association was supervising League Legalife, which was recently funded.
Nataliia Isaieva, the head of Legalife Ukraine said, "later League Legalife formed the initiative group which I was part of. After I went to Macedonia for a meeting. There I met many activists. I was elected to be the Chair of the Steering Committee of SWAN."
In 2015 Legalife Ukraine separated from League Legalife.
"To be officially registered as All-Ukrainian, we had to be minimum of 14 representatives of the different regions of Ukraine. So we gathered 14 people and went to the notary to register our organisation," said Nataliia Isaieva.
How is Legalife Ukraine a sex worker-led organisation?
The board of Legalife Ukraine is composed of sex workers only. There are also members with an advisory vote, who are not sex workers. They cannot be on the Board, they cannot make decisions on behalf of the Board, but they can advise. Legalife Ukraine has more than 40 members in total.
Legalife Ukraine has groups of sex workers in different cities including Kiev, Krivoy Rog, Vinnitsa, Odessa, Nikolaev. Kherson and Zhitomir. The members from Krivoy Rog are ready to register the local branch of Legalife Ukraine.
Does Legalife Ukraine provide services to sex workers?
Legalife Ukraine has never provided medical services to sex workers, but the advocate for sex workers' rights. There are not enough funds to provide medical services, but many members of Legalife Ukraine are outreach workers and therefore know how to provide testing to sex workers for sexually transmitted infections.
Instead of providing medical services, Legalife Ukraine staff can escort sex workers to partnering organisations and medical centres that provide testing and treatment to sex workers.
Legalife Ukraine strives to always legally employ the sex workers who take part in projects. Legalife Ukraine provide the same working conditions and salary as other employees who are not sex workers.
"It has always been very important for us to employ sex workers under the same conditions and the same salary as other specialists," said Nataliia "in our organisation we treat everyone equally. We don't participate in the conflicts between sex workers, we stay neutral. We respect the confidentiality."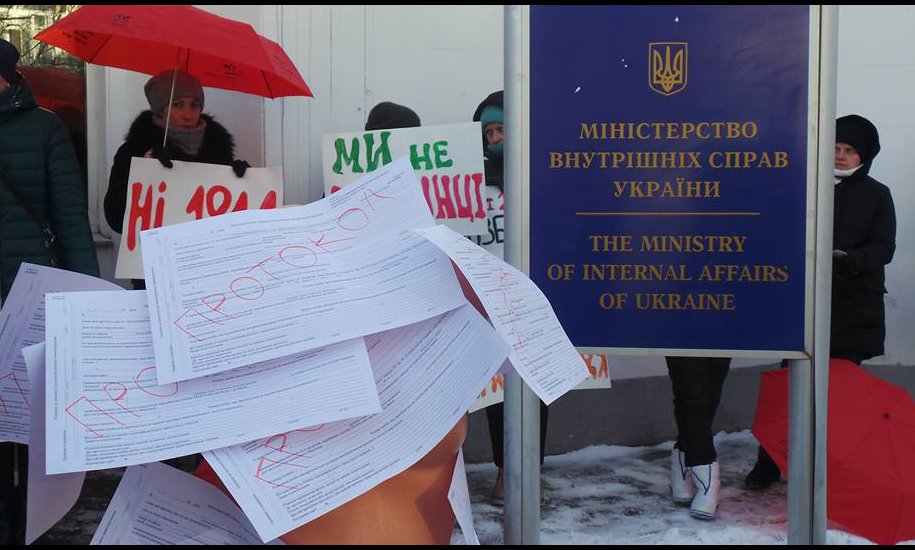 How does the organisation work?
The central office is located in Kropyvnytskyi. It is a 3 room office. The office space was provided to Legalife Ukraine with the help of Members of Parliament.
"We openly talk about our status as sex workers. We are holding public events, the journalists are writing about us in a respectful way. We are partnering with many institutions. We are known on a national level," said Nataliia.
The organisation has lawyers who are available 24 hours per day and also operates a 24 hour phone line for sex workers, men who have sex with men, people who use drugs, and people on methadone therapy. At the moment the lawyer can only provide face-to-face services to sex workers based in Kropyvnytskyi. However, the lawyer can provide services to sex workers outside of Kropyvnytskyi on the phone. Legalife Ukraine is currently negotiating with Open Society Foundations (OSF) the possibility of having lawyers in other regions.
Legalife Ukraine distributes condoms, which are provided by their partner organisations.
"We monitor how our partner organisations work and provide services for sex workers. We collect complaints from sex workers on the work of the organisations that provide services for sex workers and send the complaints to relevant organisations," said Nataliia. For example, Legalife collects info from sex workers about the quality and quantity of the condoms that are given by other organisations, as well as the quality of lubricants.
"We try to support our members in the regions. We allocate the funding we get to the regions and legally employ our activists in the regions," said Nataliia.  
Legalife Ukraine has peer-to-peer groups, weekend groups, gynecological consultations, peer consultations on health and rights, but the organisation is more focused on advocacy, community mobilisation and leadership development.
Legalife Ukraine has good contacts with the police. Recently, there was a new department on human rights protection created within the national police. They support Legalife and they support the decriminalisation of sex work in Ukraine.
What are some of the challenges of Legalife Ukraine?
"Community mobilisation is an ongoing process. People come and go. We have to constantly look for new activists, train them and teach them.This is our main difficulty. One of the biggest barriers to the inclusion of more sex workers is financial. A lot of the meetings with the Ministry of Health are urgent, and we do not have enough money to pay for sex workers to travel to participate in the meetings. There is also the competition with other organisations. The English language is a big barrier for us to voice our problems on the international level," shared Nataliia.  
What are some of the the biggest achievements of Legalife Ukraine?
"We are working for many years, we are growing, we run great projects in different regions of Ukraine. We are glad that important organisations, like the Global Fund, are listening to sex workers when making decisions that affect us. I am in the Сommission for supervision on the national Country Coordinating Mechanism (CCM) of the Global Fund. We check if the grants are implemented in the right way, we check everything that was funded by the GF in Ukraine.
I am in a working group on writing the Concept Note to GF.
We are in the regional and city' Coordination Board.
We are participating in the development of the national HIV strategy.
We were also actively working on the law proposal on decriminalisation of sex work in Ukraine.
We always listen to sex workers and we take into consideration their opinion. The police know us, they know we will protect sex workers and therefore they threat sex workers with more respect," said Nataliia.  
In Ukraine, Nata organised six workshops to build the capacity of sex workers to engage with the Global Fund.
"Most of the sex workers did not know who was funding the projects for whom they were the recipient. All of them thought the programmes were funded by the Alliance of Public Health, not the Global Fund," concluded Nataliia. For more information on the Global Fund, please read NSWP's Smart Sex Workers' Guide to the Global Fund and NSWP's forthcoming case study on the Global Fund to be published in June 2017.
What will be one of the challenges of Legalife Ukraine in the future?
"In 10 years from now we would like to have offices in all regions of Ukraine. We would like to have our representatives in politics, among Members of Parliament. We would like society to embrace us and our work. We plan to expand to the regions and register our regional organisations officially. We will also insist on providing treatment and prevention services instead of through HIV organisations," shared Nataliia.  
Does Legalife Ukraine have a message for people in the sex workers' rights movement? What about those not in the movement?
"Do not be afraid to voice your needs. Do not be afraid to be loud about your problems, rights violations and quality of the services of the organisations that provide services for sex workers. And for those who are still not in the sex workers' rights movement: remember, that together we are stronger!"